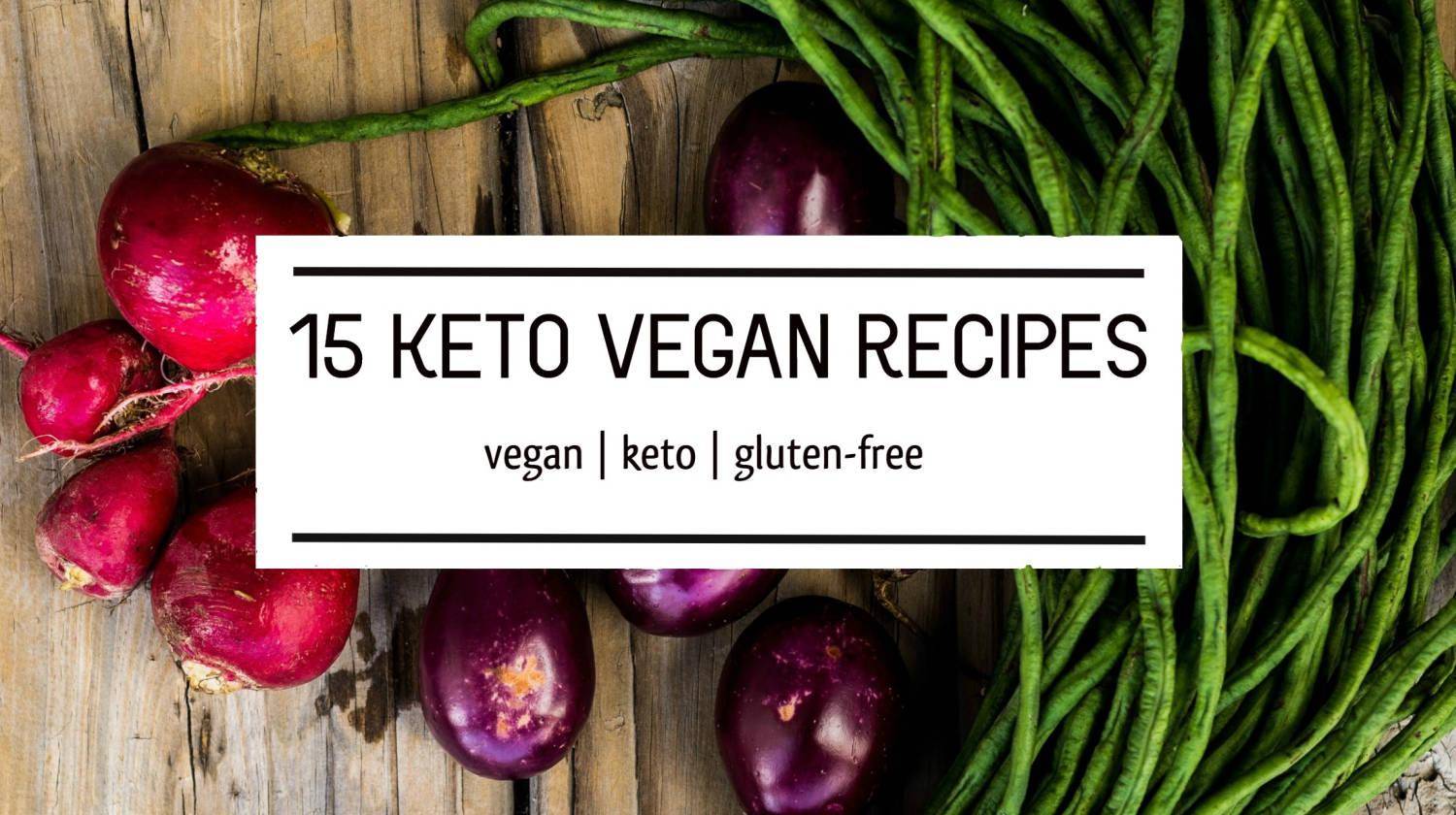 You won't have to break your diet with these vegan keto recipes!
Vegan Keto Recipes for Weight Loss
15 Recipes for Anyone Thinking About Trying the Vegan Keto Diet
These keto vegan recipes are a great resource for anyone going on a vegan keto diet or cutting back on carbs.
These are also great recipes for adding healthy fats in your diet!
Before we get into these keto diet recipes, let's first define what a vegan ketogenic diet is.
A vegan ketogenic diet is a high fat (80%), low carb (5%) diet where you restrict the amount of carbs you eat. You eat healthy fats and a moderate amount of protein (15%).
Doing this puts your body into a state of ketosis, where your body produces ketones to be used as fuel instead of glucose.
By strictly controlling your carb intake, your body turns to fats instead of carbohydrates to get energy.
A lot of people have seen a drastic difference in their health by going on the ketogenic diet. Their inflammation is decreased, most have lost a lot of weight and have even been able to get off their prescription drugs.
A lot of people would like to have these benefits but stay on a plant-based diet. That is why we have compiled 15 vegan keto recipes to help make this diet easy and accessible.
You can follow these vegan keto food options to help you with your keto lifestyle.
1. Vegan Keto Green Smoothie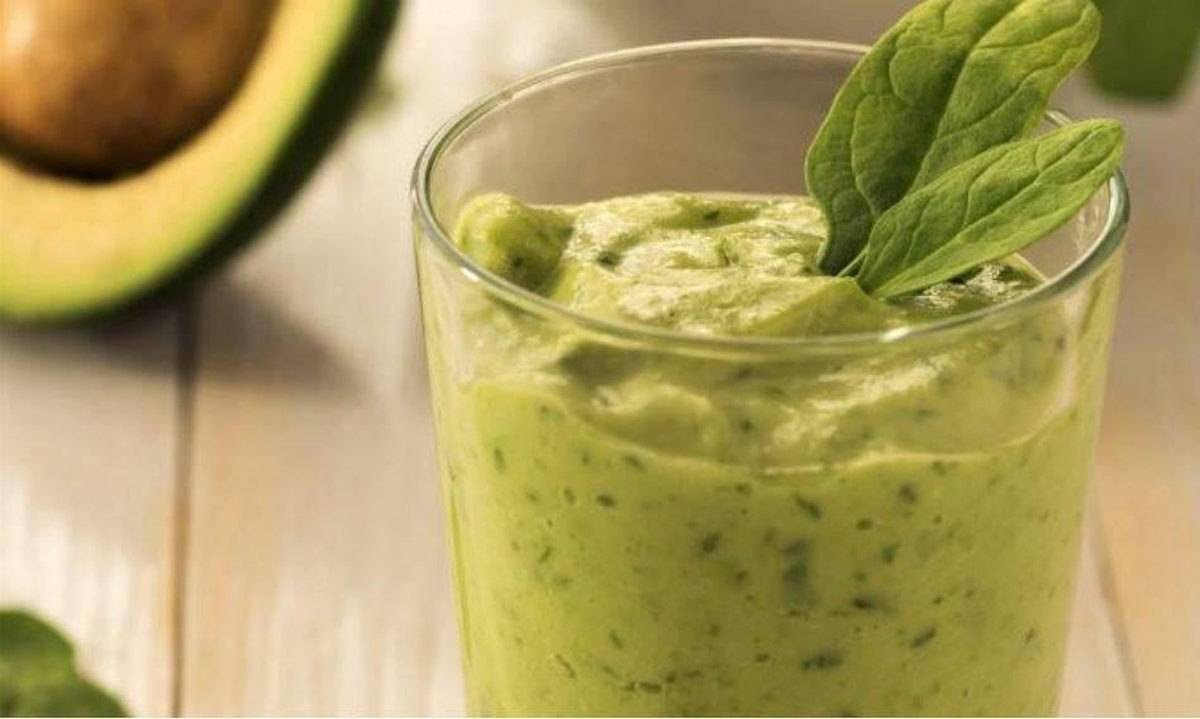 Let's talk about healthy fats.
Did you know that avocados have more potassium than a banana? That is just the beginning of all the awesome things an avocado can do for you!
They are also packed with fiber, vitamin K, vitamin C, vitamin E, and vitamins B5 and B6, too! The thing avocados are famous for, however, is the abundance of healthy fats!
Avocadoes contain oleic acid which is a monosaturated fat that is heart and brain healthy. Oleic acid reduces blood pressure, burns fat, repairs brain myelin, and so much more.
What is myelin? This is a fatty substance that forms around the nerves, the brain, and the spinal cord for protection.
Here's how to make this delicious vegan keto smoothie.
Ingredients:
1 whole avocado, peeled, and pitted

½ cup fresh spinach

¾ cup coconut milk

1 teaspoon vanilla extract

1 tablespoon coconut oil

1 scoop Sunwarrior Warrior Blend vanilla protein

6–8 drops Lakanto Monkfruit vanilla liquid sweetener
Directions:
Place all the ingredients in a blender and blend until smooth and creamy. Pour into your favorite glass and enjoy!
2. Mocha Chia Nut Bowl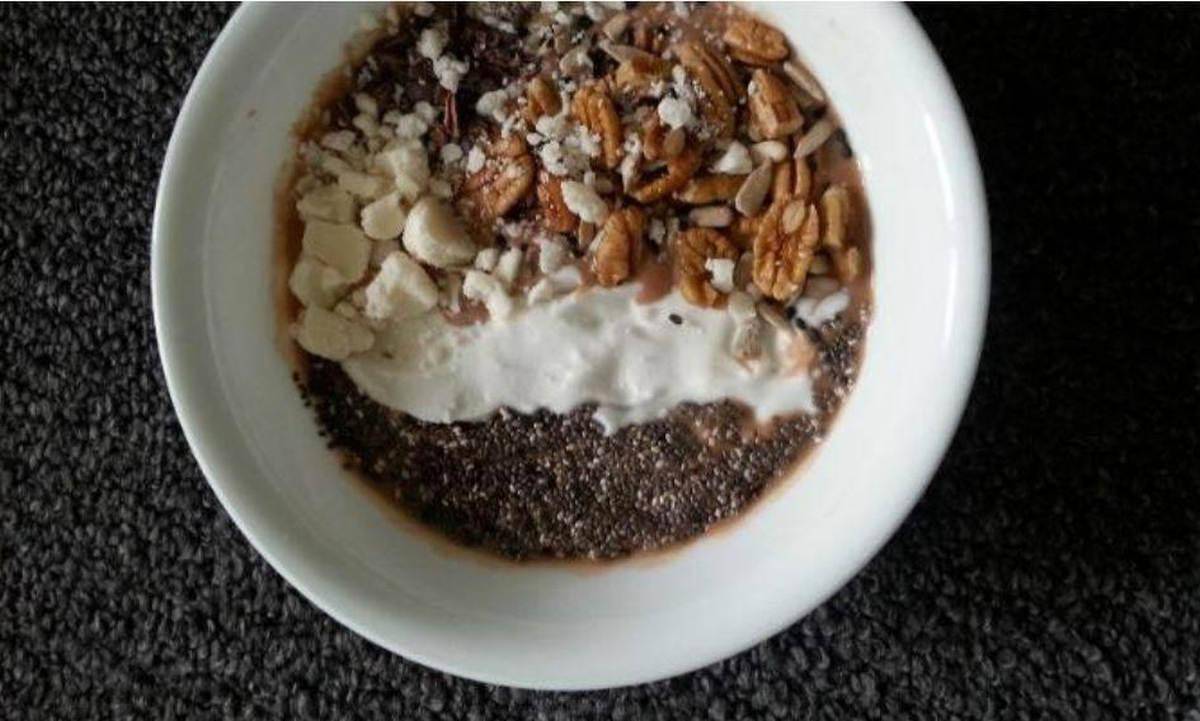 This mocha chia nut bowl makes a great breakfast, snack, or dessert since it's high in calcium, iron, magnesium, and omega fatty acids.
When you're craving something warm and comforting, come to the bowl that contains lots of different textures and flavors to enjoy.
The nutrition it offers isn't the only good thing about this keto breakfast recipe, you can also be creative with how you serve your bowl and have fun with it.
Ingredients:
½ cup coconut milk

½ scoop Sunwarrior Warrior Blend protein in mocha

1 tablespoon almond butter

1 drop food grade peppermint essential oil

¼ cup mixed nuts and seeds (walnuts, pecans, pumpkin seeds, sunflower seeds, black sesame seeds, hemp seeds)

1 tablespoon cacao nibs

2 tablespoons coconut Kefir or yogurt

2 tablespoons chia gel

1 tablespoon coconut butter

1 teaspoon vanilla essence or powder

1 tablespoon Lakanto Monkfruit sweetener
Directions:
Heat the coconut milk just until warm. Do not boil or overheat.

In a blender, add the coconut milk, almond butter, peppermint oil, mocha protein powder, and Lakanto Monkfruit sweetener; mix until a smooth consistency is achieved.

Pour the coconut milk base into a bowl, add the toppings, and drizzle with vanilla essence.
3. Vegan Keto Berry Pudding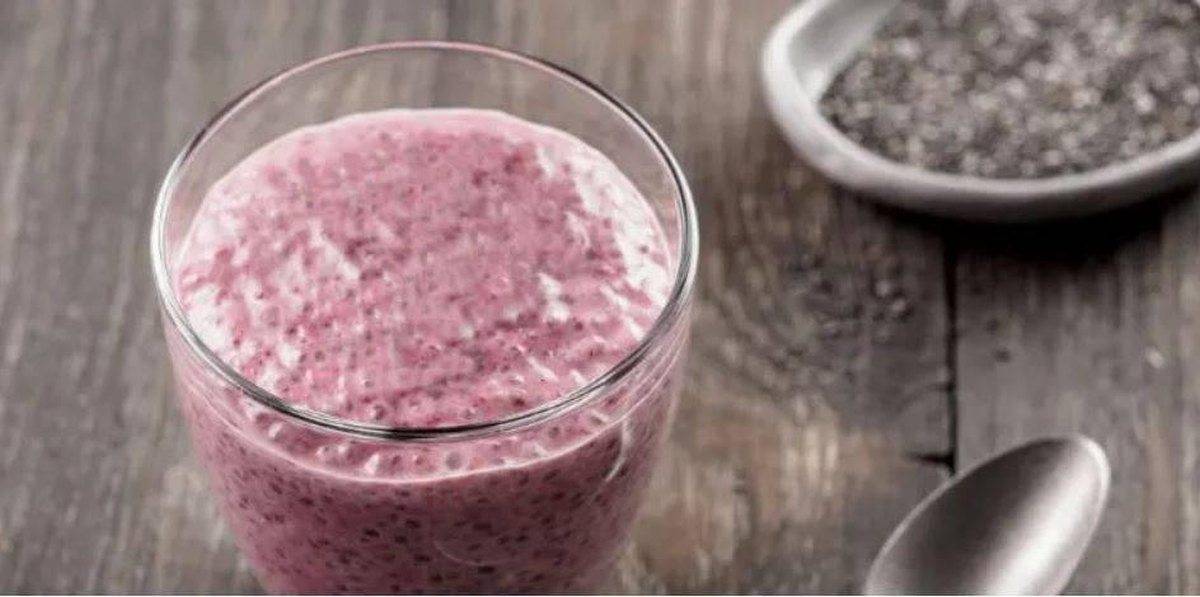 The ketogenic diet is about eating foods low in carbs and high in fats. A keto diet can help with your energy levels if you're feeling sluggish and slow.
But, there are many other health benefits to the ketogenic diet as well. If you're doing a keto diet to lose weight or to combat an illness, or if you're trying to improve the health of your brain or manage your blood sugar, the key is keeping it healthy.
And this vegan keto berry pudding helps you do exactly that -- be healthy!
Make some up for yourself and enjoy the satisfaction of food that tastes fantastic and leaves you working at your best!
Ingredients:
1 avocado

3 tablespoons chia seeds

16 oz. coconut milk

2 tablespoons Lakanto Monkfruit Sweetener

1 ½ scoop Sunwarrior Warrior Blend berry protein

1–2 teaspoons coconut oil
Directions:
Soak the chia seeds for at least fifteen minutes (make sure the chia seeds aren't watery but full and plump)

Put all the ingredients into a blender and blend away!

Pour into your favorite bowl and top with berries and chia seeds
4. Vegan Keto Chocolate Mint Smoothie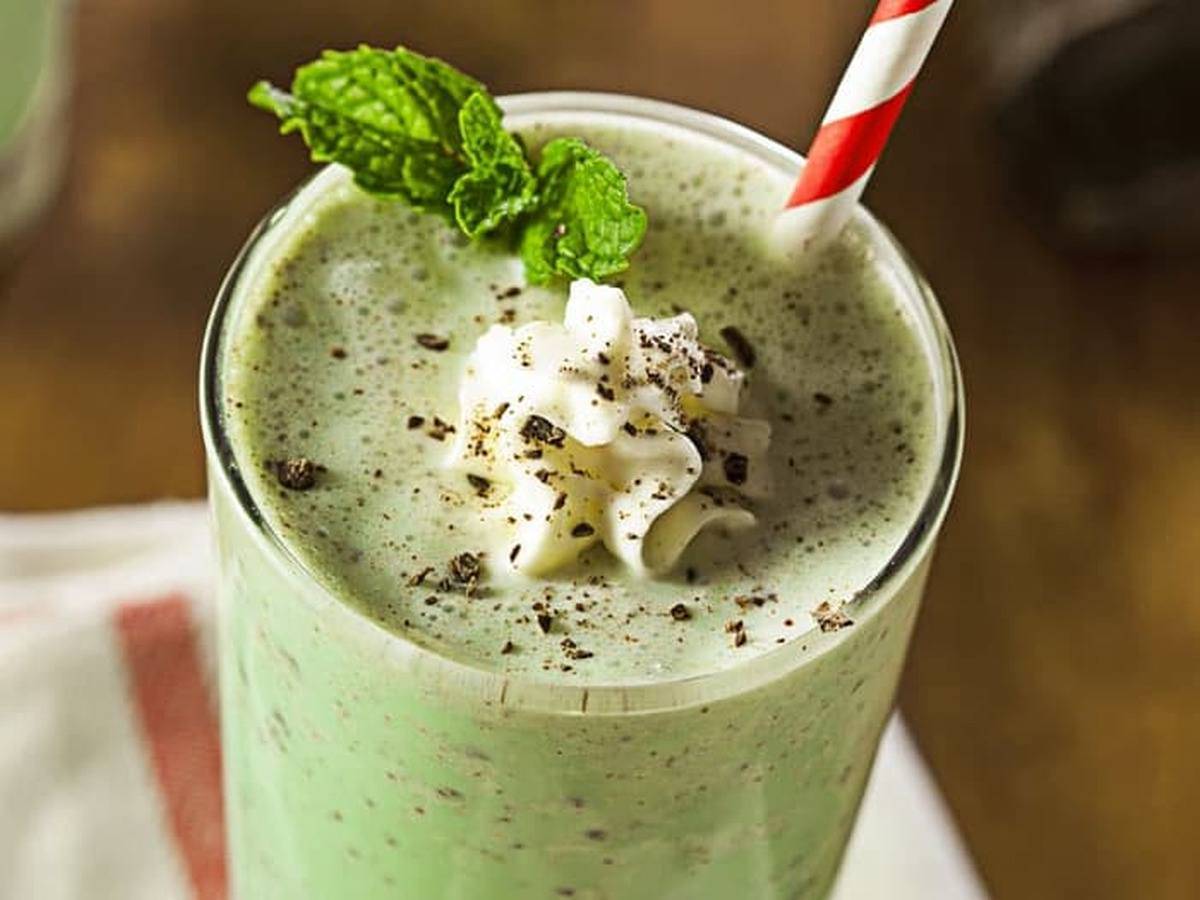 Who says you can't enjoy a smoothie if you're on a vegetarian ketogenic diet? This refreshing drink has spinach and avocado and uses an organic sweetener instead of processed sugar.
Here's how to enjoy this minty chocolatey drink:
Ingredients:
Directions for Smoothie:
Set aside 1 tablespoon cacao nibs and the coconut whipped crème.

Put the rest of the ingredients in a blender and blend until smooth and creamy.

Pour into your favorite glass, add a dollop of the coconut whipped crème and the rest of the cacao nibs, and enjoy!
Directions for Coconut Whipped Crème:
Refrigerate coconut milk for a few hours, long enough to let the cream solidify at the top. Four hours should do it.

Remove the cream and save the coconut liquid for a different smoothie later.

Place the cream in a large, chilled glass or stainless-steel bowl — something already cold and ready to take the chill to awesome.

Using hand beaters, whip the coconut cream for 3–5 minutes or until it becomes fluffy and light, with soft peaks.
5. Zoodle Pasta Pomodoro with Hemp Parmesan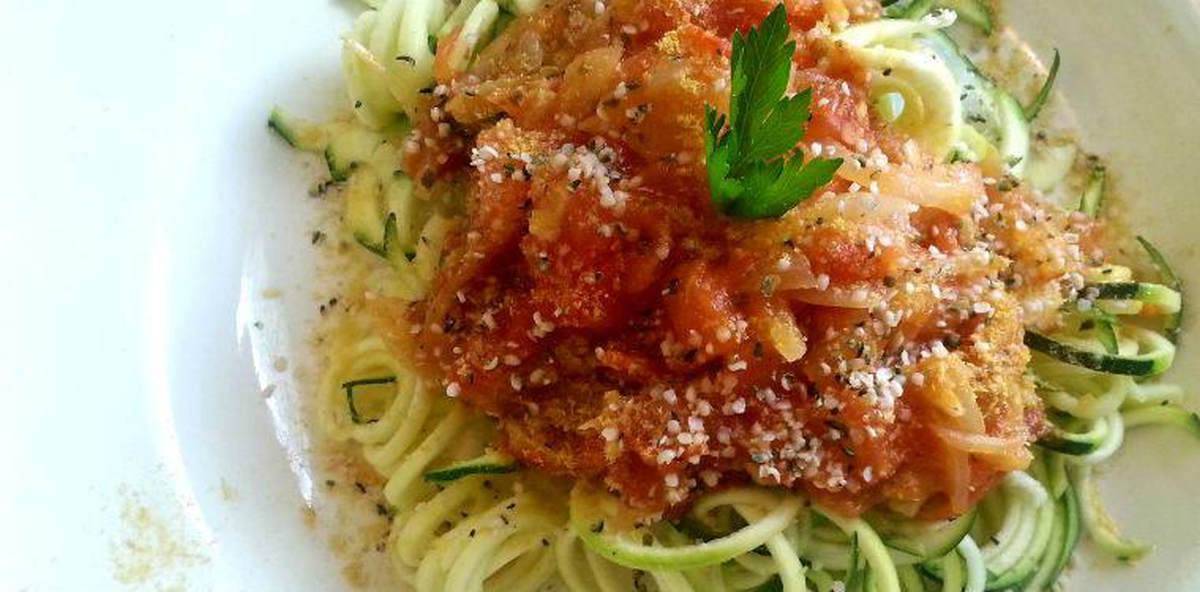 This recipe is a twist from the traditional pasta favored by most Italian food lovers.
Instead of the glutinous noodles traditionally used in pasta dishes, this recipe uses two types of noodles: zucchini and shirataki, also known as konjac or miracle noodles. If you have not tried shirataki noodles, you are definitely missing out.
These translucent noodles have zero calories, are high in fiber, and are very filling. They are made from glucomannan, a type of fiber that comes from the root of the konjac plant.
Since they are high in fiber, they digest slowly, and keep you feeling full longer.
In addition, zucchini has a boost of nutrient value and is a healthier alternative to noodles. It contains potassium, folate, magnesium, and is a good source of vitamin A and C.
Zucchinis are also low in calories with high water content, making them an excellent choice if you want to shed a few pounds and ditch the starchy carbs. So give this recipe a whirl. It's pretty quick and easy to make.
Get the recipe here.
6. Vegan Keto Stuffed Tacos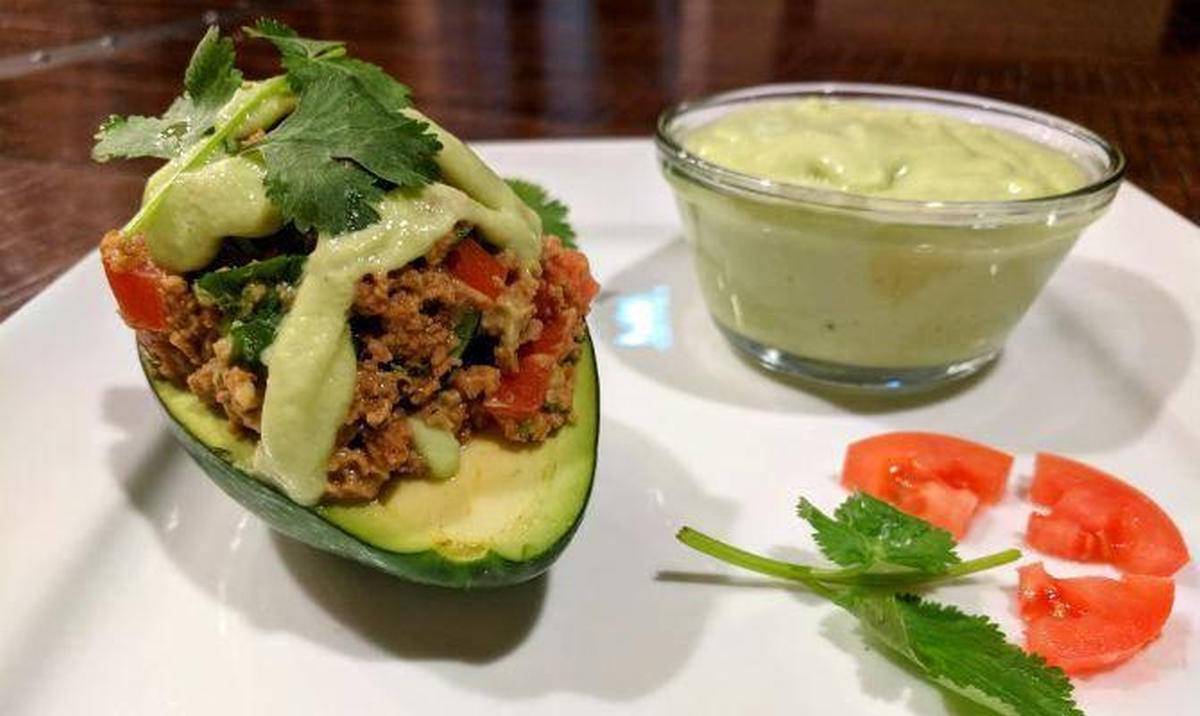 The keto diet doesn't have to be complicated if you're vegan. These vegan keto stuffed avocado tacos are keto-friendly, and best of all, they are easy and delicious!
It's like getting an extra helping of guacamole on your Mexican tacos!
Get the recipe here!
7. Stir-Fry Zoodles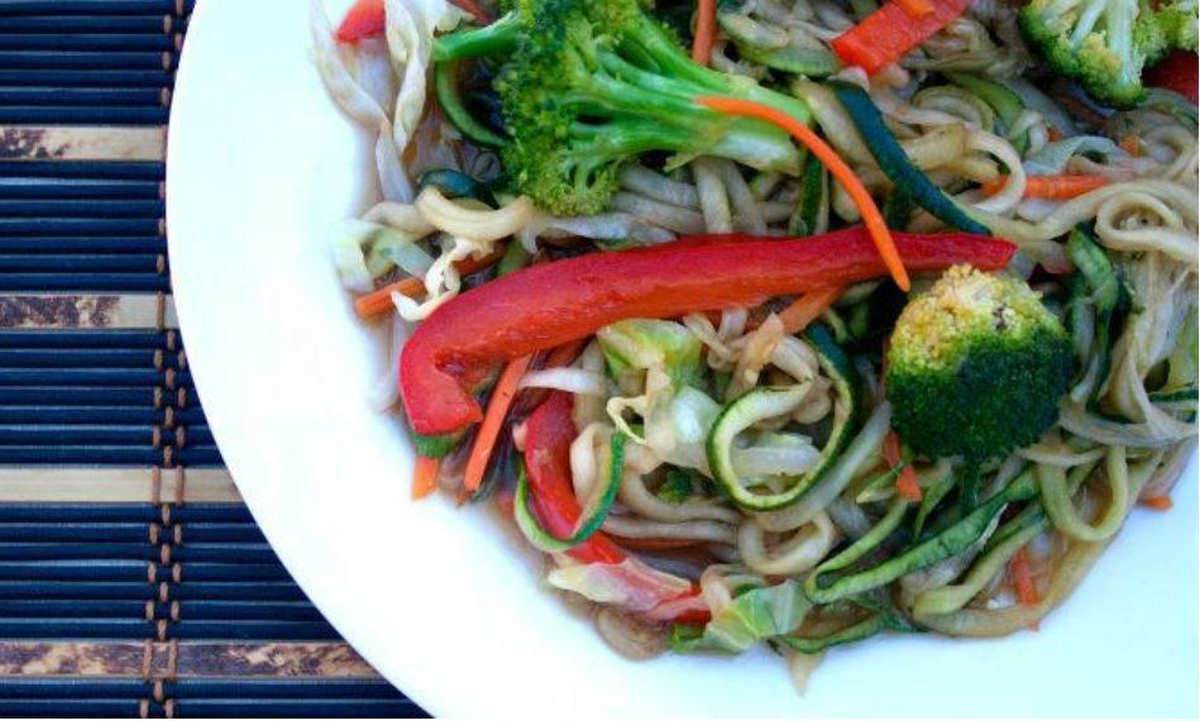 Zucchini is a win-win vegetable, and you can enjoy it in this pasta recipe using zucchini noodles!
It's low in calories and high in antioxidants.
Zucchini is loaded with vitamin C and B6. It's also good for your heart.
Carrots are high in vitamin A and are also a high source of antioxidants. Carrots have beta carotene, lutein, and zeaxanthin that boost your eye health.
While broccoli is high in vitamin K, C, and A, it's also high in antioxidants.
Ingredients:
For the sauce:
1/3 cup soy sauce

1 tablespoon vegetable broth

1 tablespoon maple syrup

2 cloves garlic, minced

1 teaspoon minced ginger

1 tablespoon cornstarch
For the stir-fry:
2 teaspoons oil

1 red bell pepper, sliced thin

1 onion, sliced thin

1 cup matchstick carrots

2 cups broccoli florets

2 cups cabbage

2 medium zucchini, spiralized
Directions:
Whisk all the ingredients together for the sauce and set aside.

Add oil to hot skillet or wok. Add red pepper, onion, carrots, broccoli, and cabbage.

Cook until crisp-tender about 2 to 3 minutes. Set aside.

Add sauce to the same pan and cook until bubbly about 2 minutes.

Add zoodles (zucchini spiralized) and cook for about 2 minutes or until desired tenderness. Add the remaining vegetables and toss.

Serve immediately.
8. Curry, Coconut Lime, and Sesame Cucumber Zoodles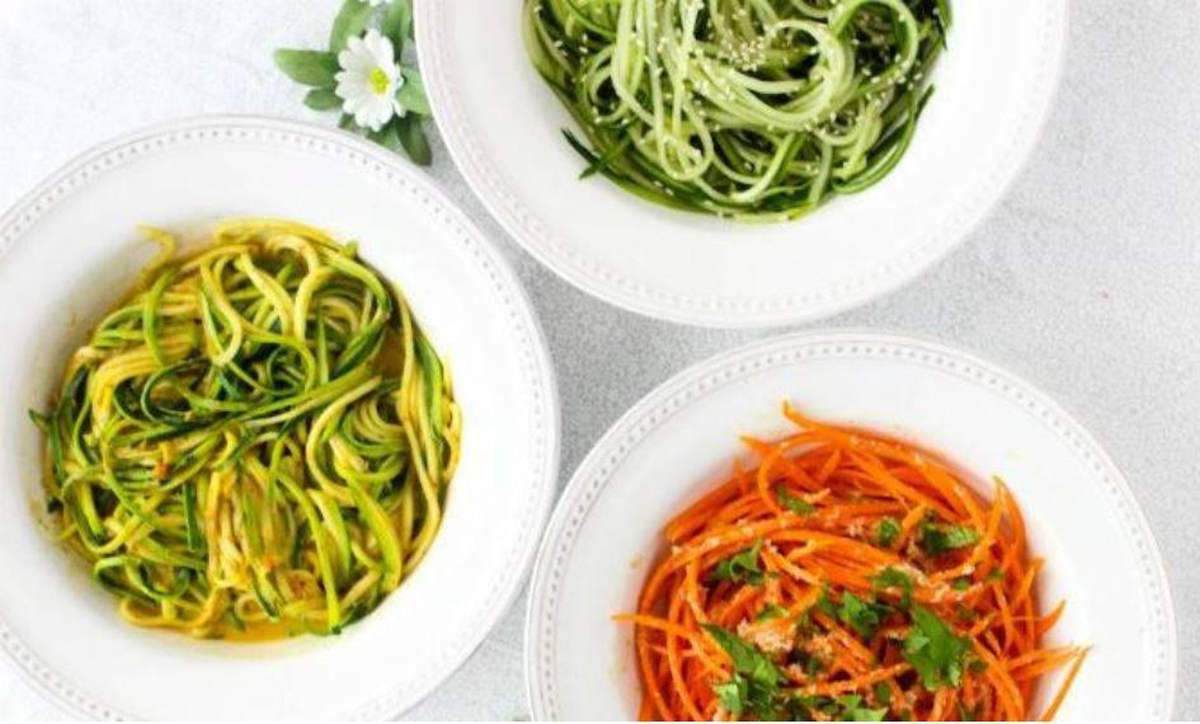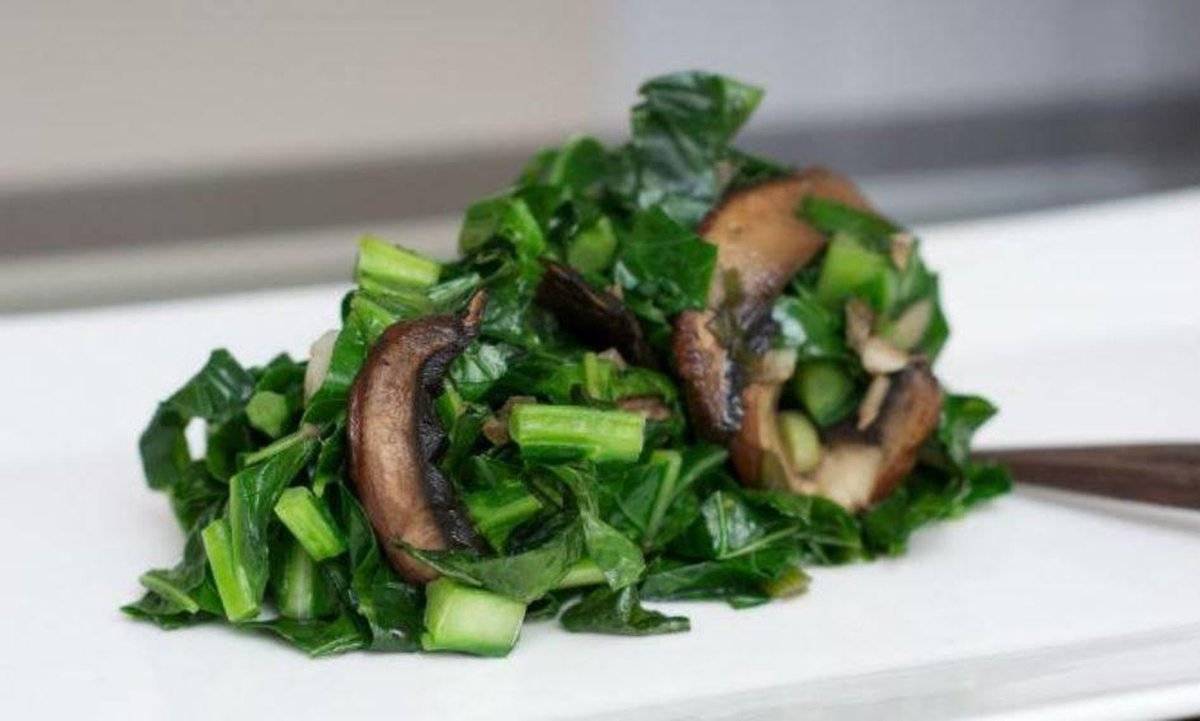 Mushrooms are rich in vegan protein, and they're also delicious! Try this recipe for a protein-rich side dish for lunch or dinner.
Portobello mushrooms also contain selenium, which is known for its antioxidant properties and potassium, which lowers blood pressure.
Ingredients:
¾ pound collard greens (6–7 cups chopped)

¼ cup water

2 teaspoons minced garlic

1⁄3 cup thinly sliced scallions

2–3 Portobello mushrooms, cut into thin slices

Olive oil to taste at the end

Salt to taste
Directions:
Wash the collards, remove stalks, and stack 4–5 leaves. Roll like a cigar and slice into thin ribbons.

To cook the collards, place water in a skillet with a lid. Bring to a boil and add the prepared collards.

Cover and cook over high heat for 8–10 minutes, stirring occasionally. Drain the collards in a colander and set aside.

Heat the oil in the same skillet over medium heat. Add the garlic and scallions and sauté for about 30 seconds.

Turn the heat to medium-high and add the mushrooms and a pinch of sea salt to draw out some liquid. Cook for 5–6 minutes, constantly stirring until the mushrooms are tender.

Reduce heat to low, stir in cooked collards, cover and cook for 1–2 minutes until hot.
Special tip: To get the stalk/stem out of collards just lay them face side down on a cutting board and run your knife along both sides of the stem. This helps you remove the stalks, making the collard easier to chop, prep, and eat.
10. Kale Avocado Salad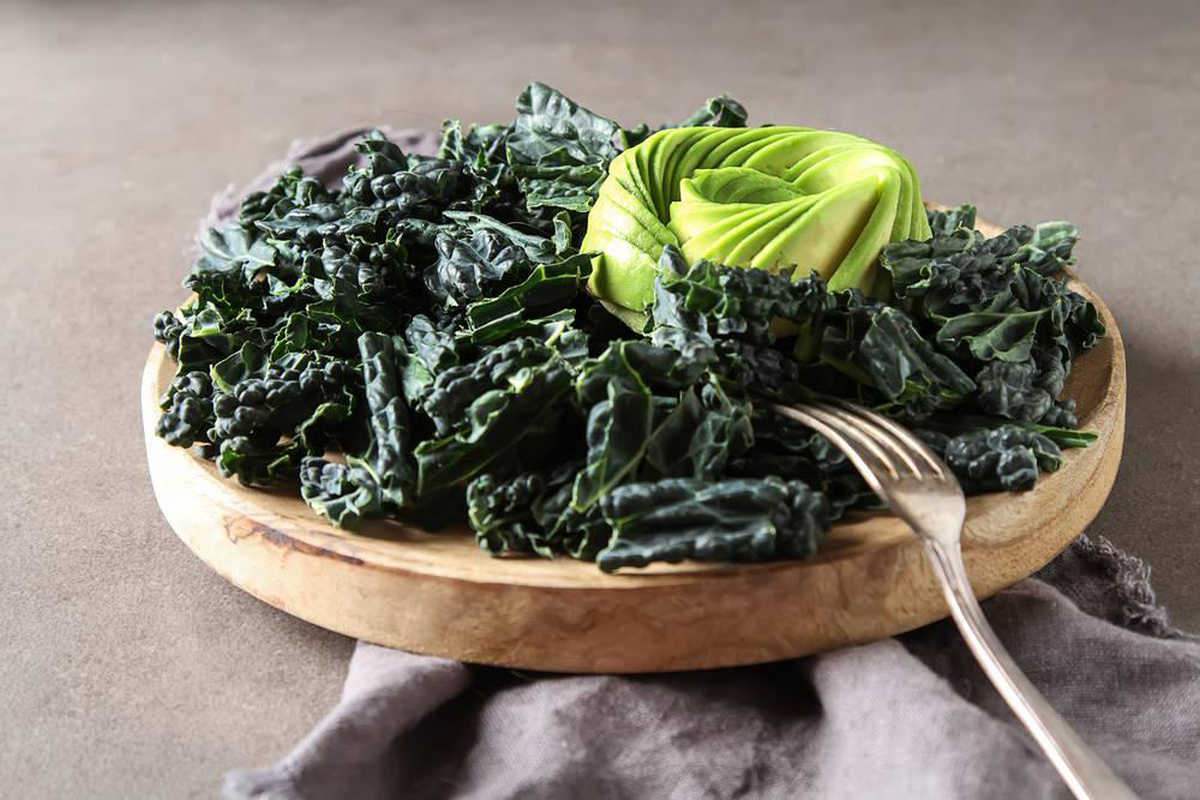 Lately, kale has been receiving all kinds of attention for being a superfood. It's packed with several vitamins and minerals the body needs!
It has vitamin A, K, and C. It also contains vitamin B1 (thiamin), B2 (riboflavin), B3 (niacin), and B6.
Aside from the vitamins, it contains calcium, manganese, copper, potassium, and magnesium. Not to mention, it also has various flavonoids, polyphenols, and beta-carotene, which have antioxidant properties.
This salad is tasty, healthy, and best of all, easy to prep. Enjoy a stress-free snack — you deserve it!
Ingredients:
1 large bunch of kale
1 tbsp olive oil
1 medium avocado
2–3 limes (freshly squeezed)
sea salt
black pepper
Direction:
Cut the stems out of the kale and chop the kale. Put the large bunch