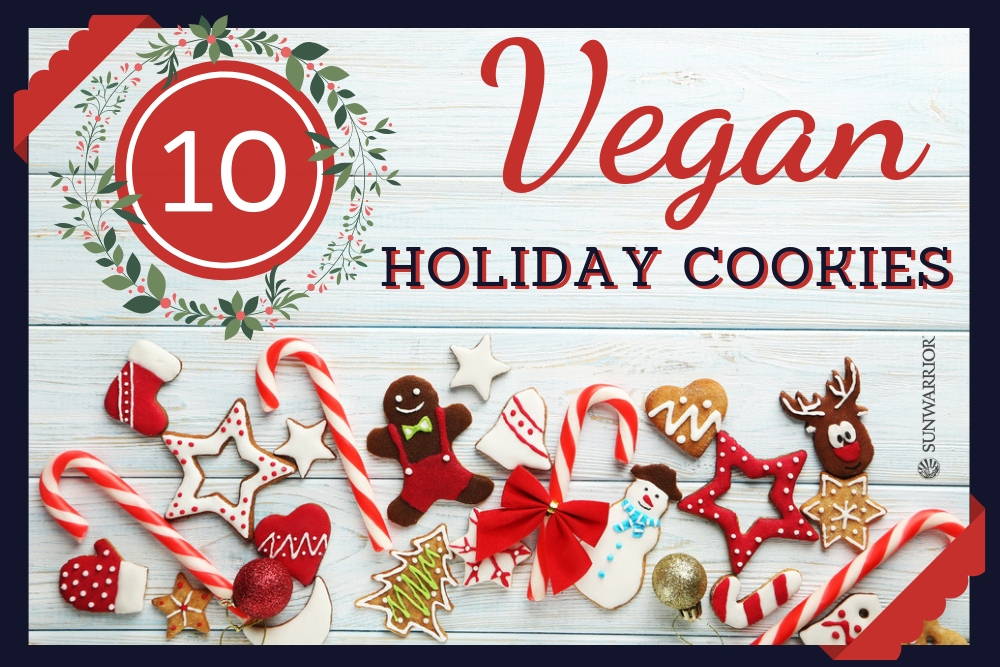 10 Vegan Holiday Cookies that are dairy-free, egg-free, and most of them are gluten-free as well. Obviously we have classics like gingerbread cookies and ginger snaps. We are featuring a shortbread cookie that is gluten-free, made with almond flour. Also, a delicious and pretty thumbprint cookie recipe. And we can't forget about the thin mints. Yum! There is something for everyone on this cookie list.
Enjoy baking these vegan holiday cookies. Everyone in your life will be glad you did.
*Bonus: They will make your home smell amazing, too!
1. Vegan Chewy Gingerbread Cookies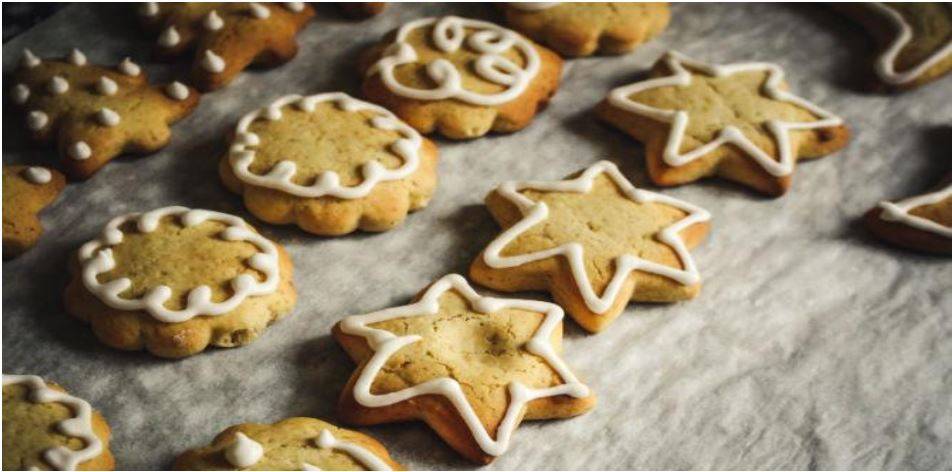 Let's start with a twist on a classic by adding pumpkin to this gingerbread dough. With this recipe, you get gingerbread without the guilt and with an added pumpkin flare.
Ingredients:
1 cup of pumpkin puree (can sub for sweet potato)
¼ cup coconut flour
¼ cup plant-based milk (I used almond milk)
½ cup nut butter of choice
1 tablespoon molasses
1 tablespoon maple syrup
1 teaspoon baking soda
1 teaspoon vanilla extract
1 tablespoon ground flaxseed
2 tablespoons cacao powder
2 teaspoons ground ginger
2 teaspoons cinnamon
¼ teaspoon cloves
⅛ teaspoon nutmeg
Directions:
Preheat oven to 350F and set aside a baking sheet lined with parchment paper
In one bowl, combine the pumpkin, milk, nut butter, and molasses
In another bowl, combine the coconut flour, baking soda, flaxseed, cacao powder, and spices
Mix the wet and dry ingredients to create a dough
Evenly distribute the dough on the baking sheet and press down to form a cookie shape. (If you make larger cookies you should get about 8; you'll get 10 if you make them a bit smaller)
Bake for 12–15 minutes. Let the cookies cool for another 10 minutes
2. Vegan & Gluten-Free Ginger Cookies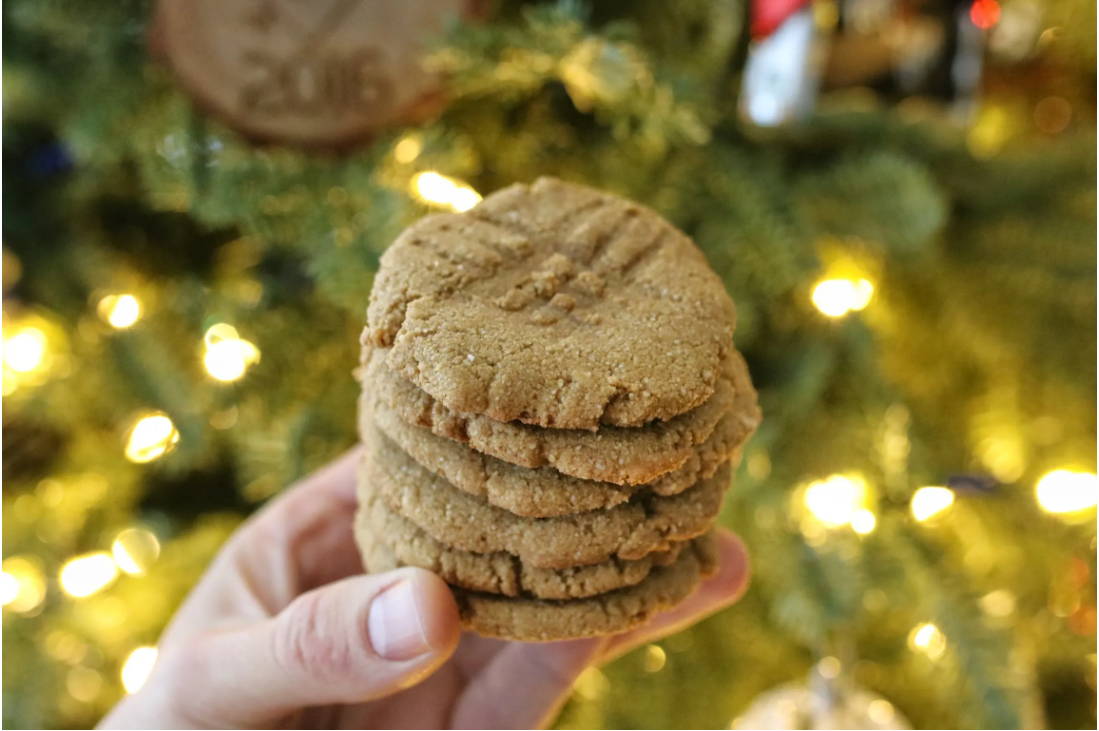 'Tis the season for sweets, sweet, and more sweets! But what if I told you that you can still have all of the holiday flavors you crave without excessive sugar, butter, and heavy gluten?
Ingredients:
1 ½ cups almond flour
¼ cup organic maple syrup
1 tablespoon blackstrap molasses
2 tablespoons coconut oil in liquid form
¼ teaspoon baking soda
½ teaspoon pumpkin pie spice (optional)
½ teaspoon cinnamon (optional)
2 teaspoons ginger spice
Sprinkle of sea salt
Directions:
Mix all of the ingredients together in a large bowl until a smooth batter is formed. (Note: it will take a few minutes to blend all of the ingredients together, but after about 2–3 minutes, a thick batter will emerge).
Mold batter with a spoon in center of the bowl so that it's all together.
Set in refrigerator for 30–40 minutes to create a firmer batter
When there are about 10 minutes left of time in the refrigerator, preheat the oven to 350 degrees.
Roll the dough into balls (about the size of a teaspoon) and place onto a lined baking sheet.
Flatten each ball to form a circle shape and use a fork to create a design on the top.
Bake for 9-10 minutes.
Allow to harden for 10 minutes (note - they will be soft when they come out of the oven but should harden beautifully in 10 minutes)
3. Pumpkin Orange Gingersnap Cookies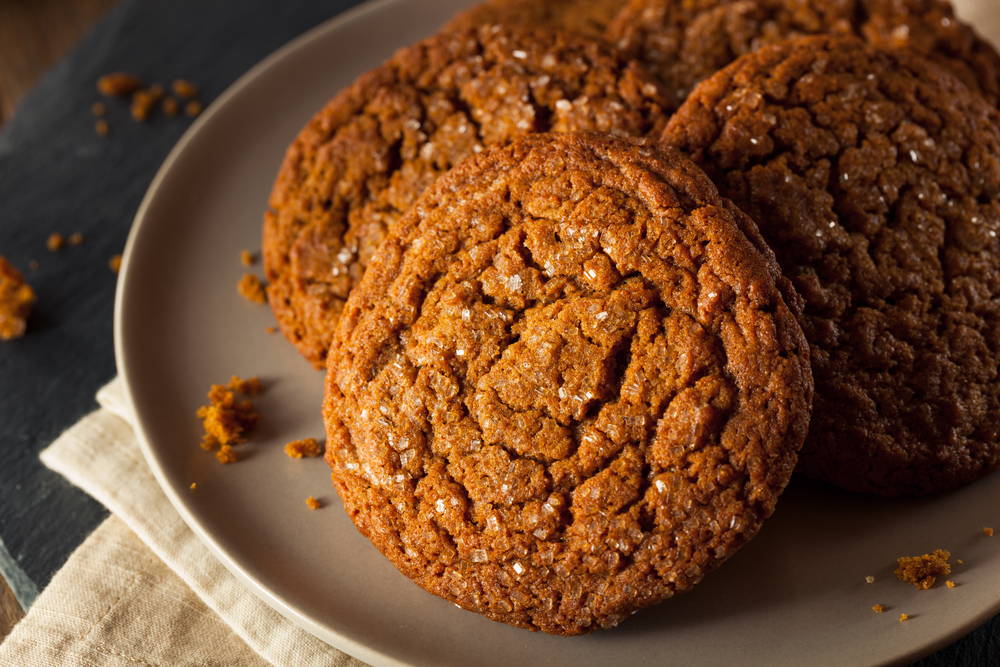 Classic gingersnaps with an orange pumpkin twist. These cookies are sure to wow your tastebuds. Click here to watch celebrity vegan chef Jason Wrobel make these delicious gingersnap cookies.
Dry ingredients:
2 and 1/3 cups gluten-free all-purpose flour
1 cup coconut palm sugar
2 teaspoons ground cinnamon
1 teaspoon ground cloves
1 tablespoon golden flax seed meal
1/2 teaspoon sea salt
1/2 teaspoon guar gum
2 teaspoons baking soda

Wet ingredients:
1/2 cup coconut oil
1 teaspoon orange extract
1 and 1/2 teaspoons grated fresh ginger
1/4 cup blackstrap molasses
1/2 cup organic pumpkin puree
Sift all dry ingredients in a large mixing bowl. Combine all wet ingredients and beat with pastry beaters until well combined. Add the wet ingredients to the dry and mix well. You should have a moist playdough-ish consistency. You'll refrigerate the dough for about an hour, and then scoop it onto a baking sheet. Press with a thumbprint or make a crosshatch pattern with a fork. Bake for 12 minutes at 350 degrees. Transfer to a cooling rack immediately.
4. Jam Dot Thumbprint Cookies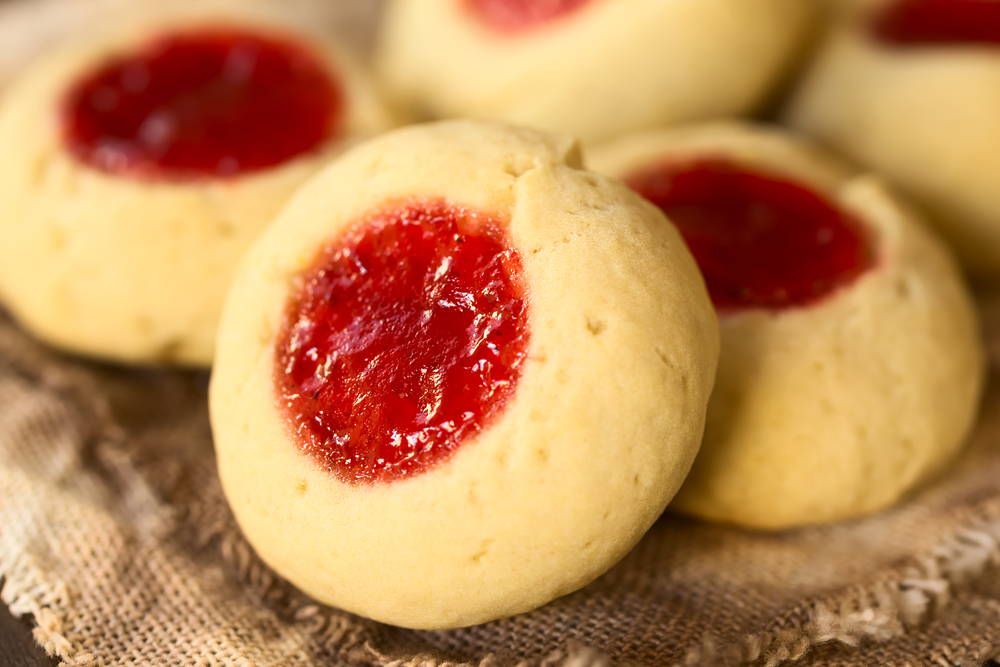 These cookies freeze well so you can make a bunch now and give away throughout the season!
Ingredients:
1 cup ground almonds
2 cups brown rice flour
1/4 teaspoon ground cinnamon
1/2 cup melted coconut oil
1/2 cup maple syrup
Pinch of sea salt
1 jar of "no sugar added" raspberry or apricot jam
Directions:
Preheat the oven to 350 degrees. Line two baking sheets with parchment paper.
In a medium bowl, combine the almonds, flour, and cinnamon. Mix well to combine.
In a separate bowl, blend the oil, maple syrup, and sea salt. Add to the flour mixture and stir to combine.
Roll into walnut-sized balls. Place on the baking sheets and press down with your thumb in the center of each cookie.
Fill the indentations with jam and bake for 15 to 20 minutes.
5. Vegan Cut-Out Almond Shortbread Cookies
If you leave these Vegan Almond Shortbread Christmas Cookies on the mantle with a vanilla nut milk, Santa might just make room for you on the nice list (We know, we know. You're already on it!)
Ingredients:
¾ cup almond flour
¼ cup coconut flour
2 tablespoons arrowroot starch
1 tablespoon coconut butter (softened)
2 tablespoons coconut oil (room temperature)
3 tablespoons maple syrup
¼ cup plant-based milk
½ teaspoon baking soda
1 teaspoon vanilla extract
1 teaspoon cinnamon
Frosting:
1 can full-fat coconut milk
1 tablespoons coconut oil
1 tablespoons maple syrup
1 teaspoons. vanilla extract
Just blend the ingredients together and then spread the frosting on your cookies as you wish!
Click here for Natural Food Dyes
Directions:
Preheat the oven to 350F. Line a baking sheet with parchment paper.
In a mixing bowl, combine the almond flour, coconut flour, arrowroot starch, baking soda, and cinnamon.
Once the dry ingredients are combined, mix in the coconut butter, coconut oil, maple syrup, and vanilla extract. Mix until a sticky, even dough is formed
Place the dough on a sheet of parchment paper. Use cookie cutters (or your own design) to form the cookie shape you are looking for. Place each cookie on the baking sheet when done.
Put the tray of cookies in the oven and bake for 10 minutes.
Remove cookies and let cool before eating or decorating!
6. Vegan Peanut Butter Ganache Cookies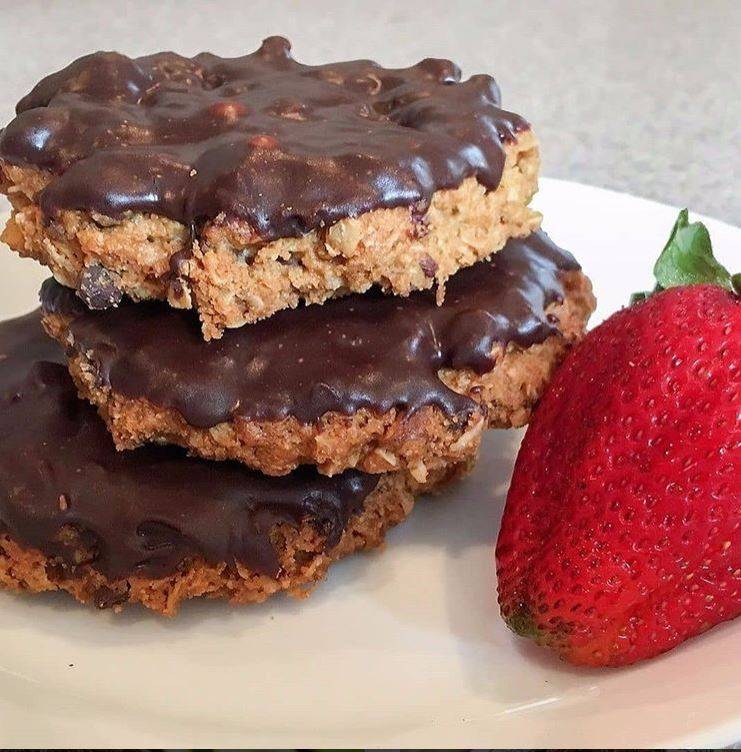 These might not be considered a "traditional" christmas cookie, but they are covered with ganache so who wouldn't want this cookie any time of year?
Ingredients:
1 cup vegan butter, softened
3 cups oats
1 cup peanut butter
1 teaspoon cardamom
½ cup sugar
1 teaspoon cinnamon
½ cup coconut sugar
½ teaspoon nutmeg
2 tablespoons coconut oil
½ teaspoon salt
1 tablespoon cornstarch + 2 tablespoons water (mixture)
1 teaspoon vanilla
1 ½ teaspoons baking soda
Raw chocolate nibs or nuts (handful)
Directions:
Preheat oven to 350. In a large bowl, mix butter, sugars, and peanut butter until creamy with a hand mixer. Add in coconut oil, baking soda and cornstarch mixture. Combine all together.
Using a wooden spoon, stir in remaining ingredients, oats, spices, vanilla, nibs, and nuts until well incorporated.
Spoon out heaping tablespoons of cookie dough onto cookie sheet leaving a little space in between each cookie. Once all in place, gently flatten the tops with your fingers. These cookies will spread a little, but not too much.
Bake for approximately 17–20 minutes. Let cool slightly before removing onto a cooling rack. These cookies can crumble easily if you move them before cooling.
Make your favorite vegan ganache and dip these cookies and then chill in fridge to harden ganache (about 30 minutes). So worth your while to take this step. It takes your cookies to another level.
Easy Chocolate Ganache:
1 cup vegan chocolate chips
1 cup full fat coconut milk
Melt chocolate chips over a double boiler until smooth. Remove from heat. Stir in coconut milk and whisk until smooth and silky.
7. Vegan Thin Mint Cookies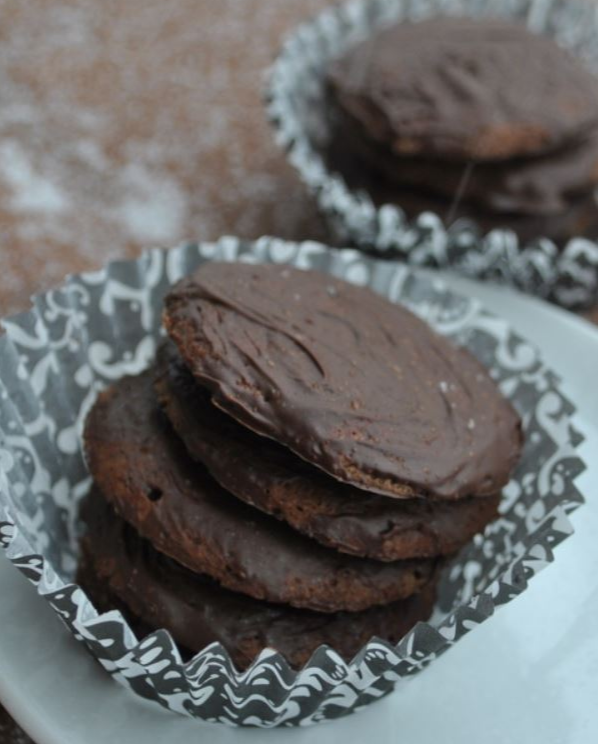 For the cookies:
Scant 1/2 cup whole wheat pastry flour or gluten free flour. (Level 1/2 cup of flour, then remove 2 tablespoons worth)
4 tablespoons cocoa powder
1 teaspoon ground golden flax seed
1/4 teaspoon baking powder
Pinch sea salt
1/3 cup agave
1/4 cup melted coconut oil (use refined if you don't want these cookies tasting like coconut)
2–3 drops food grade peppermint essential oil or 1 teaspoon peppermint extract
For the chocolate outside layer:
1/2 cup vegan chocolate chips, melted
1 teaspoon coconut oil
1–2 drops food grade peppermint essential oil or 1/2 teaspoon peppermint extract
Preheat your oven to 350°. Combine the dry ingredients in a bowl with a wire whisk. Add the wet ingredients and stir until just combined. This mixture will look more like cake batter than cookie dough, that's okay!
Measure out cookie dough with a teaspoon to make about 30 cookies. If your cookie sheet is big enough, they may all fit on the same sheet!
Bake cookies for 8-10 minutes. Let cool on wire cooling rack for 10-15 minutes, they will become firm and crisp up as they cool.
With a small flexible spatula, "ice" the cookies top and bottom with the melted chocolate, trying to get the sides as well, I used about a teaspoon of the chocolate per cookie.
Put the cookies on parchment paper or a silicone baking sheet and refrigerate or freeze for 10–15 minutes to let the chocolate set up before serving.
**Best stored in a container in the fridge; the chocolate can melt at room temps.
8. Vegan Pumpkin Pie Snickerdoodles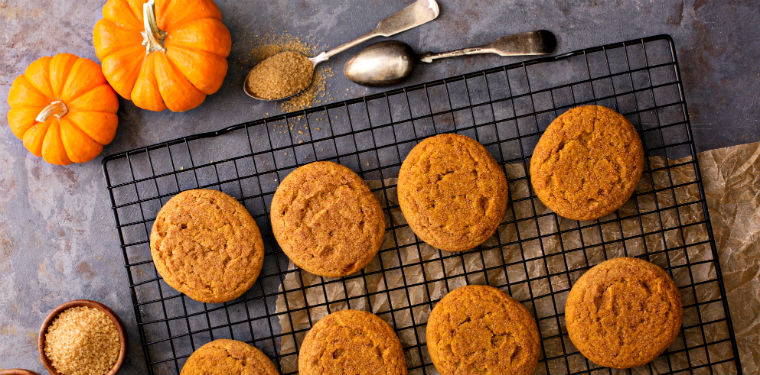 One of the most popular cookies on the blog and on social media. They get rave reviews!
Ingredients:
2 cups almond flour
½ teaspoon baking soda
¼ teaspoon salt
3 tablespoons coconut oil (melted)
3 tablespoons pumpkin pie mix (canned)**
¼ cup maple syrup
2 teaspoons vanilla extract
Coating
¼ cup cinnamon
1 tablespoon coconut sugar
**Pumpkin pie mix can be substituted for pumpkin puree (canned). Make sure to add ½ teaspoon of pumpkin pie spice if substituted.
Preheat oven to 350 degrees Fahrenheit. Coat cooking sheets with nonstick baking spray.
In a large mixing bowl, combine almond flour, baking powder, salt. (*Combine pumpkin pie spice if substituting.)
In a separate small mixing bowl, combine melted coconut oil, pumpkin pie mix/pumpkin puree, syrup, and vanilla extract.
Combine the wet ingredients with the dry ingredients. Mix together until fully combined. It should be a bit wet and sticky. Place mixture in the refrigerator and allow it to settle for about ten minutes.
While you wait, combine the cinnamon, coconut sugar together to make the coating. Place ingredients in a small bowl.
Once dough as settled, form balls about 1.5 inches thick in diameter and roll into coating mixture. Place onto sprayed cooking sheets. Push down cookies to make them flat, about ½ inch thick.
Bake cookies for about twelve minutes. Time may vary depending on cookie thickness and your oven. Cookies should be firm on top and soft in the center. Allow cookies to cool for about five minutes - they will harden up just a bit while they cool.
Cool, share, enjoy!
9. Gingerbread Cookie Protein Balls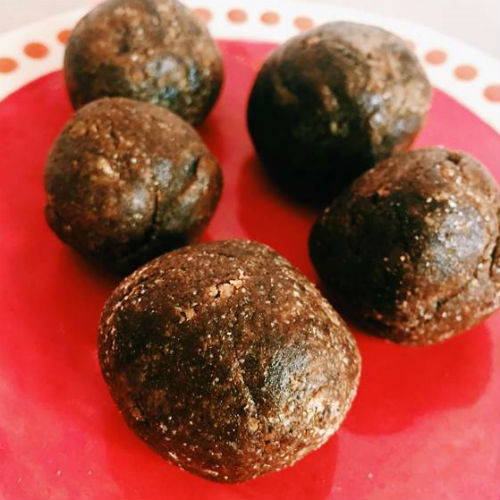 Plant-based chef, and health coach Talia Pollock from Party in my Plants is here to get you amped up for the HO HO HOLIDAYS!! Nothing says holidays like gingerbread cookies, but in her typical style, she'll be making a variation of this treat that won't add inches to your waistline just before you have to start thinking about resolutions. Click here to watch Talia make these delicious energy bites.
Ingredients:
2 tablespoons Classic vanilla protein
1/4 cup oat flour
1/4 teaspoon ground ginger
1/4 teaspoon cloves
1/4 teaspoon cinnamon
Pinch of sea salt
1 tablespoon almond butter
1 tablespoon molasses
2 tablespoon maple syrup
Directions:
Throw all the DRY ingredients into a bowl and mix mix mix.
Add the WET ingredients right into the same bowl and mix mix mix some more.
Get in there with your hands (clean them first!) and roll the dough into little snack balls.
Pop those snack balls into the freezer for about 10 minutes and then enjoy!
If you want to store them for later, store them in the fridge.
Spread the HO HO HOLIDAY cheer in your mouth. You can double or triple the recipe for parties. You can also customize your protein balls by rolling them in cacao, diced nuts, and more. Yum!
10. Vegan Chocolate Truffles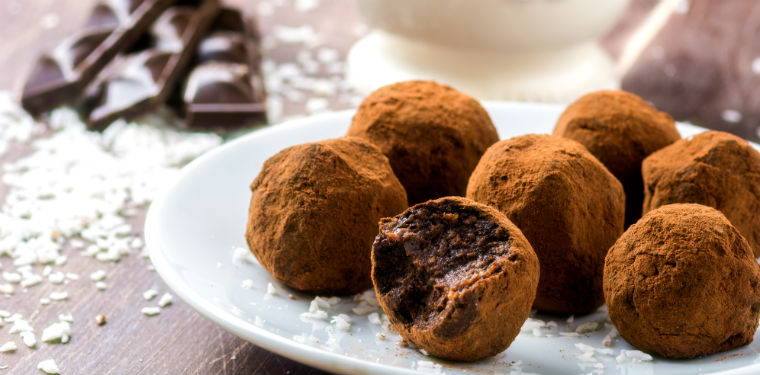 With all the stress of the holidays, neighbor gifts should not be among them. Chocolate truffles with protein to the rescue!
Ingredients:
¾ cup oat flour
1 scoop Sunwarrior Classic chocolate protein
10 Medjool dates, pitted and soaked 30 minutes (drain after soaking)
4 tablespoons cocoa powder
2 teaspoons vanilla
½ cup almond butter
4 tablespoons shredded coconut
Directions:
Blend dates in a food processor or a high-speed blender. Add a drizzle of water if needed, and blend until smooth.
In a bowl, mix oat flour, Sunwarrior Classic chocolate protein, 2 tablespoons of the cocoa powder (save two to roll the protein balls in later), vanilla, almond butter, date mixture, and shredded coconut until the ingredients are well blended.
Roll the mixture into cute little snack-sized balls.
Put the balls in the freezer for twenty minutes.
Remove the balls from the freezer and roll through cocoa powder until each ball has a lovely dusting.
Place on a flat tray or plate and pop back into the freezer for another hour to let them set up.
Plate them up on cute Christmas plates or trays, and do the rounds of gift giving!
If you give these recipes a try, let us know! Snap a photo and make sure to tag us @sunwarriortribe on Instagram or on Facebook @sunwarrior. We would love to see your awesome creations!
Happy Baking Everyone!!
---
Sunwarrior
Our amazing team of Sunwarriors creates the healthiest Plant-Based Proteins & Supplements. Our mission is to nourish & Transform The Planet.
---
Disclaimer
Claims on this site have not been evaluated by the FDA. Information on this site is not intended to diagnose, treat, cure, or prevent any disease. We encourage you to do your own research.. Seek the advice of a medical professional before making any changes to your lifestyle or diet.
Share This Post
Sunwarrior likes to share. Please feel free to repost articles as long as you always link back to the original and credit the author.
---
---