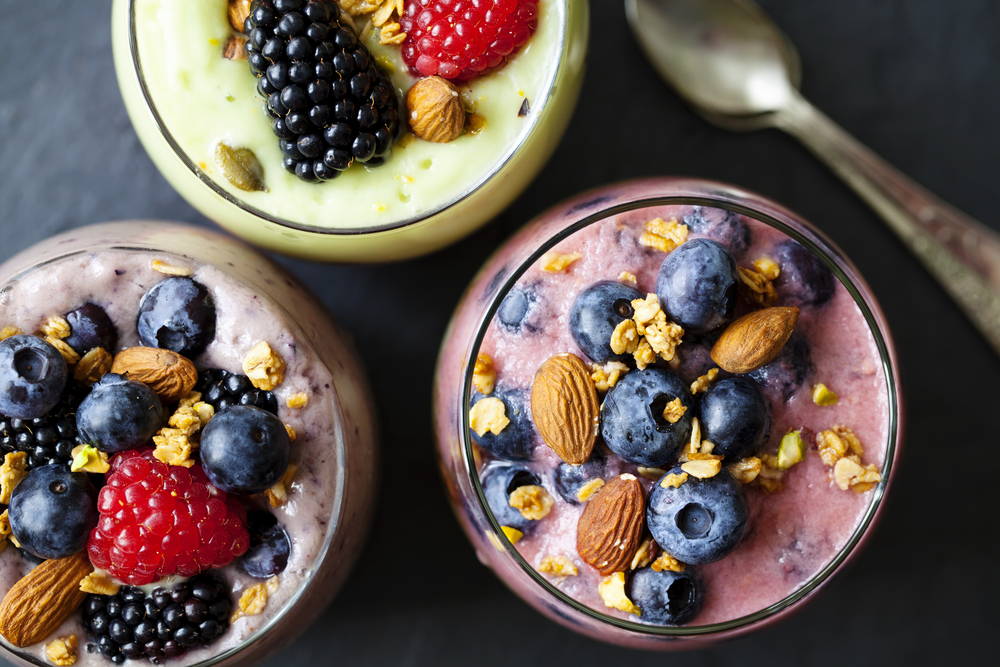 Healthy, easy, no cook breakfast ideas that will help you supercharge your day!
You don't have to be an early bird to get the worm! Start your mornings off on a positive note by sleeping in later and still having the time to enjoy a nutritious, delicious breakfast. One way to save time in the morning is by not having to cook breakfast. Now you can have less work, more sleep and better health.
Smoothies
Smoothies are the ultimate quick, nutritious breakfast. All you need is a variety of fruits and vegetables. Toss them in the blender and your breakfast is ready! One simple smoothie recipe is coconut milk, banana, avocado, protein powder, and spinach.
Yogurt
Yogurt is an easy, customizable breakfast. Dairy free options include coconut, oat, and almond based yogurts. When purchasing yogurts, opt for plain or low sugar varieties and add fresh fruit for sweetness. Have fun with your yogurt by adding in different toppings. These include nuts, seeds, fruits, herbs, and more. Or you can add a grain free granola to add extra crunch.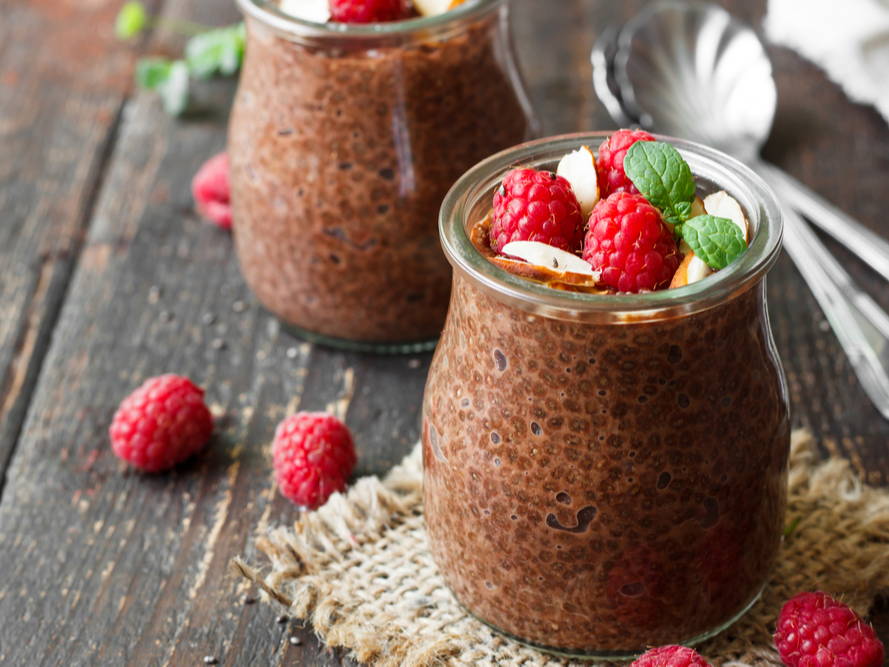 Chia seeds may look small, but they expand in size when added to liquid. When making chia pudding, use 1 and 1/2 cups liquid for every 1/2 cup chia seeds. You can use any type of milk for the liquid. Add in fruit, nuts, spices, herbs, and natural sweeteners for more flavor. Once you have your base set, let chill in a refrigerator overnight and enjoy the next day.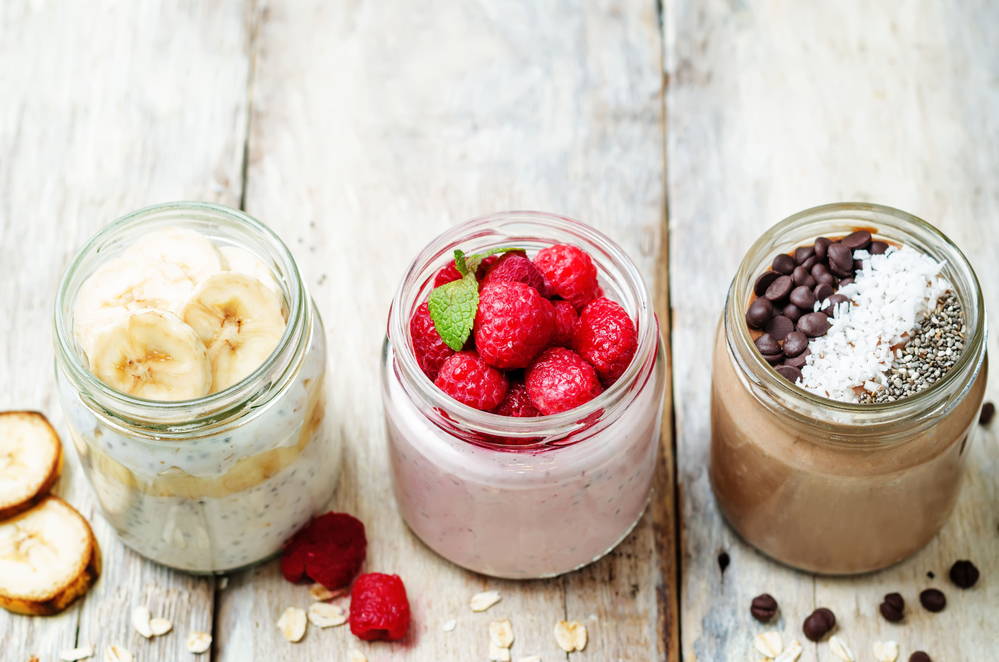 Let the oats work their magic! To make overnight oats, combine oats and liquid (for every ½ oats use 1 cup liquid). Add any toppings you desire and let chill overnight so the oats can absorb the liquid. A delicious overnight oatmeal recipe to try is oats, coconut milk, blueberries, protein powder, and walnuts.
Breakfast Popsicles
The perfect on-the-go summer breakfast treat! Make a healthy breakfast popsicle using yogurt (any kind works), fruit, natural sweeteners, and herbs. All you need to do is pour your popsicle base into ice cube or ice pop molds with a wooden stick and let freeze overnight. Some refreshing summer flavors include lemon and mint, strawberry and cocoa, coconut and pineapple, cherry and vanilla, and blueberry and lavender.
Marbled Almond and Wildberry Frozen Yogurt Protein Bars
Avocado Toast
Slice an avocado on some grain-free toast with spinach and tomato and you are all ready to go! This nutrient dense breakfast is great for when you need something quick and on the go.
Chocolate Breakfast Pudding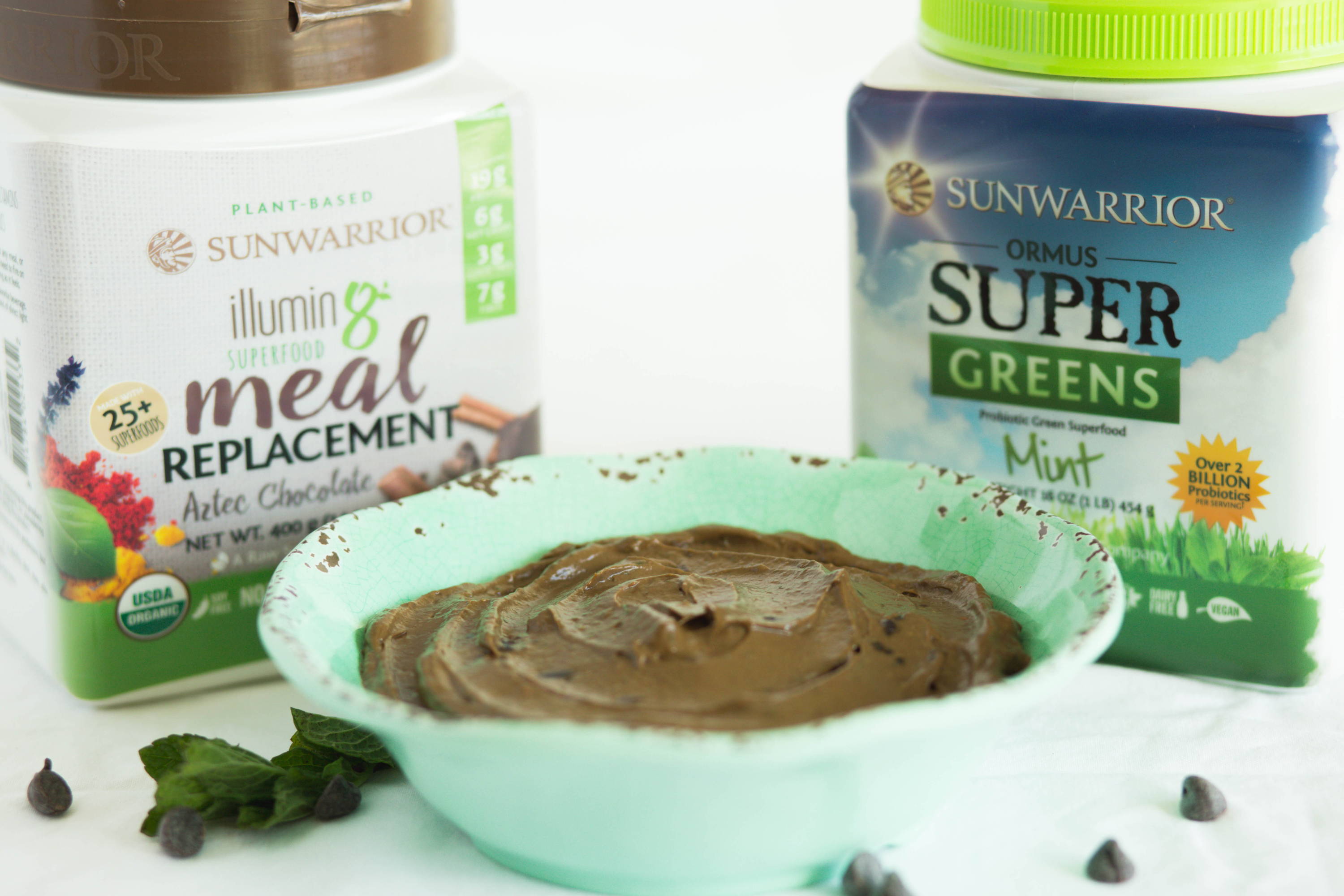 This thick and creamy breakfast pudding uses avocados as the main star. Use a high speed blender or food processor and combine an avocado with cocoa powder, vanilla, liquid sweetener, and coconut milk for a delicious, sweet breakfast.
Dairy-Free (vegan), Decadent Chocolate Pudding
Salad
Salads are not only great for lunch or dinner, but breakfast too! Flood your body with vitamins and minerals when you get up by eating a fresh salad. One easy no cook recipe is lettuce, tomatoes, chickpeas, walnuts, and cucumber.
Cereal
A classic breakfast option. You can find grain free cereals at your local grocery stores or health food stores. Enjoy your cereal with fruit and any type of milk you prefer.