Blueberry Protein Smoothie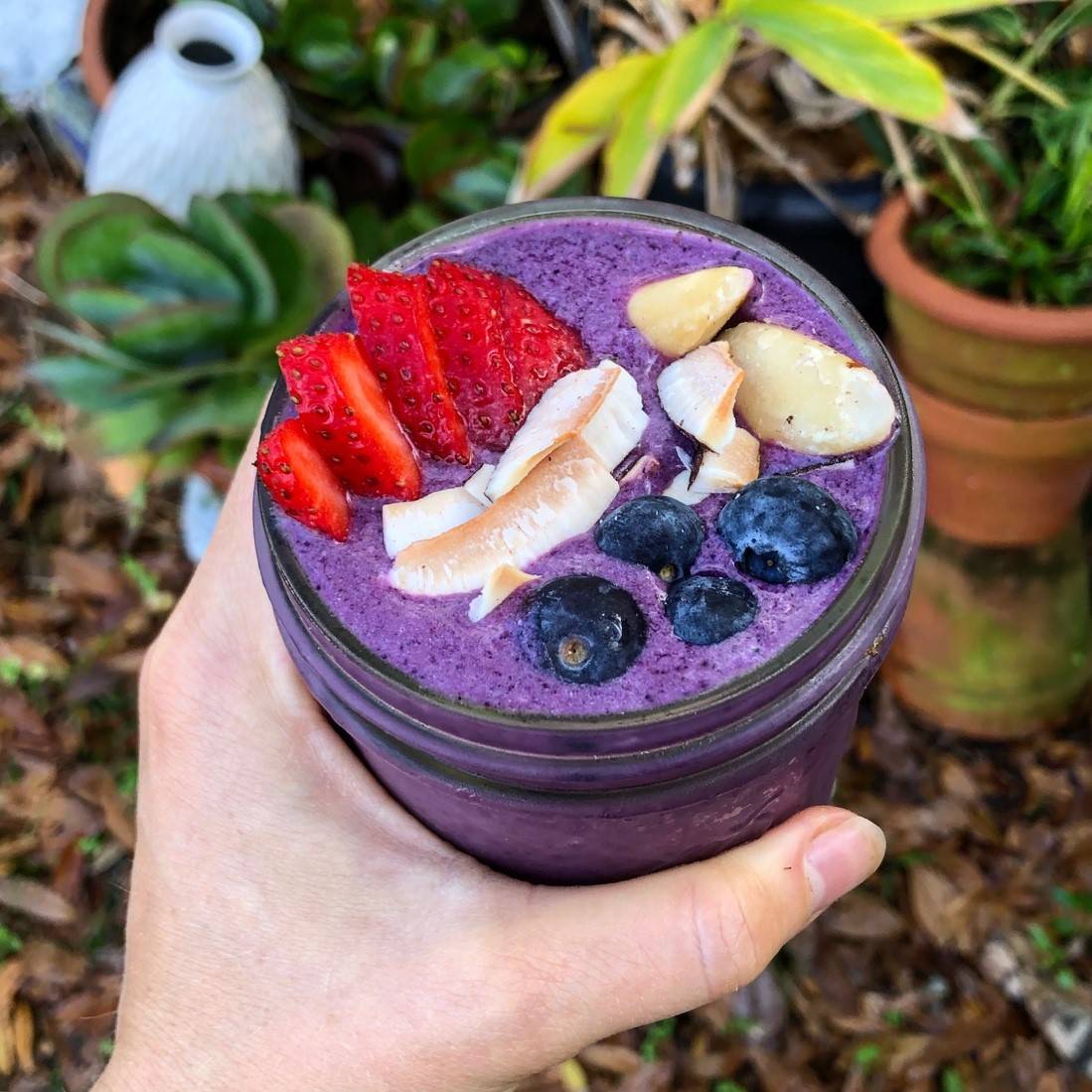 For all your antioxidant and protein needs, this blueberry protein smoothie is the best way to start your day!
The best thing about smoothies is that no two smoothies are alike. Well, that could actually be a bad thing when you nail it, and it tastes so good!
That is definitely the case with this antioxidant blend of beautiful berries and fruit. If there is one fruit you can't have too much of, it's blueberries.
They are just so rich in phytonutrients and are extremely nutrient-dense. It's hard not to eat a whole pint in one sitting!
Frozen blueberries, especially if they are organic, should be frozen at their prime also making them a nutritious addition to your smoothies. I personally have blueberries on hand all year long!
If you need a few more reasons why you should also plan on making blueberries part of your regular routine, here are some facts:
They help protect your skin and keep it vibrant

They help protect cholesterol in your body from becoming damaged

They help lower blood pressure

They may help prevent heart disease

They can help maintain brain function and improve memory

They help balance blood sugar

They help muscle repair after exercise
Ingredients
1 cup coconut milk

½ cup water (optional)

1 scoop Sunwarrior Warrior Blend vanilla

1 tablespoon ground flax

½ frozen banana

1 cup frozen blueberries

1 tablespoon almond butter

1 teaspoon cinnamon
Directions
Place all ingredients in a blender and blend until smooth

Pour into favorite glass

Top with more berries and other goodies like coconut, cacao, or goji berries.
---
Join Our Newsletter
Did you enjoy this content? Sign up for our newsletter and be the first to receive new product announcements, special offers, tasty recipes, and tips for managing your health in all the best ways. All delivered personally and conveniently to your inbox!
---
Disclaimer
Claims on this site have not been evaluated by the FDA. Information on this site is not intended to diagnose, treat, cure, or prevent any disease. We encourage you to do your own research.. Seek the advice of a medical professional before making any changes to your lifestyle or diet.
Share This Post
Sunwarrior likes to share. Please feel free to repost articles as long as you always link back to the original and credit the author.