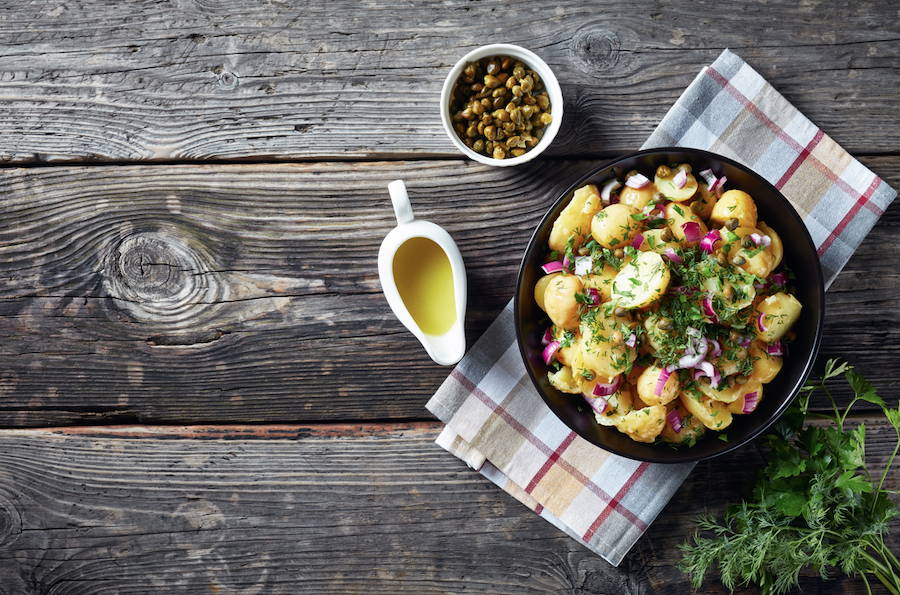 On the menu today is a delicious, dairy free, gluten free, zesty vegan salad, but this is no boring "simply lettuce" salad...it's a plant-based potato salad that will leave salivating for more. Tossed in a creamy and nutritious "sauce", it's the perfect addition to your food selection as it's loaded with super crispy veggies with a variety of unique flavors and textures. It's a game-changer, especially when the flavors are allowed to sit and to intensify overnight. Looking for something quick to make that's appealing to the taste buds? Whip this rainbow potato salad up in minutes, and add the veggies and spices you desire. Your friends and family will be impressed by this wonderful side dish or appetizer as you set it on the table. Little do they know it's easy to tweak and simple to make-- BOOM -- satisfied.

Forget the preservatives and mushy, mayonnaise-packed flavorless potato salads you find in the store that are most definitely not a bang for your buck. These tender "taters" with a non-dairy cashew garlic-herb cream sauce to mix in is both versatile and delicious!
Vegetables (Potato Salad Filling)

1 bunch/lb of purple, red or yellow potatoes -- keep the skin

(purple + reds are more firm)

(yellows will be a softer consistency)

½ C diced bell peppers

1 C diced celery

½ C green onion

½ C minced red onion

½ C chopped carrots
⅓ C filtered water

1 C raw unsalted cashews

1 tbsp oil of your choice (avocado oil, olive or even grapeseed oil)

2 tbsp ACV (apple cider vinegar)

1 tbsp agave or favorite liquid sweetener raw honey

4 garlic cloves minced

1 tbsp spicy mustard

1 tsp hot sauce or chilli flakes if you like it fire  
1-¼ tsp salt

¼ tsp paprika

Dash of black pepper for your taste

3 tbsp fresh chopped dill
First things first, add all the raw cashews into a small bowl and fill it with hot boiling water and allow it to soak for an hour.

Whilst the cashews are soaking, begin to add potatoes to a big saucepan with water and slowly bring to a boil with the temperature knob turned to high heat. Once it's boiled, reduce to medium heat (bump up if needed --water needs to be at a low boil). Allow potatoes to cook for at least a solid 15-20 minutes, checking the tenderness often. Drain the water and set potatoes out to cool

Next, be sure cashews are fully soaked. Once soaked completely, drain the excess liquid, and add cashews along with ⅓ cup water to the blender. (Make sure you are using a blender that works well and is fairly sharp to get a creamy consistency). Blend just a few times on medium and move on to step 4.

Continue to add the rest of the ingredients: olive oil, vinegar, spices of your choosing (I like to get a little crazy with my spices), agave, spicy mustard, paprika, salt, pepper, dill, and garlic. Blend again on HIGH this time, checking every once in a while to scrape down the sides of the blender and continue blending until the consistency is creamy and thick. (add more water if you'd like it thinner/runnier)

Time for taste-testing! -- if it's lacking flavor, you can add nutritional yeast, salt and pepper to create a more flavory sauce. More garlic will add quite a bite to it, while more dill will give you an "herby" taste. Of course, you may always add your choice of sugars (agave, honey, maple syrup, etc) for a sweeter taste, more olive oil and vinegar for tang and some extra chilli flakes or hot sauce for that fire!

Back to the main ingredient-- PURP POTATOES. Chop the potatoes how you like them (I prefer bite-sized, and kiddos love it too). Next, add potatoes to a large bowl with the chopped veggies as well and begin to mix and mix and mix. Top with the cashew sauce and stir to coat-- keep room temp or slightly warm and serve.

Stays good up to 1 week

Enjoy!