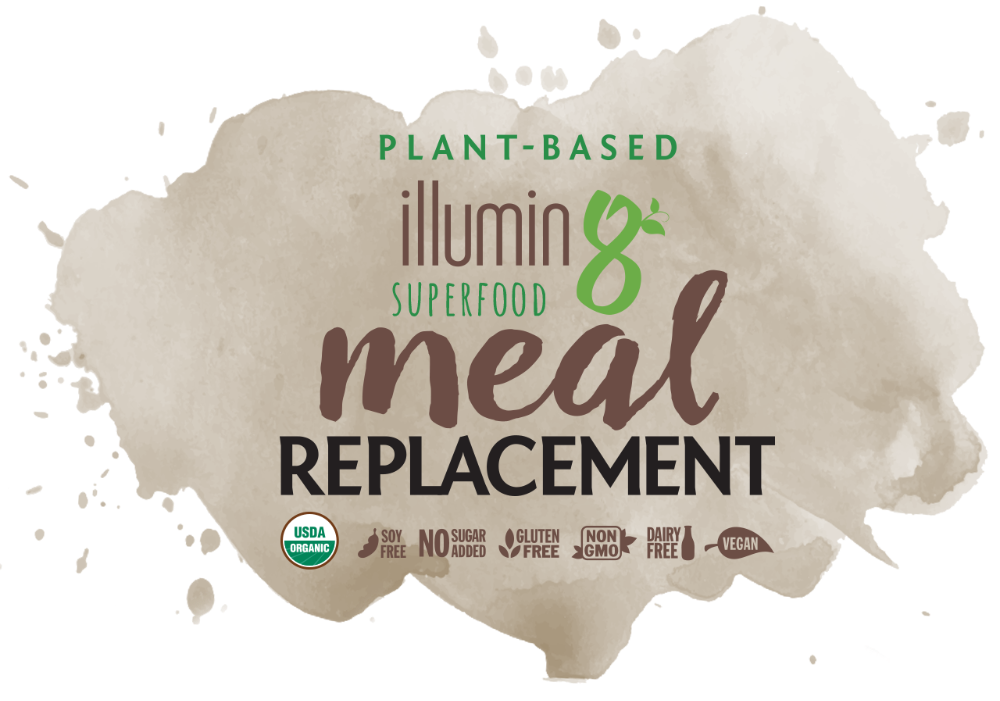 Your life can get hectic. Sometimes there's time to prepare a meal, especially when you want to include healthy macro and micro-nutrients. That's why we created illumin8.
illumin8 covers your most important nutrients: organic plant-based protein with a full amino acid profile, gluten-free complex carbohydrates, healthy fats, whole food vitamins, minerals, fiber, enzymes, and probiotics. Additional superfoods such as baobab, chia, flax, whole grain brown rice, kelp, holy basil, guava, and coconut all come together in illumin8.
illumin8 is perfect for an on-the-go breakfast or a quick energy snack in between meals. Add illumin8 to any smoothie for extra nutrition or whip some up before or after your workout to get your cells what they need to fire on all cylinders. illumin8 tastes as amazing as it feels!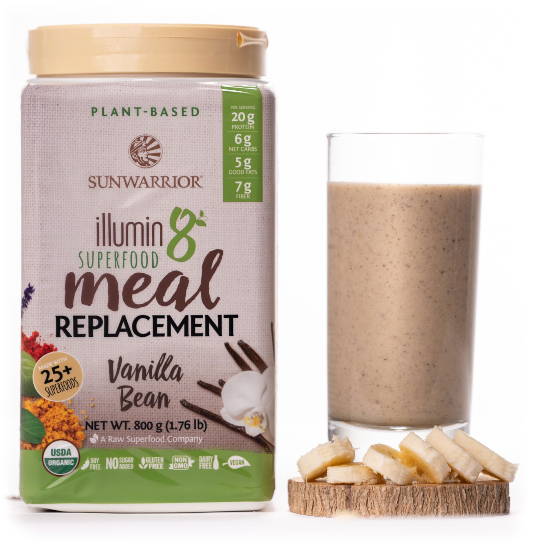 WHAT DO YOU GET? NUTRITIONAL EQUIVALENT OF: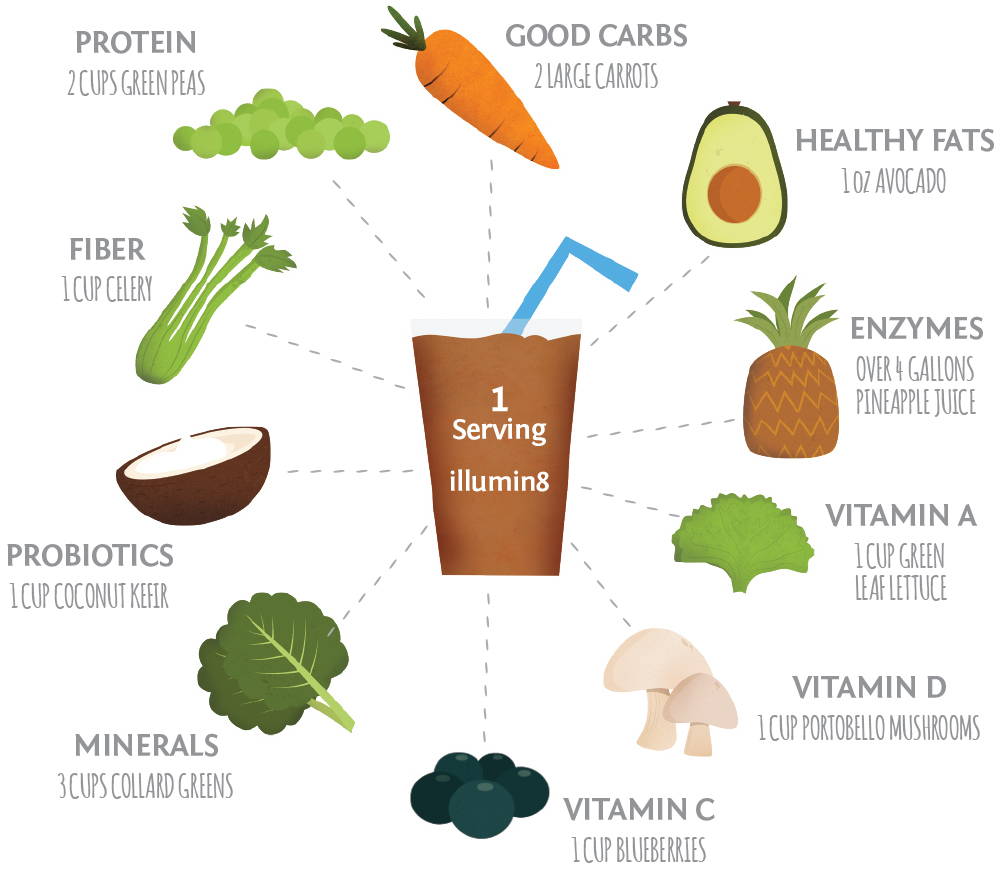 We pack in organic protein from yellow peas, sprouted and fermented whole grain brown rice, sprouted quinoa, flax, and chia seeds to keep your muscles and body well supplied.
Not all fat is bad. Chia, flax, and coconut supply what your cells need for energy, vitamin absorption, healthy skin, and brain health. Essential fatty acids, lignins, and protective antioxidants come together to help support your heart.
Sourced from organic origins. We rely on preserved plant-life from an ancient seabed for macro and trace minerals with fulvic acid.
Supplies your microbiome with reinforcements. Stable and acid-resistant, a billion micro-warriors (friendly bacteria) will arrive safely in their new home & get to work.
Baobab, chia, and flax offer both soluble and insoluble fiber along with antioxidants for gentle cleansing, hydration, and prebiotics for a happy digestive system.
No synthetics here. Our bioavailable vitamins come exclusively from organic herbs, essential oils, and superfoods that we believe are superior in every way.
Welcome to tailored nutrition! Our team of enzymes was customized specifically for illumin8 to maximize the absorption of each and every nutrient.
We include these superfoods to maximize the power of illumin8: kelp, cinnamon, red algae, holy basil, annato seed, amla, vitamin K2 as menaquinone-7, lemon, sesbania, and lichen.

ILLUMIN8 YOUR BODY AND MIND!
Customer Reviews
Write a Review
Ask a Question
11/12/2019
Saul A.
United States
Best product ever
LOST WEIGHT.GOOD PRODUCT EVER I HAVE IT TRY. MAKE MY MIND LOST
Saul! Thanks for sharing. We love knowing you are finding the Sunwarrior brand useful. We hope you continue to explore our product line as we appreciate your business! Thanks for the review!
MG
11/05/2019
Marissa G.
United States
Meal replacement
Great! I love this product and brand.
Marissa! Yay! We are so glad you are loving your Sunwarrior! Thanks for the review. We hope you try some of our other flavors soon.
10/21/2019
Sierra .
United States
Finally, Delicious
Highly recommended by Vitamin Shoppe sales associate. So now I'm highly recommending!!! I purchased the Vanilla Bean. Delicious, fulfilling. No chalky residual.
Hi Sierra, We are so happy you have discovered our Illumin8! It's one of my favorites too. We hope you continue to explore our line. Thanks for being a loyal Sunwarrior.
10/03/2019
Christie P.
United States
Illumin8
My favorite product from you guys. Every flavor is delicious. It keeps me satisfied all day and it's my overall favorite protien powder out of every brand. Thankyou!
Hey Christie! Illumin8 is my favorite protein too! Thanks for your feedback. It keeps us going! We hope you continue to be a Sunwarrior and try some of our other products soon.
08/15/2019
Saul A.
United States
Best product ever
Loose weigth, gain muscle . fill full..