Vegan Scrumptious Cinnamon Rolls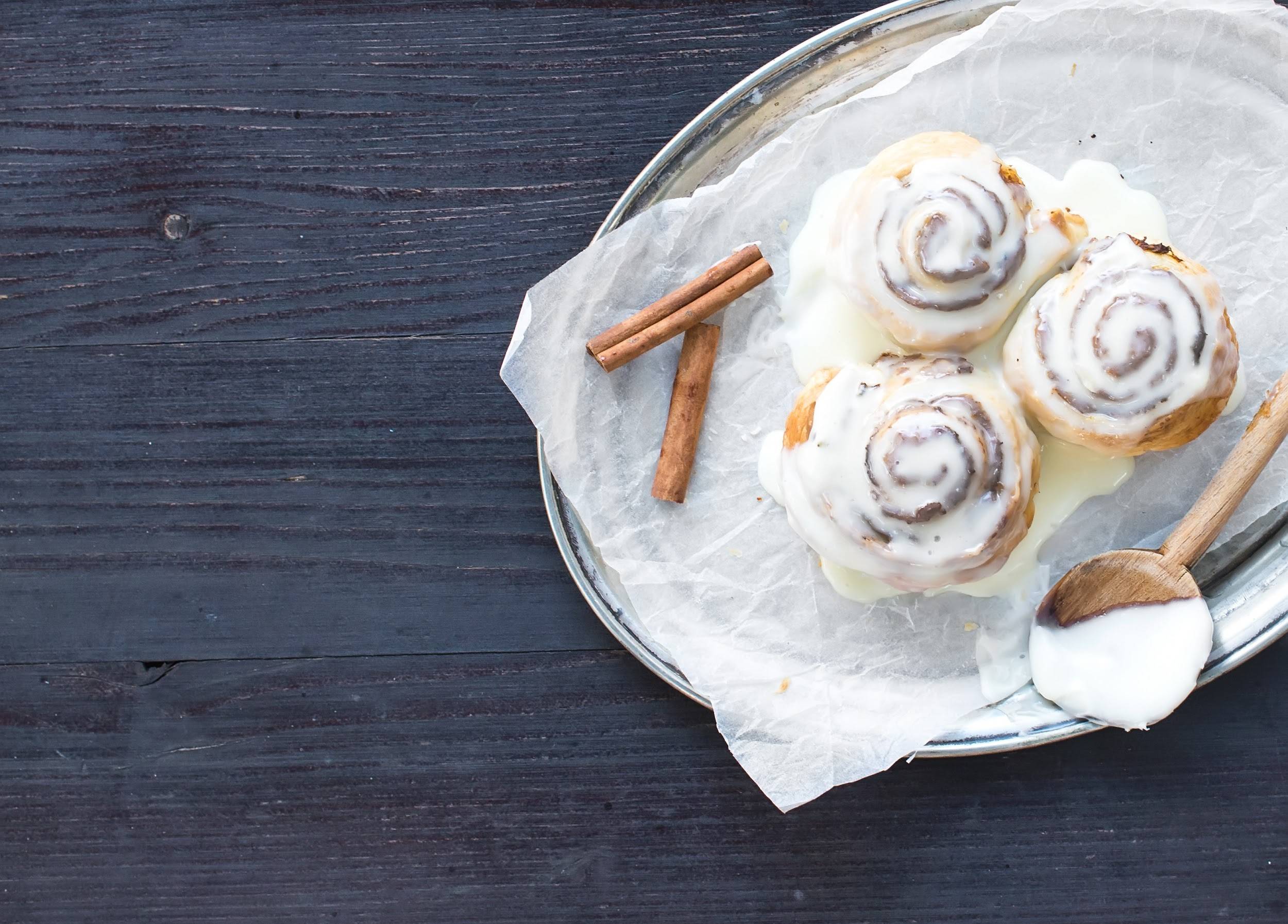 Nothing says I love you like a gluten-free, vegan treat that requires no yeast and only ten ingredients. These cinnamon rolls are mm-mmm good!
These buns are easy to make and completely freezable to save for later. They are 100% moist, tender, and easily pulled apart.
Ingredients
For the dough
4 ½ cups gluten free baking flour (or all-purpose flour if gluten doesn't bother you)

2 tablespoons baking powder

1 teaspoon salt

1 ¼ cup nondairy milk

1 cup coconut oil (melted) or vegan butter
For the filling
¼ cup vegan butter or coconut oil (melted)

1 cup coconut sugar

1 tablespoon cinnamon
For the icing
1 cup powdered coconut sugar

2 tablespoons vegan butter

1 teaspoon pure vanilla extract

3 teaspoons lemon juice/nut milk (depends if you like tangy or sweet icing flavor)

1 ¼ cup nondairy milk
1 ⅜ cup coconut oil (melted) or vegan butter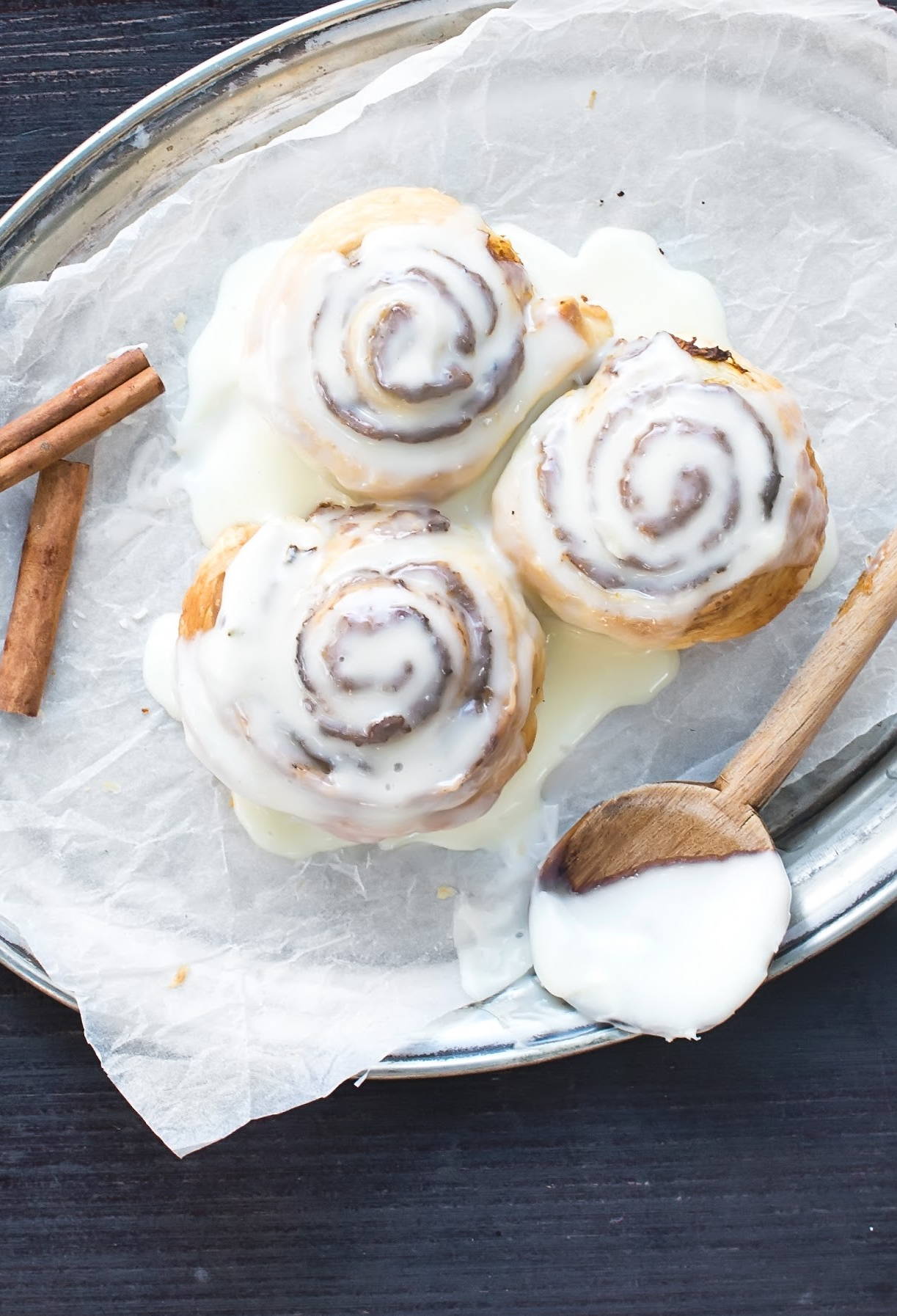 Directions
Preheat the oven to 400 degrees Fahrenheit

Line a 9 X 12 baking dish with parchment paper or grease accordingly

To make the dough, whisk together the flour, baking powder, and salt in a large bowl

Next, add the coconut oil or cubes of vegan butter, and use a fork or pastry cutter to reach a desired grainy texture

Pour the nondairy milk into the dough

Use your hands to knead the dough together (you may need to keep adding dry ingredients until it comes together and forms a nice ball of dough)

Let the dough rest in the bowl for approximately 10–15 minutes (this allows the dough to stretch)

Once the dough has set out for a good amount of time, flour a clean work surface lightly and roll the dough with a pin

For the sugar filling, pour the melted vegan butter or coconut oil over the rolled out dough and spread the filling evenly with the back of a spoon.

In a small-sized bowl, combine the sugar and cinnamon and sprinkle evenly over the melted butter/coconut oil

Next, roll the cinnamon buns into nice swirls. Starting from the longer side of the dough, gently roll the dough up with your hands. Once it has been rolled, use a knife to cut about 12 rolls by sawing the knife gently.

To bake the buns, place the dough in the prepared baking dish, swirl side upright and bake from approximately 24–28 minutes. These should slightly puff up and become lightly golden brown in color.

Let it cool for 10 minutes before serving and mix your toppings and add more icing to your liking.

ENJOY
---
Sunwarrior
Our amazing team of Sunwarriors creates the healthiest Plant-Based Proteins & Supplements. Our mission is to nourish & Transform The Planet.
---
Disclaimer
Claims on this site have not been evaluated by the FDA. Information on this site is not intended to diagnose, treat, cure, or prevent any disease. We encourage you to do your own research.. Seek the advice of a medical professional before making any changes to your lifestyle or diet.
Share This Post
Sunwarrior likes to share. Please feel free to repost articles as long as you always link back to the original and credit the author.
---
---