Vegan German Chocolate Cake Bars
---
Article Published on Sep 10, 2019
---
---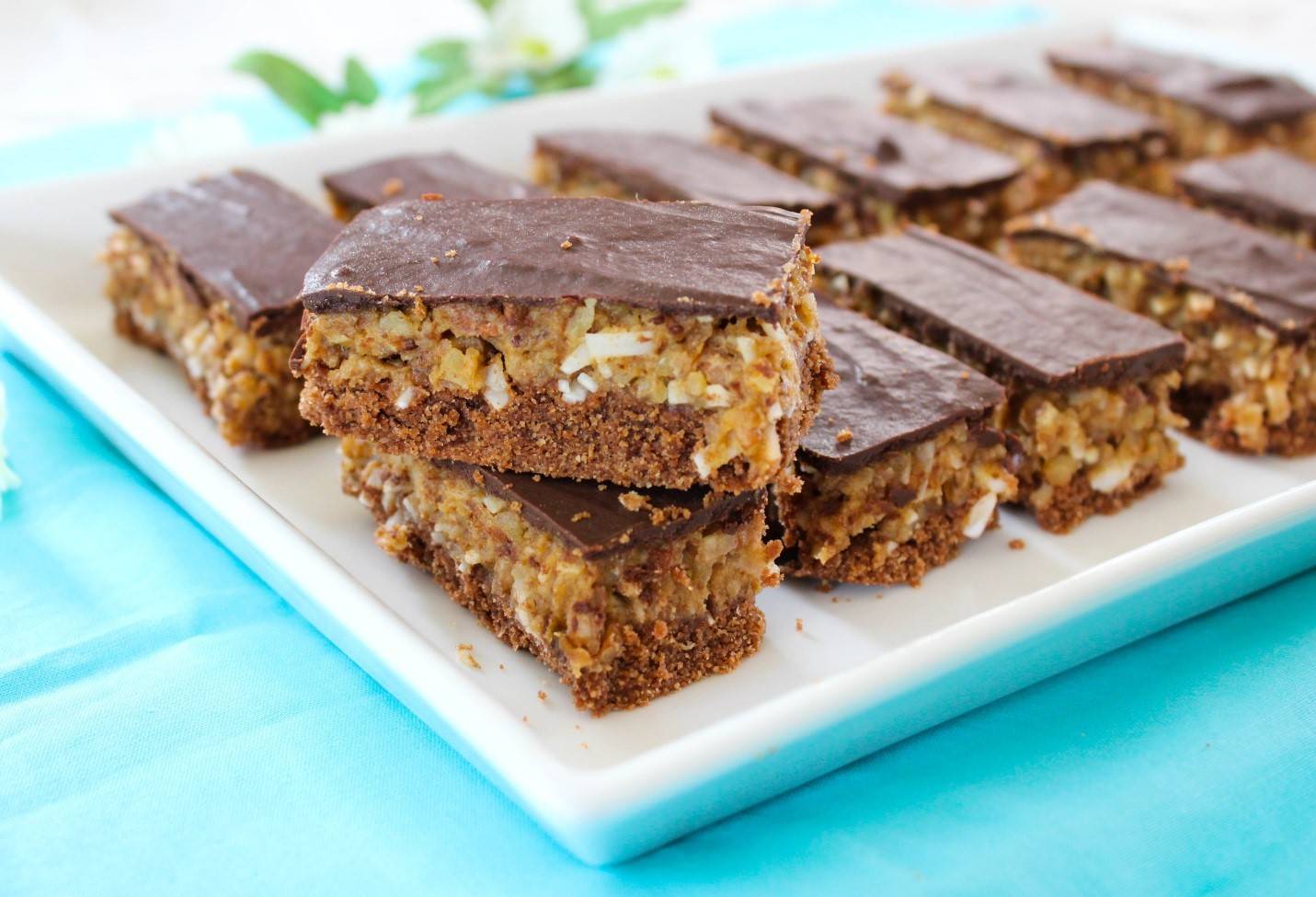 When reaching for a snack, try something a little healthier like these vegan German chocolate cake bars!
Whenever I was little, I always requested German chocolate cake for my birthday. It's an odd request from a five-year-old considering that funfetti cake was usually the norm. I still love German chocolate cake, coconut, and nuts, so naturally, I'm always thinking of ways to make my beloved childhood favorite treat.
These bars are AMAZING: refined sugar-free and made with wholesome ingredients, so you won't feel guilty after eating half the pan. These are a healthier option to bring to BBQs, serve at dinner parties, or put in your kids' lunch boxes. They will definitely become one of your weekly meal prep treats.
Makes 18 bars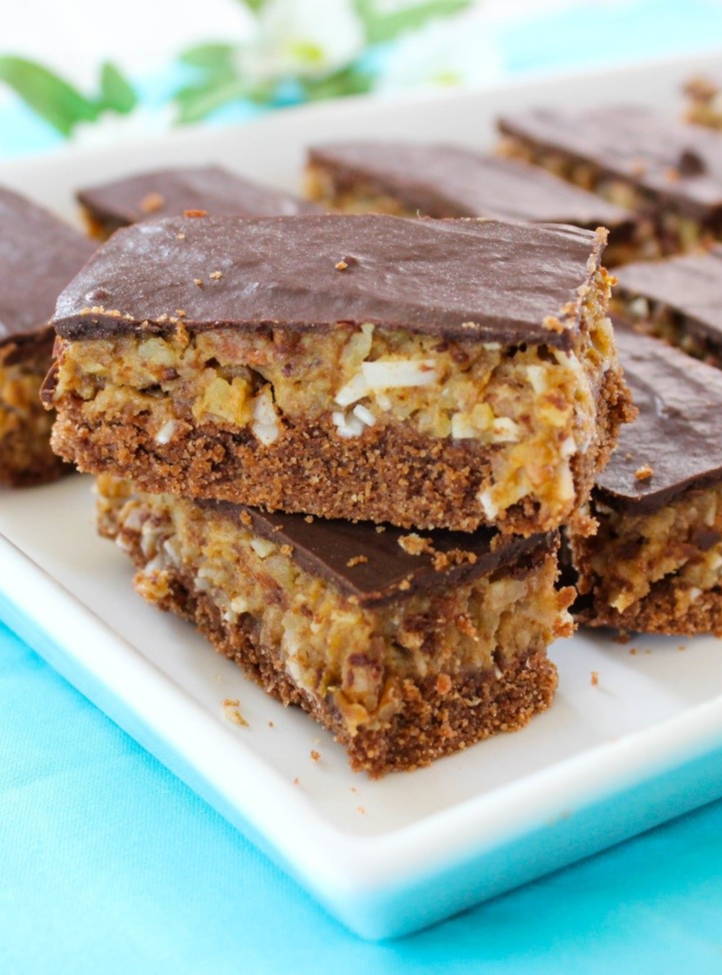 Base
2 cups almond flour
2 tablespoons cocoa powder
2 tablespoons maple syrup
¼ cup warm water
2 tablespoons coconut oil
Middle Layer
2 cups pitted Medjool dates
5 cups toasted pecans (pulse in food processor)
5 cups shredded coconut
2 tablespoons peanut butter
½ cup water
Chocolate Topping
1 cup vegan chocolate chips
1 teaspoon coconut oil
3 tablespoons almond milk or coconut milk
Pre-heat oven to 350 degrees. Add base ingredients into a food processor. Process until mixed thoroughly and ingredients come together like "dough." Line a 9x9 baking pan with parchment paper and press the mixture into the pan so that it is spread evenly. Bake for 13–15 minutes. Let cool for at least 10 minutes before adding filling
Add Medjool dates, peanut butter, and water into a food processor and process until smooth. Mix with the pecans and coconut until well combined. Spread mixture on top of the base
Melt the chocolate topping ingredients together. Pour over the coconut mixture to top off the bars
Place bars in the fridge until set (1–2 hours). Cut into bars and store in the fridge
---
Sunwarrior
Our mission is to nourish & transform the planet, one individual at a time, by providing the highest quality, clean, affordable, plant-based nutrition, education, and science-backed bio-technologies.
---
Disclaimer
Claims on this site have not been evaluated by the FDA. Information on this site is not intended to diagnose, treat, cure, or prevent any disease. We encourage you to do your own research.. Seek the advice of a medical professional before making any changes to your lifestyle or diet.
Share This Post
Sunwarrior likes to share. Please feel free to repost articles as long as you always link back to the original and credit the author.
---
---