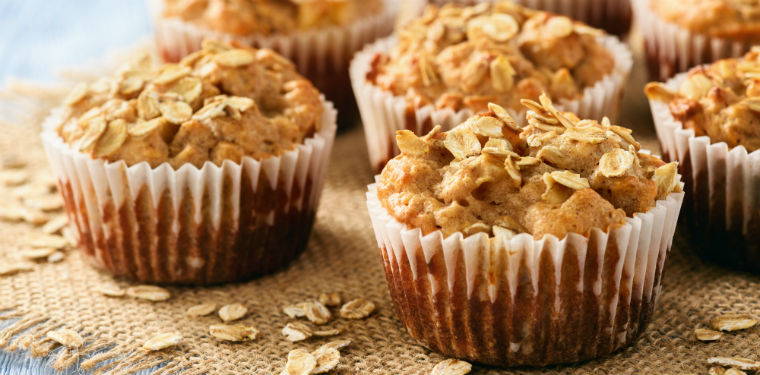 The best secrets should be shared! This vegan cinnamon oat muffin recipe has a secret ingredient worth sharing
I get a thrill when I keep secrets. Planning birthday surprises are one of my favorite activities but simultaneously biting my tongue not to give away the huge surprise I giddily planned is a struggle! Fortunately, and unfortunately, that challenge carries over to these lovely chickpea muffins. Nobody will ever guess that the bulk of these muffins are secretly chickpeas, but watching your loved ones scarf the muffins down with gusto will make it hard for you to not blurt out the secret ingredients! You can ruin the surprise - I'll allow it.
These muffins are great for a morning on the go; you can easily grab one or two as you're flying out the door, and they're equally great for a midday snack when you're in the awkward and uncomfortable snack-time/pre-dinner situation!
(makes about 8 large muffins)
Vegan Secret Chickpea Muffins
Ingredients
1 can chickpeas, drained and rinsed
½ cup almond butter
¼ cup maple syrup
½ teaspoon cinnamon
2 teaspoons vanilla extract
¼ teaspoon Sunwarrior Sea Salt
¼ teaspoon baking powder
¼ teaspoon baking soda
2 tablespoons rolled oats
Raisins, optional and as many as you'd like!
Directions
Preheat your oven to 350 degrees F
Simply add all the ingredients (except the raisins) into a food processor and process them together
Stir in the raisins (optional)
Spray a muffin tin with coconut oil spray, so the muffins don't stick and add the batter to your muffin tin. (It makes about 8 large muffins.)
Bake for 20 minutes
Remove and let cool before diving in
Store in a sealed container in the fridge