Sweet Vegan Quesadilla with Sweet Potatoes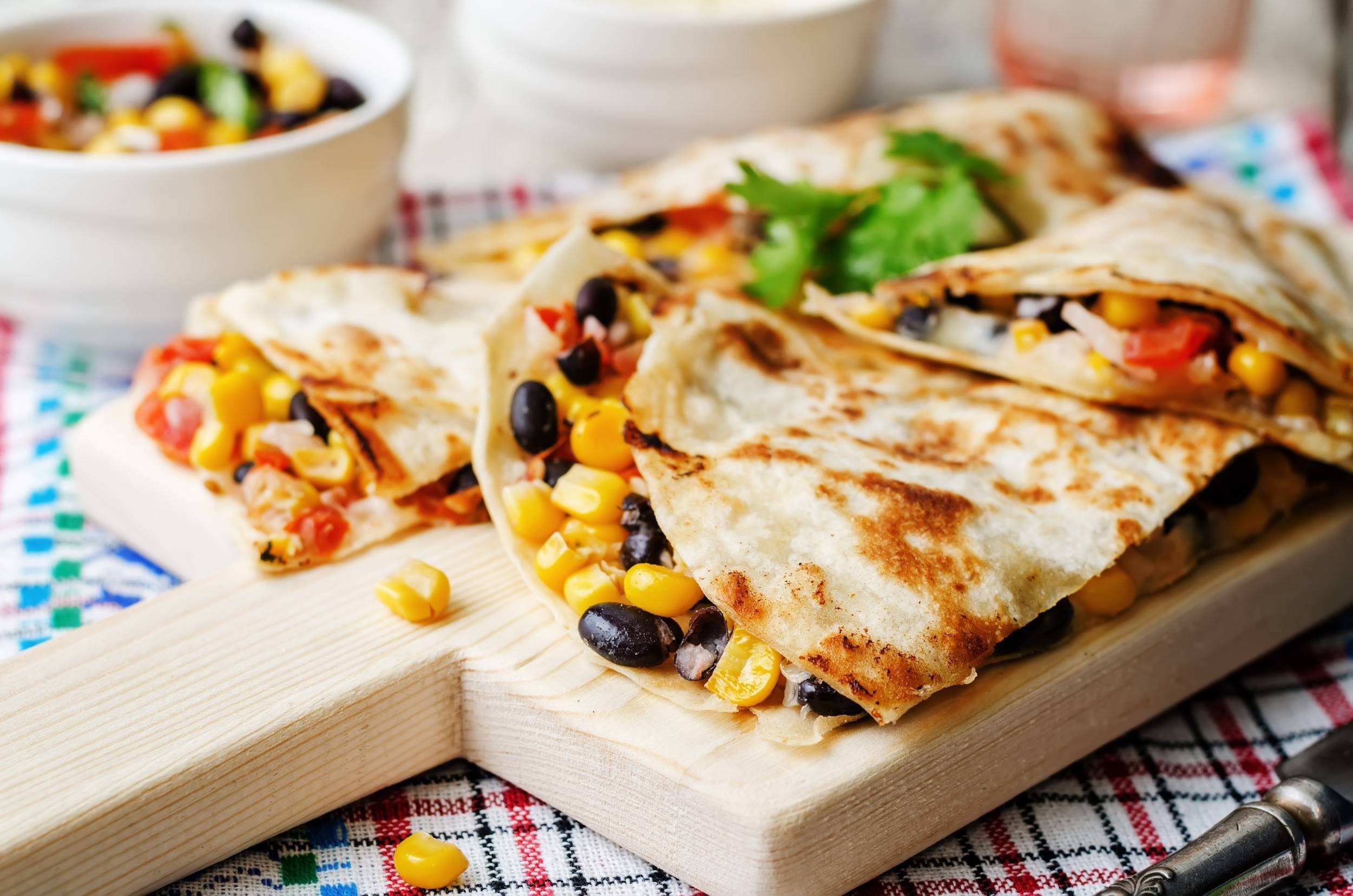 Dinner doesn't have to be complicated. Give yourself a break with this quick, easy vegan quesadilla!
Quick, easy vegan meals are a favorite amongst this generation. Plus, they have the nutrients (and plant-based protein) to keep you thriving for the day. Perfect for breakfast, lunch, or dinner, these quesadillas are loaded with black beans, dairy-free cheese, corn, and sweet potato, and they are easy on the tummy. They are not only packed with healthy ingredients, but they are also gluten-free and seriously flavorful. Who doesn't like a simple, healthy Mexican meal? Right? Ready in less than 25 minutes! Choose your favorite foods to fill your quesadilla in order to fill your belly. Add vegan cheese, your favorite vegetables, fresh herbs from the garden, and so much more! Your divine quesadilla—your favorite combo. Prepare the filling in advance, and your meal will be ready in minutes. A crispy crunch of a healthy Mexican meal awaits.
Put your gluten free tortillas in a sizzling pan, add your favorite filling combo, fold up, flip, add your toppings and enjoy!
Servings: 4
Prep time: 4–8 minutes
Cook time: 10–15 minutes
Total time: 20–25 minutes
Ingredients
Filling and Seasoning
1 9 oz. sweet potato (grated)

2 teaspoons avocado oil

1 teaspoon paprika

1 teaspoon chili seasoning (optional for heat)

½ teaspoon cumin

1 cup spinach

1 cup black beans

½ cup corn (non GMO)

Salt and pepper
Quesadillas
6 gluten-free (mission) tortillas

½–1 cup vegan cheese

3 teaspoons avocado oil
Topping Options
Avocado (guacamole)

Shredded vegan cheese

Hummus

Cashew dip

Tomato (salsa)

Squeeze of lime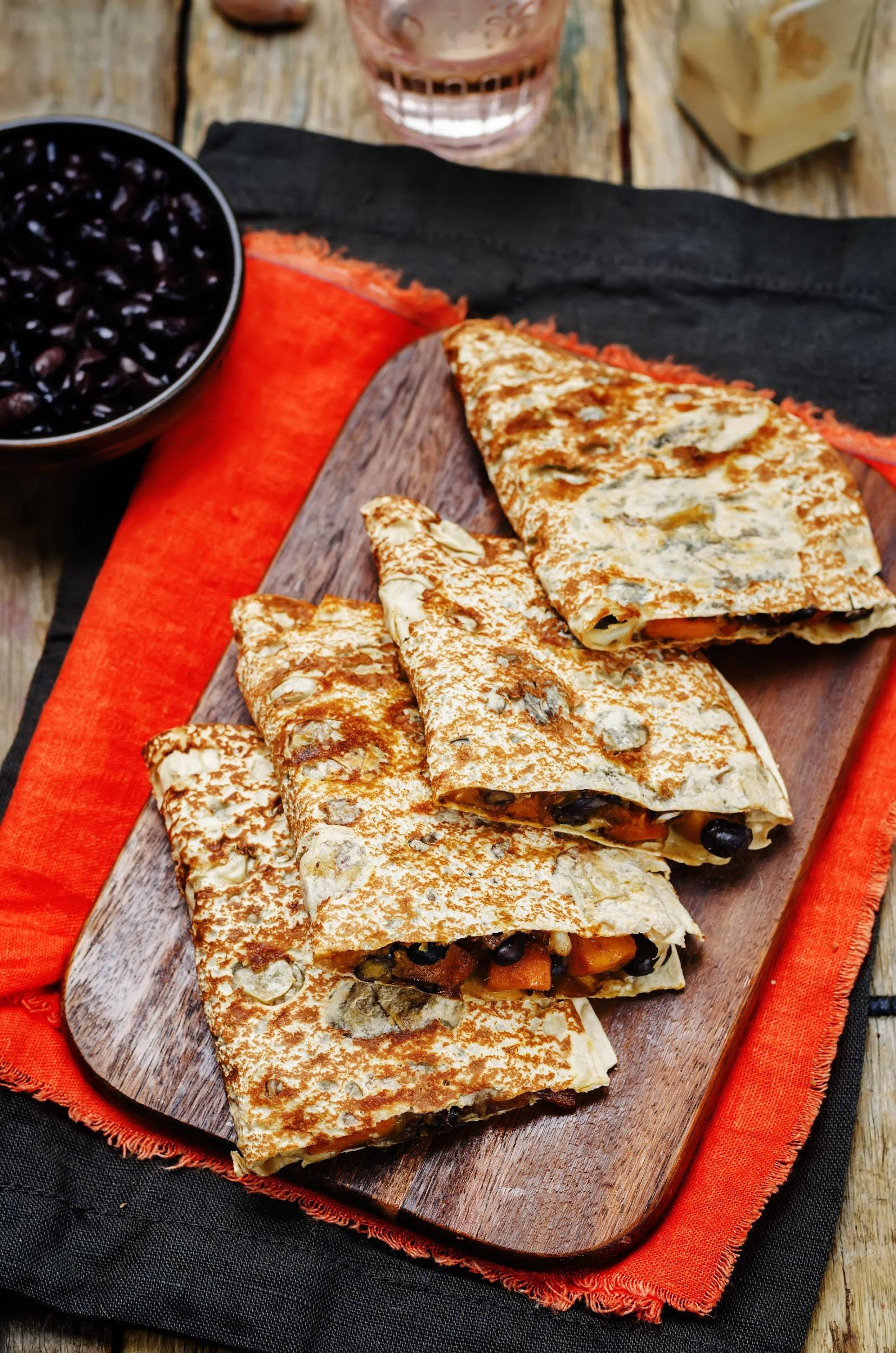 Directions
For the filling
In a medium to large skillet, heat the oil over medium heat.

Once the sweet potato has been grated, add it to the pan and let it sizzle for approximately 45 seconds. Add all spices (and any other seasonings you desire) and stir thoroughly to combine.

You may add a little bit of water to the pan if it begins to sizzle too much. (reduce heat to low and cover the skillet) Let this set for approximately 5–7 minutes stirring every so often.

Next, add the beans, corn, and fresh herbs (parsley) and proceed to cook for another minute or so.

Lastly, add the spinach (it welts ever so quickly) and stir until combined with the other ingredients until heated through.

Season with salt, pepper, and anything else your tummy desires.
For the tortillas
In a non-stick pan, heat avocado oil over medium heat

Add a tortilla to the pan, let it sit for a few seconds, and flip

Immediately, spread some of the filling evenly over half of the tortilla leaving a little border on the edge to prevent anything from spilling out

Begin to cover the filling with vegan cheese and anything else and fold over the empty side of the tortilla. Carefully press down the tortilla with your spatula.

Let this sit for approximately 3 minutes or less and flip, and let it sizzle until golden and crispy

Repeat with each tortilla

Next, on a cutting board, slice each quesadilla into wedges (3 even wedges)

Serve and eat right away!

Top with guac or extra cheese of your choice or even dip in your favorite hummus!

ENJOY
---
Sunwarrior
Our mission is to nourish & transform the planet, one individual at a time, by providing the highest quality, clean, affordable, plant-based nutrition, education, and science-backed bio-technologies.
---
Disclaimer
Claims on this site have not been evaluated by the FDA. Information on this site is not intended to diagnose, treat, cure, or prevent any disease. We encourage you to do your own research.. Seek the advice of a medical professional before making any changes to your lifestyle or diet.
Share This Post
Sunwarrior likes to share. Please feel free to repost articles as long as you always link back to the original and credit the author.
---
---