Roasted Pineapple Mango Cake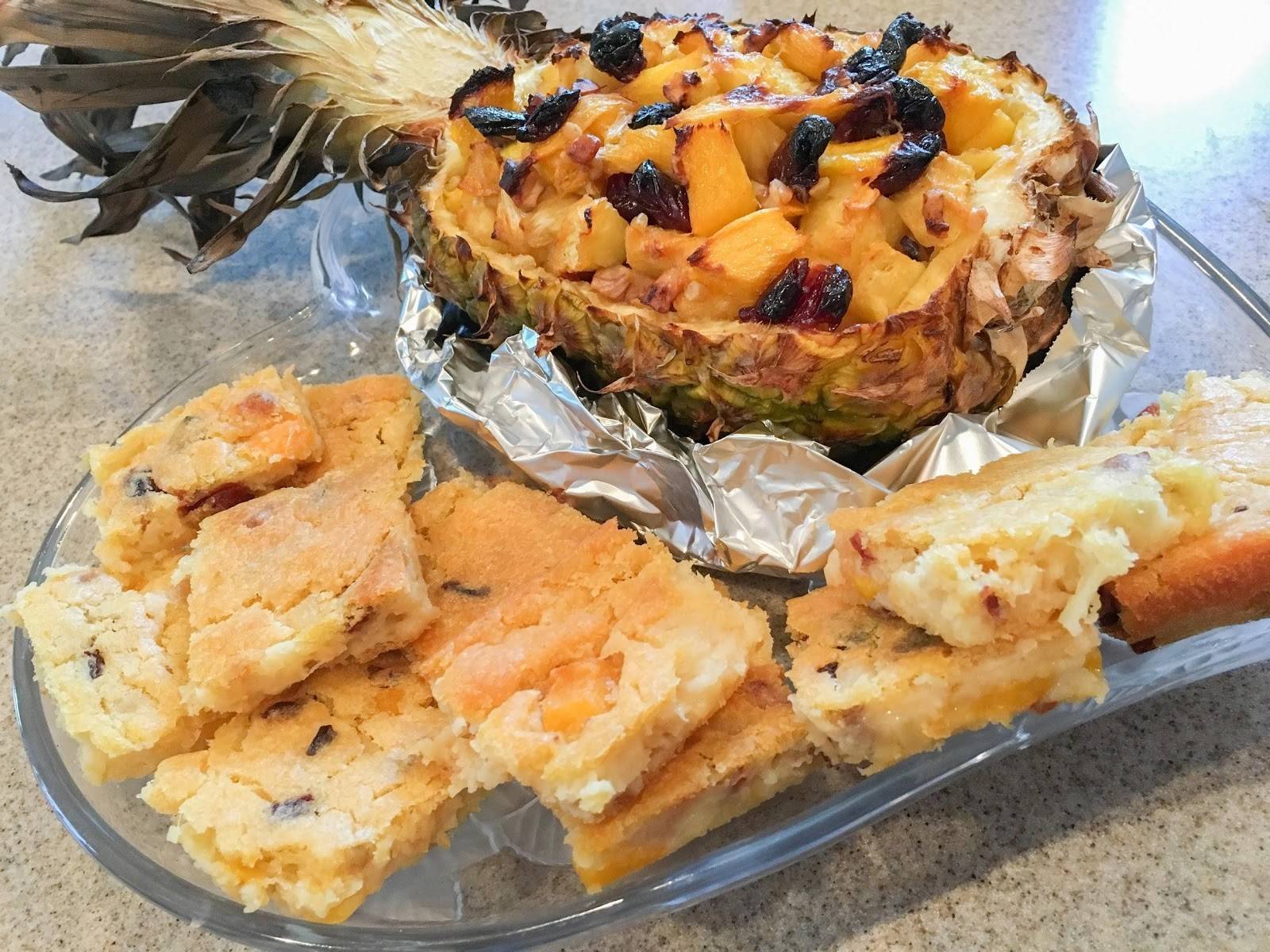 Why wait for the summer BBQ to make a yummy dessert? Roasted pineapple mango cake is great all year round!
Ingredients
2 cups flour

2 teaspoons cornstarch

2 ½ teaspoons baking powder

1 teaspoon baking soda

1 tablespoon

vanilla Sunwarrior Collagen protein

8 tablespoons vegan butter

1 ½ cups coconut milk

2 large mangos, 1 diced and 1 pureed

1 small pineapple, halved and pineapple pieces diced

1 ½ cup of canned crushed pineapple, drained

¼ cup walnuts, chopped

½ cup dried cherries, chopped

½ teaspoon nutmeg

½ teaspoon allspice
Directions
Preheat oven to 350 degrees. In a medium mixing bowl mix vegan butter and mango puree; mix until smooth.

Combine all dry ingredients. Add wet and dry ingredients into butter mixture by alternating until well combined. Remove from mixer.

Fold in crushed pineapple, ¼ cup of the dried cherries, and walnuts.

Cook in cake pans approximately 35–40 minutes. Cake may seem wet still after baking, but that is due to the crushed pineapple. Once cooled, it will be fine.

While cakes are cooling. Increase oven temperature to 400. Combine diced fresh pineapple from one half, chopped large mango, and remaining cherries. Feel free to sprinkle in other fruit if desired. Place fruit mixture back into a pineapple half and bake about 30 minutes. Remove from oven and serve warm over pineapple cake.
---
Sunwarrior
Our amazing team of Sunwarriors creates the healthiest Plant-Based Proteins & Supplements. Our mission is to nourish & Transform The Planet.
---
Disclaimer
Claims on this site have not been evaluated by the FDA. Information on this site is not intended to diagnose, treat, cure, or prevent any disease. We encourage you to do your own research.. Seek the advice of a medical professional before making any changes to your lifestyle or diet.
Share This Post
Sunwarrior likes to share. Please feel free to repost articles as long as you always link back to the original and credit the author.
---
---