Purple Sweet Potato and Brussels Sprout Medley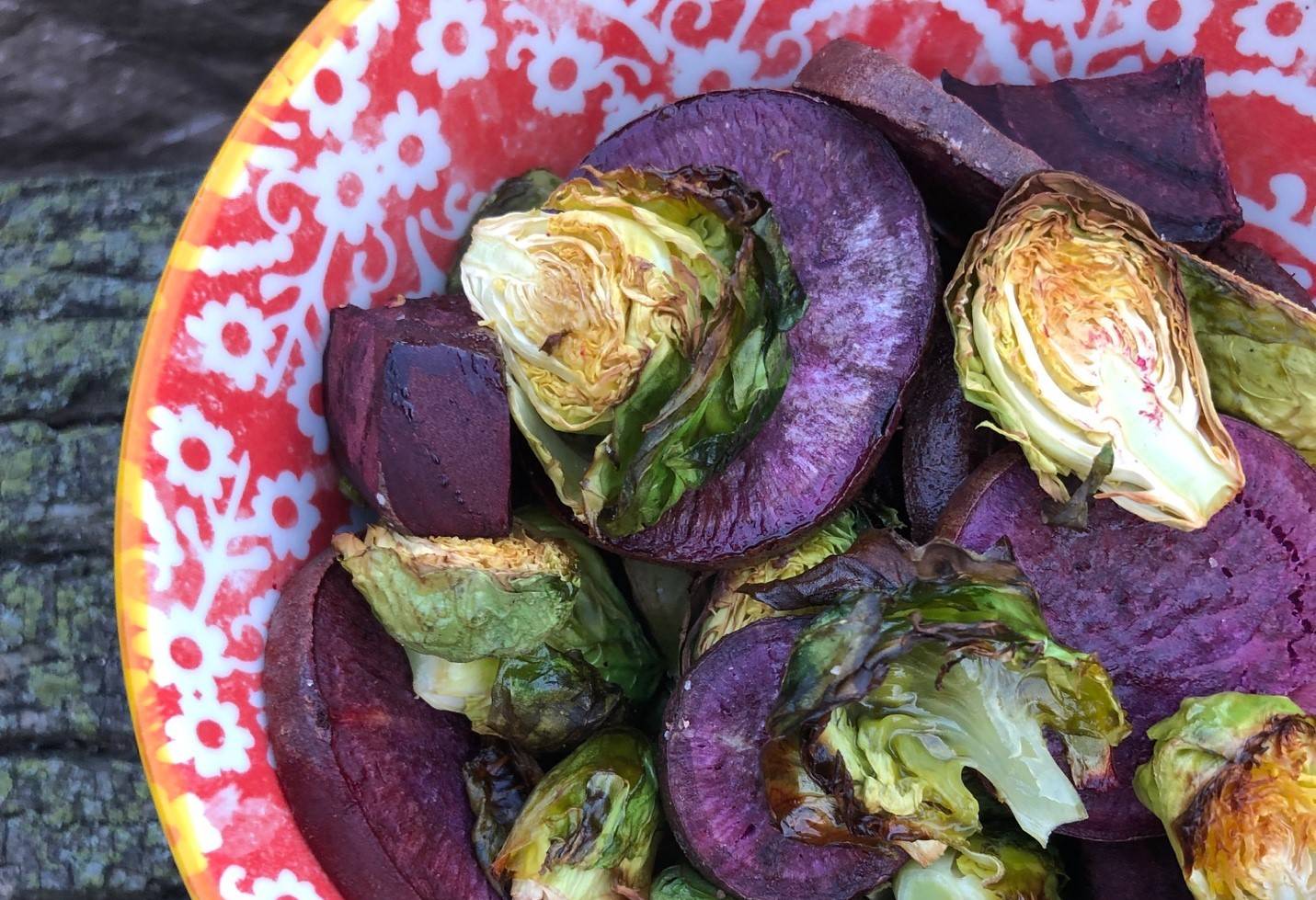 Orange sweet potatoes=great! Then came purple. You'll love this purple sweet potato & Brussels sprout medley!
If you haven't tried them yet, you are most definitely missing out.
This glowing purple cousin to the sweet potato that you know so well is actually not as sweet. It's a bit starchier and firmer—which is actually a perk when it comes to baking them. They don't fall apart, and they make amazing baked oven fries.
In addition to your plate being infiltrated with purple hues, purple sweet potatoes are known to be a resistant starch helping to feed your gut bugs the good stuff. In fact, all sweet potatoes are just absolutely jacked with nutrition include vitamin A, C, and B vitamins, antioxidants, protein, and fiber.
Sweet potatoes have many health benefits:
Help to lower inflammation

Support your heart

Lower inflammation

Help with fertility

Fuel your brain

Help to fight cancer

Good for your eyes

Boost immunity

Stabilize blood sugar

Support Digestive health
The easiest way to prep sweet potatoes is to simply roast them. You can cut them in whichever shape you desire: fries, rounds, or just in half. From there, I lay them out on a tray, add some avocado oil and bake for approximately 1 hour at 375. Sometimes I will even toss in other veggies like beets, Brussels sprouts, onions, or carrots.
Ingredients
1 cup Brussels sprouts, halved
1 purple sweet potato, sliced into rounds
1 beet, peeled and chopped
1 tablespoon avocado oil
1 teaspoon sea salt
Directions
Bake for 1 hour at 375 or until crispy out edges and cooked through
---
Sunwarrior
Our amazing team of Sunwarriors creates the healthiest Plant-Based Proteins & Supplements. Our mission is to nourish & Transform The Planet.
---
Disclaimer
Claims on this site have not been evaluated by the FDA. Information on this site is not intended to diagnose, treat, cure, or prevent any disease. We encourage you to do your own research.. Seek the advice of a medical professional before making any changes to your lifestyle or diet.
Share This Post
Sunwarrior likes to share. Please feel free to repost articles as long as you always link back to the original and credit the author.
---
---