Give me a cup of autumn! Here is a pumpkin pie protein smoothie that is so good, it's like drinking up the whole season.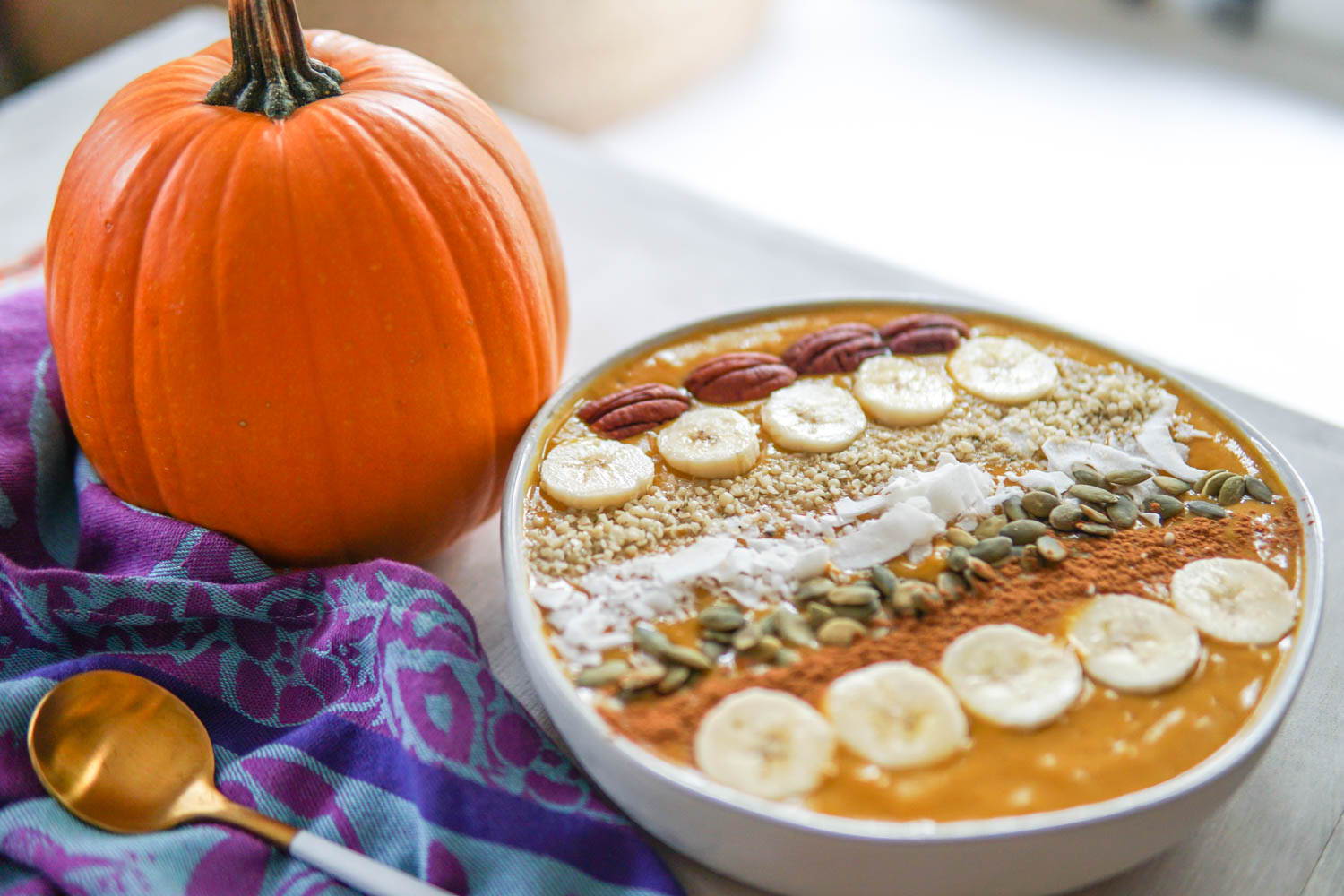 Pumpkin spice and everything nice! This festive, fall smoothie bowl is the perfect way to enjoy the autumn air and get fueled up for your day! Pumpkin is extremely high in beta-carotene, which converts to Vitamin A in the body, and helps to protect your peepers and aids in healthy skin cell production. The addition of cinnamon adds a warming effect and also helps to stabilize blood sugars levels in the body, not to mention, it smells and tastes just how fall is supposed to! In addition, this plant-powered smoothie recipe is high in protein, fiber, and healthy fats, and free of refined sugars, dairy, and gluten--what's not to love?!
Enjoy this super-smooth and creamy, pumpkin pie in a bowl for your breakfast enjoyment or pre- or post-workout for optimal benefits! Better yet—enjoy this smoothie as a Thanksgiving Day Feast warmup!
1 cup almond milk

½ scoop Vanilla Warrior Blend protein

Dash cinnamon

About 8 pecans

2 pitted dates

1 can pumpkin puree (not pumpkin pie mix)

3 ripe, frozen bananas

1 cup ice (optional, for added thickness)
Place all ingredients into a high-speed blender, beginning with liquid, then powders, then remaining ingredients.
Blend until well-combined, and pour into glass or bowl of choice, top with your favorite nuts, seeds, and fruits, and enjoy!
Notes:
Try adding other spices like nutmeg and clove to the mix.
Toss in a handful of greens to bump up the detoxifying and alkalizing effects of this smoothie recipe!
If you are making this recipe for one, pour any leftovers into ice cubes trays and place in the freezer—then you can add a touch of pumpkin pie to any future smoothie you like!