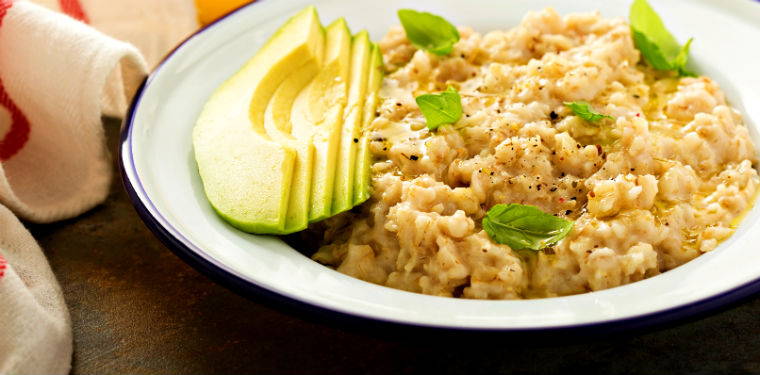 For a pre-workout cheesy breakfast oatmeal that is savory and filling, we've got you covered!
Changing seasons triggers different cravings for most people. This is body wisdom at work. As the temperatures drop, the body's innate need for warming, filling foods rises. And for me, colder weather begets longing for more comfort as well. This creation fills all those needs and is such a simple twist on a familiar classic. We now know less sugar is best, and in my home, savory oatmeal or savory grits trumps sweet cereals. They taste best when cooked low and slow and paired with a few other faves – namely avocado, cashews, and nutritional yeast. I am sure my body bows in gratitude as I slowly savor what becomes a weekly selection in autumn and winter. You can make extra and either enjoy it a few days later or freeze for those mornings when you need a grab and go breakfast. It's okay at room temp yet best served steamy. Get breakfast going with this pre-workout meal!
Ingredients
2 cups organic steel cut or rolled oats, gluten-free. Or you can use quinoa or buckwheat groats

3 cups cold water

2 cups unsweetened cashew or almond milk

½ teaspoon sea salt, to taste

¼ cup nutritional yeast
Toppings
1 avocado, diced

¼ cup toasted, chopped cashews or sunflower seeds

Additional nutritional yeast, optional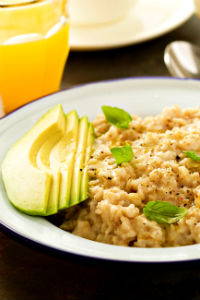 DIRECTIONS
Measure oats, water, and sea salt in a large saucepan, cover and bring to a boil over medium-high heat then reduce heat to low and simmer, uncovered, 5–8 minutes. Stir oats, add ½–2/3 cup non-dairy milk and reduce heat to low.

Cook over low heat for another 15 minutes or so checking every 5 minutes or so and adding additional milk as needed. Patience reaps the creamiest version of oatmeal ever.

Once the oatmeal is done, stir in the nutritional yeast along with an additional splash of milk if needed.

Spoon into four warm bowls and top each with avocado, nutritional yeast, and cashews or sunflower seeds.
At the end of the day, there is a lot that goes into a holistic lifestyle. When you start your journey to healthier living, there seems to be so much information to weed through. It can be confusing and difficult to determine what you should focus on first.
That's why we've developed a short 15 Point Guide to Essential Health. Take charge of your health, and with a little help, you'll be living a more fulfilling life in no time.