Pumpkin season means tasty treats that pack a healthy punch. These peanut butter pumpkin protein blondies are everything you need to keep your holidays energized!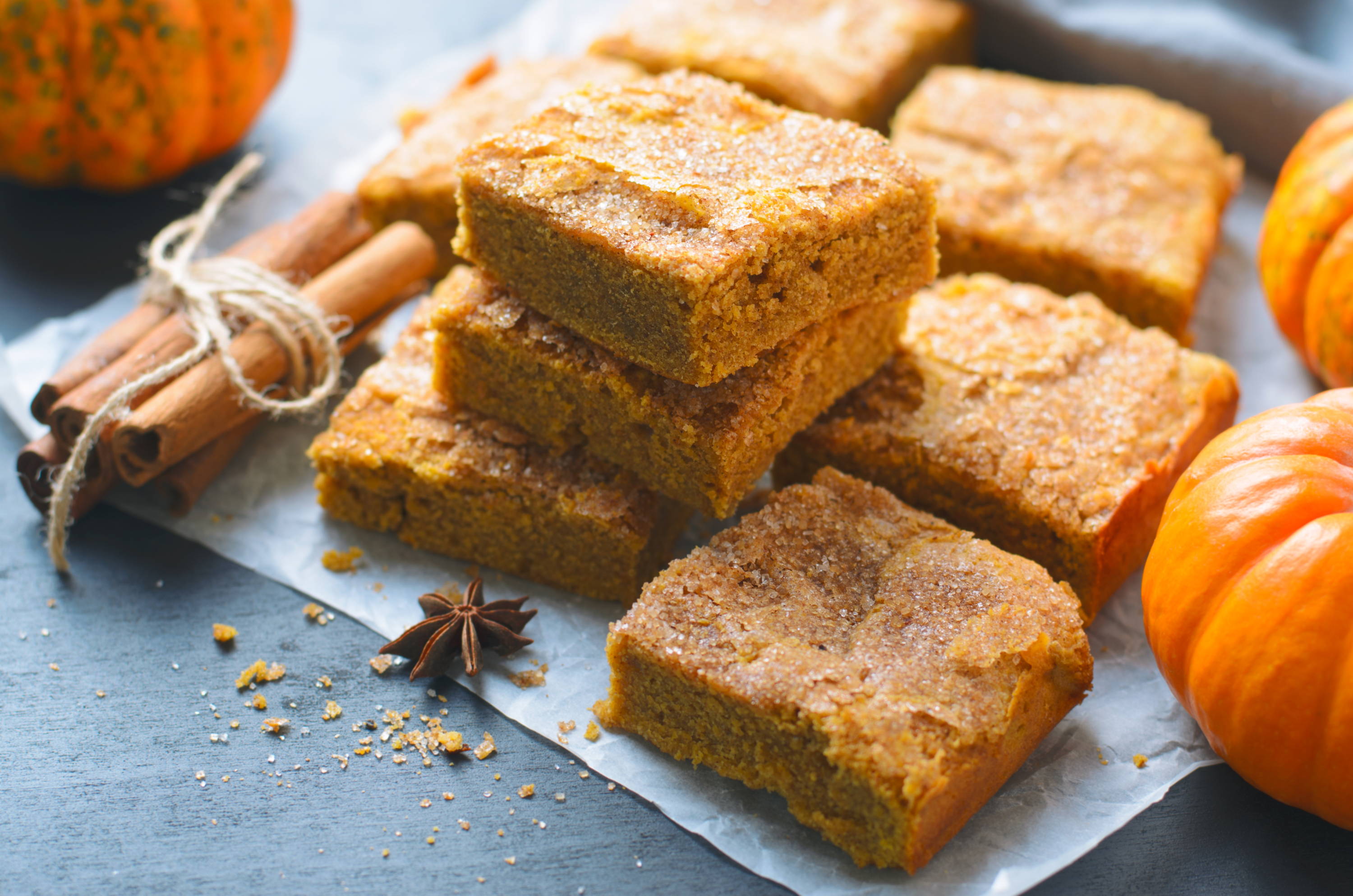 It can't be a coincidence that pumpkin season coincides perfectly with holiday season, i.e., the most social and food-filled season of the year, right?
Well, I have the exact thing you ought to bring to your next holiday season shindig: a crowd-pleasing, budget-accommodating, ultra-nutritious, pumpkin-packed treat that'll steal the show of all social events.
Book club meeting? These peanut butter pumpkin protein-packed blondies will be better than that scandalous scene in chapter 3. Game night? Pretty easy to charade "I love these peanut butter pumpkin protein-packed blondies!" Friendsgiving? These peanut butter pumpkin protein-packed blondies are certainly something to be grateful for.
Packed with protein from chickpeas and Sunwarrior's plant-based protein powder, loaded with fiber from real pumpkin, pumped with flavor from peanut butter and pumpkin pie spice and non-crappy sweetness from maple syrup and dark chocolate chips, these peanut butter pumpkin protein-packed blondies are a party in and of themselves! And a cozy party in your mouth!
1 can chickpeas, drained and rinsed

⅔ cup coconut sugar

½ cup peanut butter

⅔ cup pumpkin

⅓ cup oats

1 teaspoon baking soda

1 scoop

Sunwarrior vanilla protein

1 teaspoon vanilla extract

¼ teaspoon sea salt

½ tablespoon pumpkin pie spice

½ teaspoon cinnamon

⅔ cup maple syrup

½ cup chocolate chips (optional, but you know you want them)
Preheat your oven to 350 degrees F.

Right on into your food processor, add ALL the ingredients—EXCEPT the chocolate chips.

Process everything until it's all smooth and creamy, pausing the processor to scrape down the sides as necessary.

Then, add in the chocolate chips and stir them around, so they're well-distributed.

Then, spritz a square baking pan with coconut oil spray or line that sucker with parchment paper.

Spread your batter into the pan and then bake it for 25–30 minutes, until it feels firm to the touch and a toothpick comes out of the pan clean.

Remove, let cool, cut and enjoy!

Store leftovers on the counter or fridge. Or you can freeze 'em for a snow day!