Holiday Cinnamon French Toast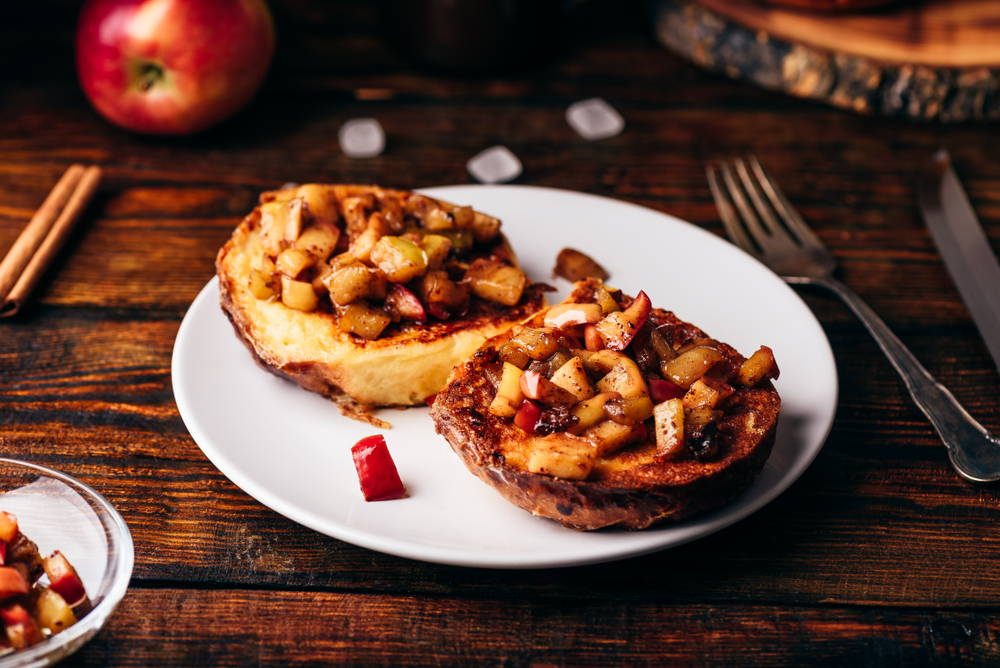 Ideal for holiday mornings, this overnight cinnamon french toast is perfect for a special holiday morning. It can be prepared the night before, refrigerated and then baked in the morning. This recipe will take all the stress out of breakfast and brunch with family and friends. And because of its extremely generous topping of cinnamon and apples, this holiday french toast will surely put everyone in the best, happiest, festive mood!
Vegan Cinnamon French Toast (Overnight)
Ingredients:
14 ounces gluten free French loaf cut into slices  

1 cup organic pumpkin purée

4 flax eggs* (in order to make 100% vegan)

1/2 cup coconut milk

1 cup nut milk (preferably almond or cashew milk)

1/3 cup agave or pure maple syrup

1 tsp cinnamon

Dash of salt

1 tbsp vanilla extract
Apple/Pecan Topping
7 tbs gluten free or almond/coconut flour

3 tbs agave or maple syrup

1/2 tablespoons melted vegan butter or coconut oil

¾ cup apples chopped

3/4 cup pecans (or nut of your choosing) coarsely chopped
Instructions:
Set the french loaf slices in a casserole dish

Mix the pumpkin puree, coconut milk, nut milk of your choosing, flax eggs, maple syrup, cinnamon, vanilla extract and salt and mix thoroughly.

Pour mixture over the slices of bread and press down until the entire loaf is completely soaked in the batter

Cover the pan with saran wrapping paper and place the casserole dish in the refrigerator overnight.

The following morning, remove from the refrigerator and preheat the oven to 350 degrees.

Next, in a small bowl, mix the gluten free or almond/coconut flour, agave, vegan butter or coconut oil and chopped apples and pecans. Stir to combine together and begin to pour over the top of the loaf of french toast.

Bake 45 minutes to an hour in the oven. . The less baked, the more moist it will be.

Remove from the oven and enjoy!
---