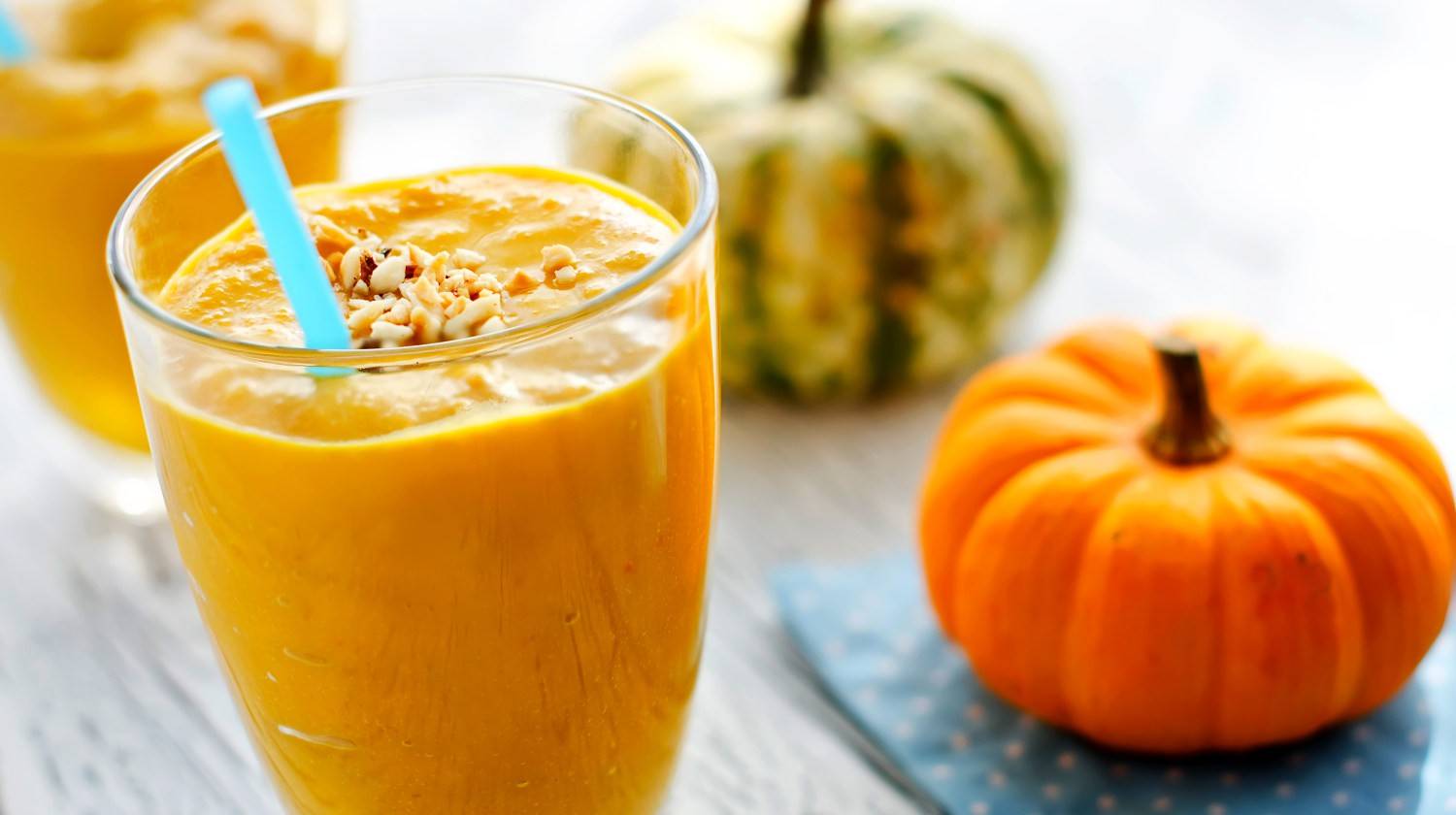 Treat yourself to a delicious, filling, and healthy pumpkin smoothie recipe this autumn season.
RELATED: Pumpkin Pie Smoothie
Chill This Fall with a Healthy Pumpkin Smoothie Recipe  
Easy Pumpkin Smoothie to Usher In Autumn
It is the time to be thankful for all things pumpkin! You will love this pumpkin spice smoothie recipe!
Healthinista, fitness trainer, and nutrition expert Marzia Prince is adding one more pumpkin spice recipe to your fall gourd and cinnamon addictions. This smoothie is as delicious as it sounds.
It is perfect for this cool autumn season. You can also break it out for the rest of the year when you're feeling nostalgic for the crisp air and colorful leaves.
Let's get to styling your taste buds already!
Fall Pumpkin Spice Smoothie
Ingredients:
1 fresh banana

1 frozen banana

15 oz. organic pumpkin puree

1 tbsp pumpkin spice

1 to 2 scoops Sunwarrior Warrior Blend Vanilla Protein

1/2 to 1 cup water
Directions:
Start with a fresh, organic banana.

Toss it in a blender with some frozen banana, organic pumpkin puree, and pumpkin spice blend.

Top it off with some Warrior Blend Vanilla Protein for extra protein and nutrition.

Blend it up, adding a little water to get the consistency you like. Marzia enjoys her smoothies a little on the thick side but fully blended and creamy.

Pour it in a fancy glass and sip away. It's that easy.
Elevate Your Pumpkin Smoothie Recipe with These Tips
The pumpkin smoothie recipe above serves as your template. Of course, you're free to create one using your ingenuity and creativity.
To get started, check out these tips:
1. Make Your Own Pumpkin Spice
You can get some pumpkin spice at your nearest store, but in case it disappears fast on the shelves, you can make your own.
Pumpkin spice is simply a mixture of the following spices:
Cinnamon

Ginger

Cloves

Allspice

Nutmeg
If these sound familiar, it's because these are the same spices you use when making a pumpkin pie. It also means a pumpkin spice smoothie recipe is a pumpkin pie smoothie!
You are also free to play around with the flavors if you're feeling a bit creative and adventurous.
2. Choose a Vegan Protein Powder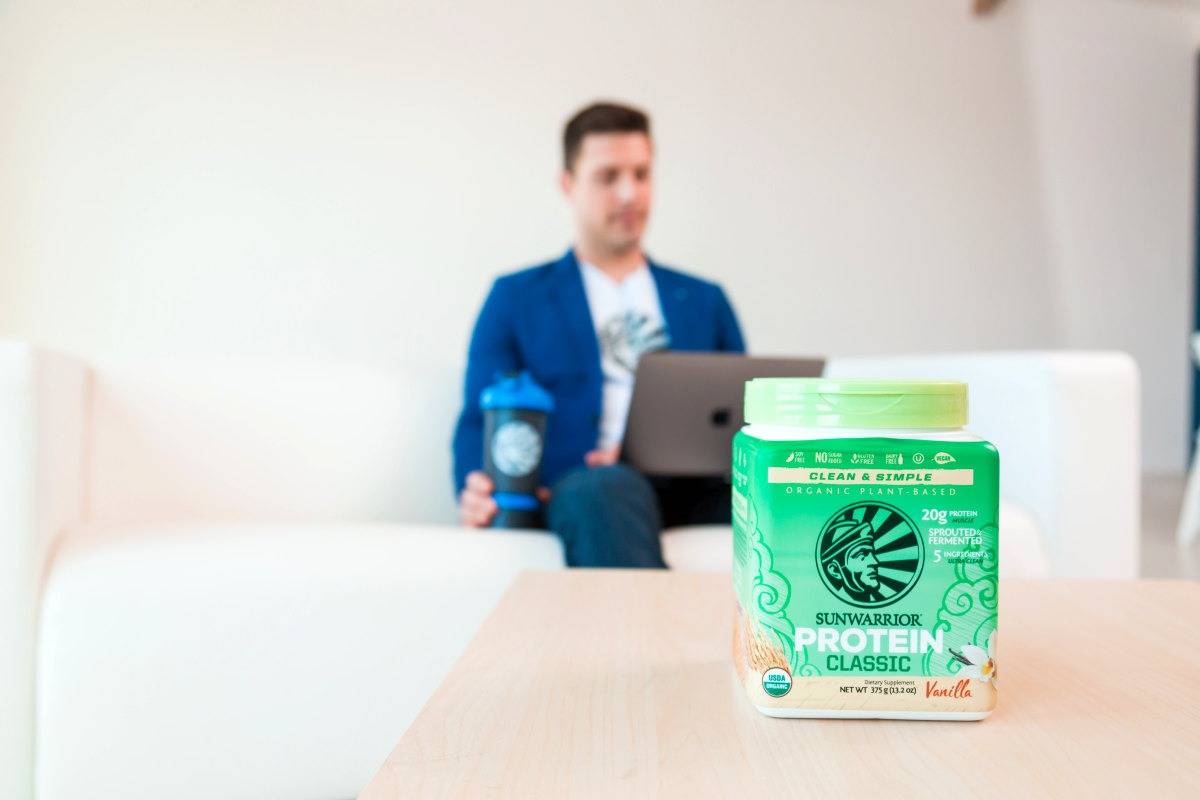 This is a healthy pumpkin pie smoothie since we're also adding a "secret" ingredient: plant-based protein powder. This keeps you feeling full for a longer period, and you can also maximize the benefits of the macronutrient in your body.
You can avoid the dangers present in whey protein, and the body can digest plant-based powder easier.
The Warrior Blend and Classic Plus Plant-Based protein from Sunwarrior comes with a full amino acid profile to help build muscle. So if you're someone who is toning up, you can drink this pumpkin protein smoothie as a pre- and post-workout drink.
Besides the Vanilla Protein Powder, you can also use the Collagen-Building Peptide Powder. Peptides are proteins broken down into smaller molecules so they absorb faster.
3. Sweeten a Pumpkin Protein Smoothie with Other Options
Usually, to make pumpkin smoothies sweet and creamy, you just need to throw a peeled banana into the blender. In fact, this pumpkin smoothie recipe calls for it!
What if you want to change the taste once in a while? You have many options to choose from. You can add some:
Coconut

Medjool dates

Agave nectar

Vanilla extract
Note: Some pumpkin smoothie recipes may require whipped cream. Go easy on it as it increases the calories of your drink.
RELATED: Pumpkin Pie Perfection Smoothie With Sunbutter 'n Orange
4. Enhance Its Nutrition with Toppings
Are you looking for some crunchy texture in your pumpkin smoothie recipe? Finish it with some healthy toppings.
For example, you can sprinkle a teaspoon of chia seeds. One of the healthiest seeds, chia is rich in vitamin B complex and minerals, such as manganese, calcium, and phosphorus.

Although it has carbs, much of it is fiber. This means these seeds are great for your gut and prevent insulin spikes when you're drinking the smoothie.

Another option is berries. A serving of berries can provide the body with loads of antioxidants to help protect your cells. They are also high in vitamins C and K.

Tip: Save money on berries! Buy them in bulk and freeze them until you're ready to use them.
5. Create a Pumpkin Spice Green Smoothie Recipe
This one is quick and easy: just add pumpkin spice into your favorite green smoothie recipe! Some healthy greens include:
Spinach

Romaine lettuce

Watercress

Microgreens
What are microgreens? These are miniature versions of green leafy vegetables
harvested as soon as their cotyledon or embryonic leaf appears.
Blend them all together with a cup of ice cubes and flavor it with unsweetened almond milk. If you want to make pumpkin protein smoothies, add your favorite vegan protein powder.
Watch Marzia Prince make a nutritious fall pumpkin spice smoothie in this video from Sunwarrior:
Enjoy a healthy and filling protein powder pumpkin smoothie recipe this fall! Consume it as breakfast, snack, or dessert.
Drink it after a workout, while reading your favorite book, or enjoying the changing colors of the leaves. It's the perfect fall smoothie and one that's healthy to boot!
Do you have your own protein powder pumpkin smoothie recipe? Share them in the comments section below!
Up Next:
Editor's Note: This post was originally published on November 25, 2015, and has been updated for quality and relevancy.