Looking for a quick, sweet spin on the dinner table? Creamy Cashew Sauce & Sweet Potato Noodles are the answer
Swap out your pasta for spiralized veggies...or in this case, sweet potatoes! The consistency is firm, easily chopped, and roasted and caramelized to complete browning perfection. Can you even ask for more? Well, technically, yes, you can. Saute spinach, caramelize onions, or toss your favorite vegetable into the mix. Once you add this creamy (cashew) sauce, now you really have the perfect, comforting, thick and creamy vegan meal. Not to mention, it'll meet the needs of some intolerances such as gluten and dairy.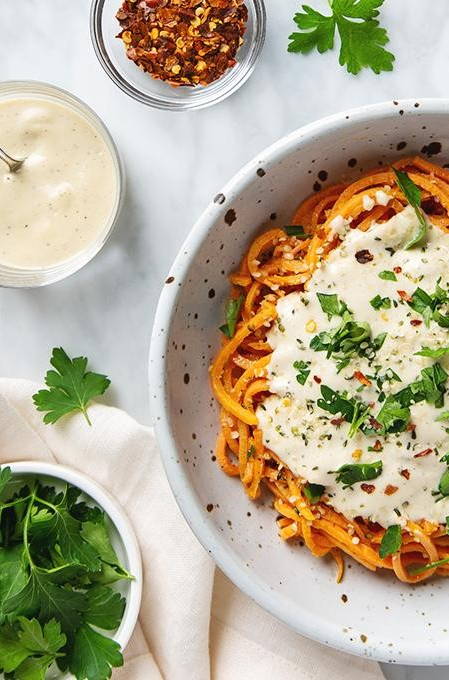 Ingredients
1 cup cashews (soaked)

¾ cup water (more for soaking)

½ teaspoon salt

1–2 garlic cloves

1 tablespoon olive oil

4 large sweet potatoes (softened and spiralized)
Seasoning
Fresh basil, chives, or for garnishing

Salt (to taste)

Pepper (to taste)

Sprinkle of red pepper/paprika

Olive oil for drizzling

Fresh basil, chives, for garnishing
Optional
2–3 cups of spinach (for wilting)

Extra vegetables (zucchini, caramelized onions, etc.)

Siracha or hot sauce

Roasted garlic
Directions
Soak cashews (put nuts in a bowl with water and soak overnight or for a couple of hours) If you'd really like to speed up the soaking process, add hot or slightly boiling water to the cashews and soak for approximately 20 minutes)

While cashews soak, cut through and spiralize sweet potatoes (if they are too firm, soften by boiling for a very short time)

Drain and thoroughly rinse cashews well and put in a food processor (add ¾ cup water, garlic, and salt. Continue to puree until texture and consistency is smooth

On high heat, put oil in a large skillet. After several seconds, add the sweet potato spirals; toss them in the skillet for approximately 7 minutes until lightly browned, crispy, and tender. Once tender, remove skillet from the heat and toss in extras (spinach, etc.)--it will wilt very fast

Feel free to add in the herbs and spices and some of the sauce into the skillet and begin to toss.

If the mixture is too thick and somewhat sticky, begin to generously add water and season with salt and pepper to taste, drizzle the olive oil and garnish the herbs.

Enjoy! And save for later.