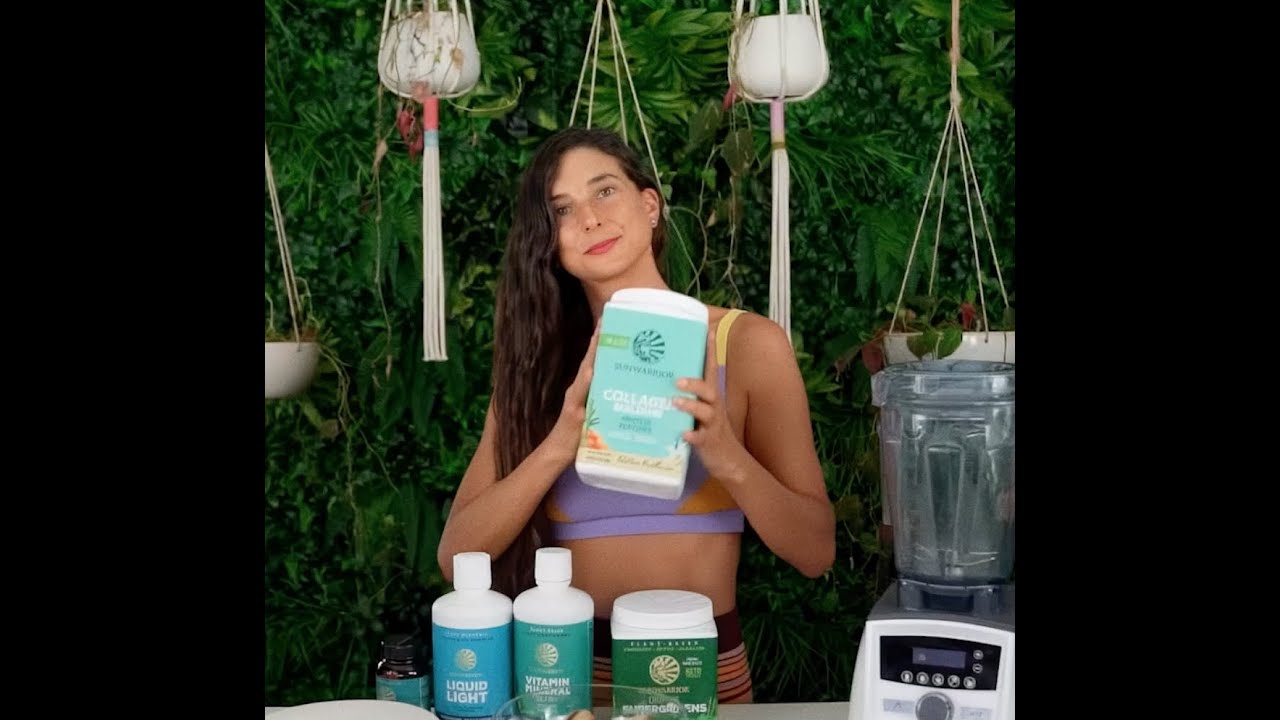 Collagen Building Protein Peptides
Naturally Build Collagen from Within
Regular price

$38.97

Regular price

Sale price

$38.97
Sale
Out Of Stock
Details
Pollutants in water, air, and food deplete our collagen storehouse making replenishment vital. A majority of collagen supplements come from the bones, skin, and connective tissue of animals, including cattle, fish, horses, pigs, or rabbits. Why ingest animal-derived collagen when your body is designed to generate its own? Sunwarrior offers the plant-based solution, tailored to boost your body's inherent collagen production. It's our inside-out approach!
How to use & when to take
Frequently Bought
TOGETHER
We Want you to Ask!
FAQ'S
How can it be plant-based if it has Collagen in it?
The Collagen Building Protein Peptides is not a collagen. Collagen Building Protein Peptides means that the product contains the same set of amino acids and nutrients that your body needs to produce its own collagen. Peptides are created when the amino acids undergo a process called hydrolysis to break them down into shorter chains/smaller molecules, which makes them easier for your body to absorb.
What are the benefits of Collagen Building Protein Peptides?
This product has a full amino acid profile, BCAAs, MCTs, and is high in vitamin C. It contains biotin, hyaluronic acid, probiotics, and 100% vegan collagen building ingredients, and it tastes amazing. It has no chemicals or artificial ingredients. It has no added sugar, no dairy, no soy and is gluten-free, Non-GMO, and vegan.
Why do you put Silica in your product?
Our Silica is sourced from bamboo, silica is a key co-nutrient for collagen and elastin production. It also boosts calcium absorption to strengthen bones, hair, skin, and nails.
How does Sunwarrior's Collagen Building Protein Peptides help naturally produce the collagen in my body?
Collagen production in the body decreases as we get older, usually because we are not providing our bodies with those amino acids and nutrients necessary to keep collagen in rich supply. Because of the decrease that people experience in collagen, Collagen products are everywhere in the market. But why would you want to ingest an animal's collagen when your body was made to make its own? Here's the thing, eating collagen doesn't build collagen, and your body cannot absorb collagen. But you can help your body make its own by eating a diet that is rich in those key amino acids and nutrients that are essential to your body producing its own collagen. Plant-based amino acids are converted efficiently into collagen and elastin. Sunwarrior's Collagen Builder provides all the amino acids and nutrients that a body needs to naturally make that conversion.  Collagen is made primarily of three amino acids: proline, hydroxyproline, and glycine, which gives it unique functional properties different from all other proteins. This also makes it the most important structural protein in the body.
What is the Vitamin C Source in the Collagen?
The source of Vitamin C in the Collagen Building Protein Peptides is from organic amla also known as Indian Gooseberry as well as from organic sea buckthorn berries. These two fantastic sources provide 10 times the potency of vitamin C in oranges.
Ingredients
WHAT'S IN IT?
Hyaluronic Acid
HA is sourced from gluten-free, fermented grain. Hyaluronic acid is naturally occurring in our body but decreases as we age. HA attracts and retains moisture in our skin and aids in the lubrication of joints.
Minerals
Trace minerals are essential for collagen and elastin formation and slow the degeneration of collagen in our body.
Organic Biotin
Sourced from sesbania and part of the vitamin B family, biotin promotes strong hair, skin, and nails.
Kale & Spinach
Organic kale and spinach are beautiful greens that contain vitamins and antioxidants, which fight against free radicals that destroy collagen and elastin.
Amla Berries
Vitamin C is a necessary cofactor in collagen and elastin synthesis.
Organic Tremella Mushroom
Organic Tremella Mushroom
A polysaccharide which holds 500x its weight in water and naturally promotes water retention in cells.
Spirulina
Containing iron and rich with amino acids, spirulina is one of the most nutrient-dense foods on the planet.
Brown Rice & Peas
Sourced from brown rice, this complete amino acid protein has been broken into small peptide chains (di & tri-peptides) through hydrolysis. Rice peptides are used for strengthening cell hydration due to their concentration of glutamine and alanine. These nutrients assist the skin to provide moisture retention and environmental protection
Silica from Bamboo
Sourced from bamboo, silica is a key co-nutrient for collagen and elastin production. It also boosts calcium absorption to strengthen bones, hair, skin, and nails.

EXPERTS WHO USE THIS PRODUCT