It's time to whip up a little something eggs-tra special! This vegan egg spinach omelet is certainly worth celebrating!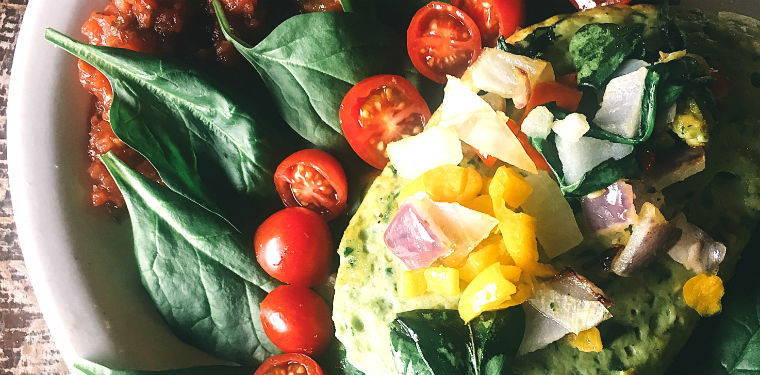 People eat eggs for the protein content, but you can have your vegan egg and your protein too! Let us show you how!
INGREDIENTS
Omelet Batter
2 Follow Your Heart Vegan Eggs (4x tablespoons)

1 ½ cup ice cold spring water

A small handful organic spinach

Pinch Sunwarrior Sea Salt
Toppings
1 cup organic spinach

¼ cup organic chopped organic white and red onions

¼ cup of chopped organic yellow and red peppers

5 halved organic cherry tomatoes

Sunwarrior Sea Salt and Organic Pepper to taste

Optional: Organic Salsa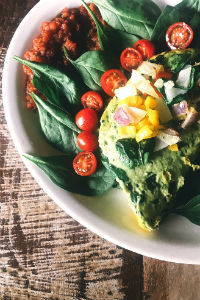 DIRECTIONS
Heat pan coated with about a tablespoon of olive oil on med-high heat

Chop and prepare dry ingredients

Combine Vegan Egg powder, water, Warrior Blend protein, and spinach in a blender (or whisk in a bowl)

Pour blended Vegan Egg batter in to heated pan and let fry for a few minutes

Lower heat to medium

Add about ½ of chopped vegetables and spinach to one half side of the omelet

Let cook for a few minutes until slightly golden brown and firm on the bottom

Fold bare side of the omelet. Be careful so as not to break it

Flip omelet over carefully to thoroughly cook the other side

If you'd like you can add remaining onions, peppers, and spinach to the pan to fry lightly

Remove omelet and place on a serving plate

Arrange toppings

Salt and pepper to taste

Enjoy!
*This Vegan Egg spinach omelet takes about 15 minutes to make and tastes delicious. Add a scoop of Sunwarrior protein to the "vegg," batter to up the nutritional content.