SHINE A LIGHT ON YOUR
HEALTH
WITH 8 POWERFUL NUTRIENTS
Meet our new slimming vegan nutritional shake!
Cover your most important nutrition bases with superfoods like baobab, chia, flax, whole grain brown rice, kelp, holy basil, guava, and coconut, to name just a few.
Clean protein, the best gluten free carbohydrates from, healthy fats, minerals, fiber, natural vitamins, enzymes, and probiotics, they all come together in Illumin8.
Shake up a quick snack on the go, add some quality nutrition to any meal, or whip some up before or after a workout to get your cells what they need to fire on all cylinders.
Illumin8 can do that and more, and it tastes as amazing as it feels.
Get gritty with it! Whole-ground superfoods like chia provide all the good stuff such as healthy omega-3 fatty acids, carbohydrates, protein, fiber, antioxidants, and calcium. Grit is good. Get with the grit!
Bringing you nothing but the best, illumin8 uses organic Ceylon cinnamon for blood sugar control. True Ceylon cinnamon takes flavor to new heights because taste should be visceral!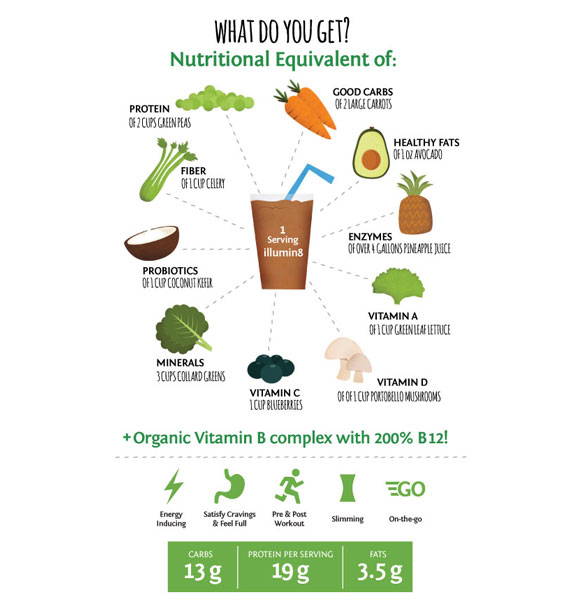 Protein
We pack in organic protein from yellow peas, brown rice, chia, quinoa, flax, and sprouts to keep your muscles and body well supplied
Good Carbs
Complex, energizing, gluten free carbs, with amaranth, quinoa, garbanzo, and lentil sprouts. You will feel the difference the good ones make.
Healthy Fats
Chia, flax, and coconut supply the fats your cells need for energy, vitamin absorbption, and healthy skin. Great for the brain too!
Vitamins
No synthetics here, our vitamins come exclusively from organic herbs, essential oils, and superfoods that we believe are superior in every way.
Minerals
With organic origins, we rely on preserved plant-life from an ancient seabed, untouched by modern pollution, for macro and trace minerals with fulvic acid.
Fiber
Baobab, chia, and flax offer both soluble and insoluble fiber along with antioxidants for gentle cleansing, hydration, and a happy digestive system.
Enzymes
Welcome to tailored nutrition. Our team of enzymes was customized specifically for Illumin8 to maximize the absorption of each and every nutrient.
Probiotics
Supplying your microbiome with reinforcements. Stable and acid-resistant, a billion micro-warriors (friendly bacteria) will arrive safely in their new home and get to work.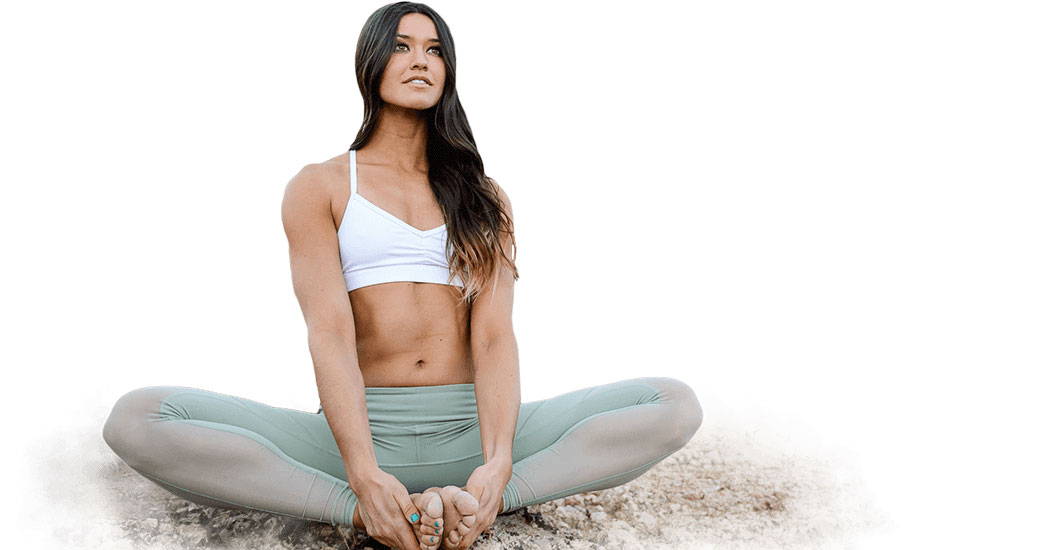 As a rock climber and yoga teacher, maintaining strength while staying slim is a priority. But keeping that balance is tricky when I need to fuel my body, replenish what it loses, and keep up with all the nutrients I need, especially the healthy fats and enzymes. Illumin8 is my one-stop-shop.
- CAMILLE FIDUCIA
Customer Reviews
01/16/2019
Jonathan V.
United States
Illumnin8
Very very happy with the product!
01/12/2019
BONNIE W.
United States
Simply the best
Great taste, clean, vegan protein. I refer all my clients at the gym to Sun Warrior.
Best MR I've found!
I came across the Illumin8 at Home Goods (!) and thought, what the h*ll, I'll give it a try! OMG - 1 scoop of the mocha + 1/2 banana + almond milk = I'm full all morning! In fact, I have to drink it slowly or I get TOO full too fast. I love the taste and I can feel a difference in how my body is responding. I have more energy, my digestive system feels much better, and I don't crave other food. I've tried a number of plant based MRs and this is by far the best! As a busy working mom, it's my go-to all week. I'm a convert. Now... if only I can find it at Home Goods for $20 again. ;)
Hello Eliza! So glad you got to try the Illumin8! Thanks for the positive review. It's nice to hear that the product is keeping you satisfied on your health journey. If you'd like, we do have a rewards program that you can join on our website to earn discounts on future purchases. Let us know if you have questions.
01/09/2019
Beth R.
United States
Delish!!!!
Love the vanilla bean flavor!!!!! Best ever!!
12/21/2018
Christina McKinney
My life force
I have been using Illumin8 for about 2 years now and I can't go one day without it. It gives me life. I have an immune disorder, potassium deficiency (can't hold it in my body), spinal stenosis, fibromyalgia, spinal cord stimulator implant, IBD, diverticulosis and an over active central nervous system. I'm sure I'm missing somethings but since I have been taking illumin8 I have eliminated most of my IBD, I haven't had issues with diverticulosis and most of all my potassium disorder is managed by illumin8 instead of Klor-con! I can function throughout the day, meaning I can go out and shop then come home and cook and still do other things around the house. Before illumin8 I was only able to do 1 thing and then even that 1 thing could set me back days, I wouldn't be able to function well and I would lose more weight. I am so thankful I can go through my days without being nauseous or throwing up and that I am able to function at the level I am now! I have tried so many different meal replacements and only Sunrider came close to helping but your product still surpassed and is not MLM!! Let's just say anyone who knows me knows I LOVE illumin8 and I won't even go on vacation without it!! Illumin8 Was all I lived on for months and was so thankful of the new life it has given me! I would love if you'd go back to your old scoops! I saved one and am so grateful I did!
Hi Christina! It is stories like this that keep us going! We are very glad that our product had such a positive impact on you. You should try out our single serve boxes - they are perfect for travel. We are also working on transitioning back to the normal scoops in the tub as well. Have a good day!