Why Does Your Body Need Magnesium?
Magnesium is involved in over 300 biochemical functions in the body. It is found in bones and teeth (60%) and muscles (40%). Magnesium helps with protein, ATP, DNA and RNA synthesis.
8 out of 10 People are Magnesium deficient
Clinical studies show that most people lack magnesium and many of those people experience the negatives side effects. Here are some of the side effects of magnesium deficiency:
Hypertension and cardiovascular disease

Constipation

Headaches and migraines

Muscle tightness, weakness and cramps

Osteoporosis

Hypertension

Panic attacks and anxiety

Insomnia and trouble sleeping

Tooth cavities

Restless leg syndrome

Asthma

Painful PMS symptoms

Impotence

Behavioral disorders and mood swings

Kidney and liver damage

Recurrent bacterial or fungal infections due to low levels of nitric oxide or a depressed immune system
What Contributes to Magnesium Deficiency?
Environmental pollutants, stress, and depleted soils all contribute to a lack of magnesium in most people. Here are some things that deplete your magnesium supply:
Table salt (use Himalayan or sea salt instead)

Emotional stress

Physical stress (exercise)

Excessive caffeine

Excessive alcohol

Fluoride
Benefits of Sunwarrior's Ionic Magnesium
Helps with protein synthesis

Helps alleviate headaches and migraines

Promotes sleep and relaxation

Strengthens bones and teeth

Relieves constipation

Relaxes bronchial muscles

Improved blood sugar and blood pressure

Helps calm nerves

Helps relax muscles

Helps relieve menstrual cramps

Helps relieve stress

Helps balance blood sugars

Boosts energy

Improves absorption of calcium

Helps prevent disease (strengthens immune system)

Regenerates ATP (improves energy)
Trace Minerals
Our Ionic Magnesium is sourced from an ancient inland seabed, which is a remnant of the last ice age and has been collecting and concentrating minerals and trace elements for tens of thousands of years. Here are some of the trace minerals included:
Chloride
Helps regulate the pH balance of body fluids

Maintains proper blood volume and pressure

Enhances kidney function

Aids in digestion and absorption of nutrients like iron and vitamin B12
Sulfate
Activates metabolic enzymes

Helps flexibility and elasticity in hair, skin and nails

Aids in detoxification of drugs, food additives and toxic metals

Transports electrons in the mitochondria

Aids in glucose metabolism and insulin function

Prevents blood from coagulation during transit through capillaries
Boron
Improves magnesium retention

Helps prevent Osteoporosis

Promotes healthy teeth and gums

Promotes healthy bones and joints

Improves calcium absorption

Improves mental function

Activates vitamin D

Aids in building muscles and increasing testosterone levels
Use Magnesium Topically
Add a couple of drops directly or with your favorite natural moisturizer to sore muscles and joints.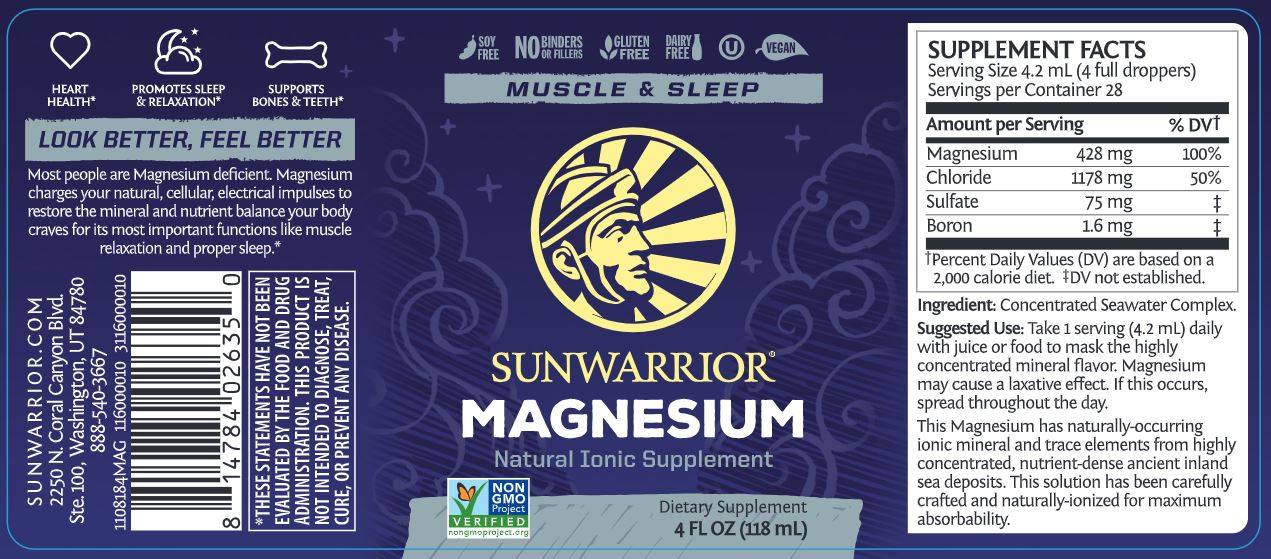 Customer Reviews
02/15/2019
Jeanne P.
United States
Please never stop selling this!!
This has been a life saver with several sleep issues with me. I started with a small dose and felt better. When I used the full, recommended dose, things improved even more. Thank you!!
Thank you Jeanne for the wonderful review on our new Magnesium product. We are so happy to hear it is improving your sleep habits and exceeding your expectations!
02/13/2019
Ginamarie E.
United States
Great stuff!
Quality Feel great
Hi Ginamarie! Thank you for your feedback. We are glad the Magnesium supplement helps you feel great!
02/11/2019
Todd R.
United States
Magnesium supplement
This product, much like all Sunwarrior products, is great! Have noticed significant healthy changes! Awesome!
Hi Todd! Thanks for trying our Magnesium supplement. We are happy to hear that you like it!
02/09/2019
Abby C.
United States
Magnesium Liquid
I started using product and sleep better than before. I will definitely recommend this product to all my friends.
Hi Abby! We are so glad you tried the magnesium and it works for you. Thanks for the review!