Want beautiful, ageless skin? Plant-based amino acids and peptides are collagen precursors, which are raw nutrients that your body converts efficiently into collagen. Our beauty-enhancing formula also contains strengthening and supporting nutrients such as vitamin C, trace minerals, leafy greens, silica, and biotin. Hydrating compounds such as hyaluronic acid and tremella mushroom extract attract and retain skin moisture.
Sunwarrior's collagen-building peptides can slow down the signs of aging when combined with a healthy lifestyle and exercise. Pollutants in water, air, food, stress, and overexposure to the sun deplete our collagen storehouse, making replenishment vital. Sunwarrior has found the vegan solution to boost your inherent collagen production and enhance your natural beauty.
Most collagen supplements come from the bones, skin, and connective tissue of animals including cattle, fish, horses, pigs, or rabbits. Why ingest animal-derived collagen when your body is designed to generate its own?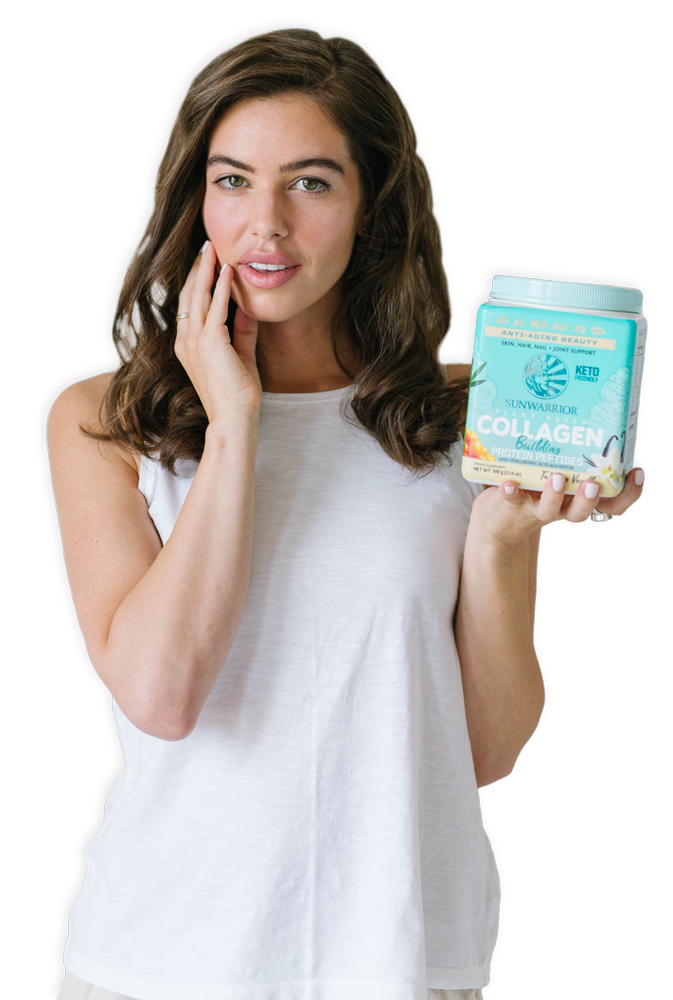 Organic Brown Rice Peptides
Sourced from sprouted and fermented brown rice, this complete amino acid protein has been broken into small peptide chains (di & tri-peptides) through hydrolysis. Rice peptides are used for strengthening cell hydration due to their concentration of glutamine and alanine. These nutrients assist the skin to provide moisture retention and environmental protection.

Organic Pea Protein (fermented)
Complete amino acid complex, including collagen and elastin-building aminos: glycine, proline, arginine, alanine, valine, and lysine.

Organic Leafy Green Blend
Organic kale and spinach are beautiful greens that contain vitamins and antioxidants, which fight against free radicals that destroy collagen and elastin.

These superfood berries are extremely high in vitamin C (10x more than oranges) and also provide vitamins, folate, carotenoids, essential fatty acids, and antioxidants. These nutrients are essential in building collagen and elastin.

Organic Tremella Mushroom
A polysaccharide which holds 500x its weight in water and naturally promotes water retention in cells.
Sourced from bamboo, silica is a key co-nutrient for collagen and elastin production. It also boosts calcium absorption to strengthen bones, hair, skin, and nails.

Containing iron and rich with amino acids, spirulina is one of the most nutrient-dense foods on the planet.

Sourced from organic amla. Vitamin C is a necessary cofactor in collagen and elastin synthesis.

Sourced from sesbania and part of the vitamin B family, biotin promotes strong hair, skin, and nails.

HA is sourced from gluten-free, fermented grain. Hyaluronic acid is naturally occurring in our body but decreases as we age. HA attracts and retains moisture in our skin and aids in the lubrication of joints.

Trace minerals are essential for collagen and elastin formation and slow the degeneration of collagen in our body.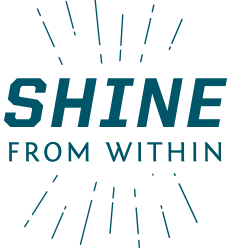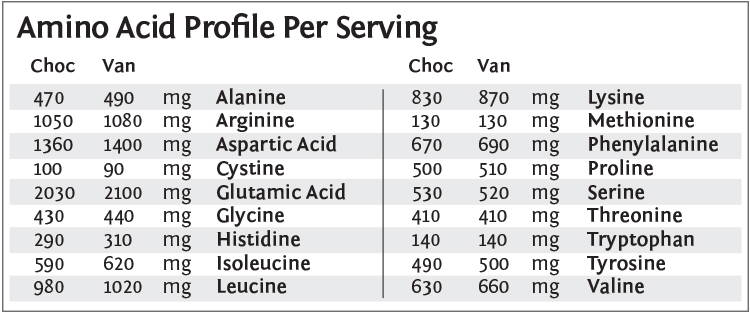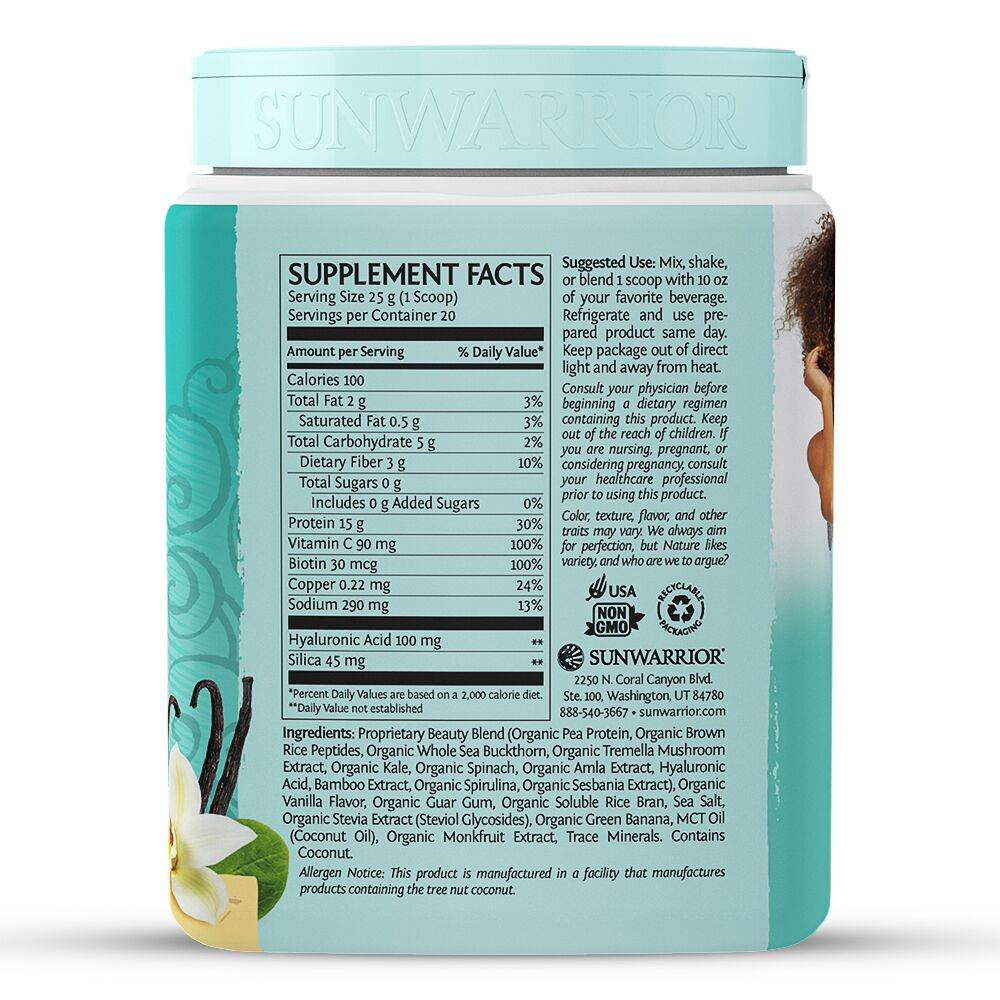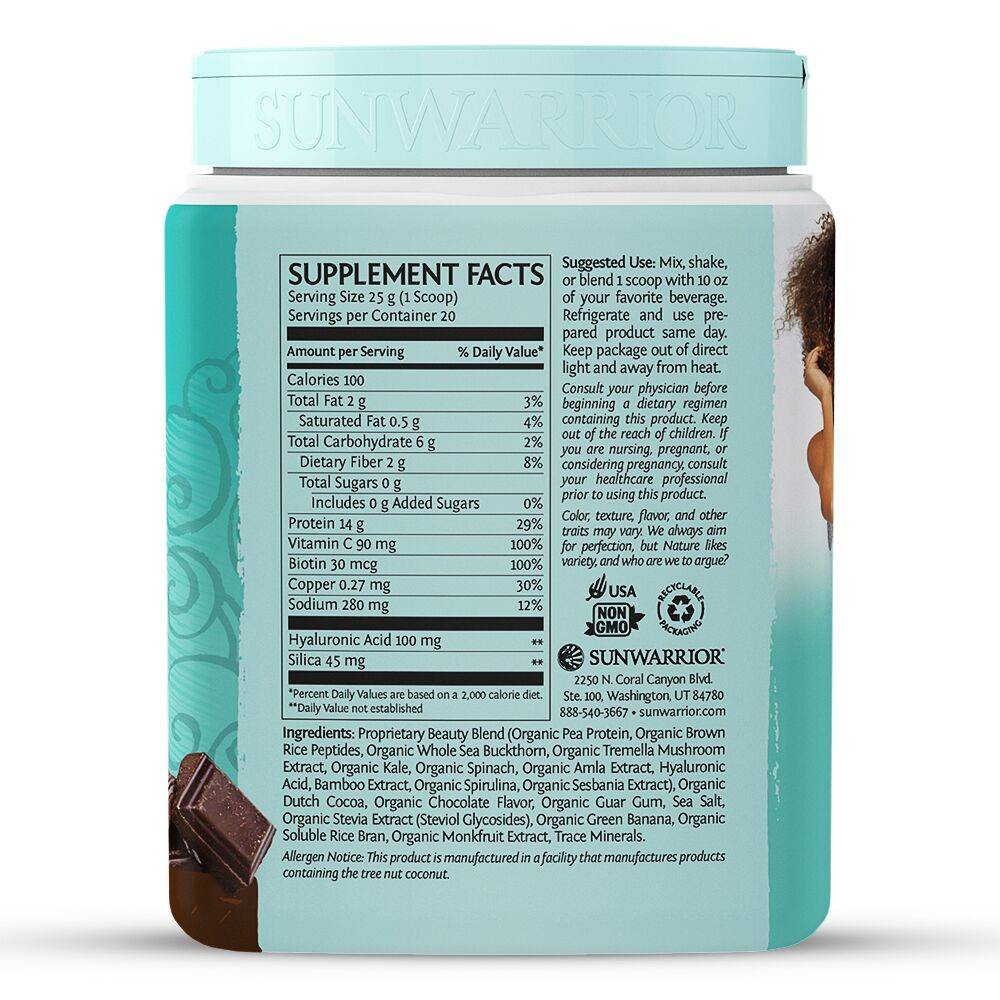 Customer Reviews
12/09/2019
Marcia J.
United States
So far, very good
I like that there is no added sugar or yucky sweet taste with this. I mix it with unsweetened almond milk and drink it down.
12/03/2019
Laurie S.
United States
Great product
Love this product, tastes great, but would like to have a full 30 day supply in each container.
11/26/2019
Joan P.
United States
Collagen!
I actually checked with Teri Gentes which collagen I should purchase. She told me your product was one to check out. I have used it in my coffee as well as smoothies. It tastes good and I have noticed the growth of my fingernails has increased. I will continue to use the collagen powder!
11/22/2019
Lisa B.
United States
Unable to cancel subscription
I'm happy with the product but no one is getting back to me on how to cancel my subscription. Please help
11/21/2019
Michelle M.
United States
Love the Vanilla Callogen
I've been using this for a handful of months now and am really enjoying not only the taste of it, but also the results. I battle a mild eczema every winter due to the cold and dryness of the air, but so far my eczema hasn't been bad at all!! I haven't changed much in my diet so I really believe I have this callogen supplement to thank.