AN UNPARALLELED FUSION OF THE FINEST RAW PLANT-BASED PROTEIN
Warrior Blend fuses and multiplies the power of several rich protein sources into one smooth, great-tasting formula that's overwhelmingly superior to the individual components alone. Medium chain triglycerides from coconut then join this dynamic fusion to create a unique, raw, plant-based protein with a complete amino acid profile exceptionally rich in Arginine, Lysine, Leucine, and branched chain amino acids.
The next generation in raw, plant-based protein is here, breaking through the constraints of other protein powders. Warrior Blend is an easily digestible, nutrient filled superfood perfect for anyone who wants to amplify their health and fitness.
Not sure which protein is right for you or why we have so many?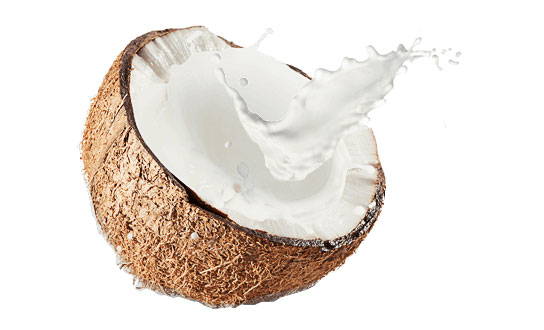 Coconut
Coconuts contain essential fatty acids that exist in just the right size to be burned as energy rather than stored as body fat. The fats in coconuts are composed of MCTs, or medium chain triglycerides, that have many health benefits revolving around their unique anti-inflammatory properties.
Goji Berries
These bright orange-red, tangy berries come from the Himalayas full of antioxidants, vitamin C, and carotenoids. These nutritiously dense superfoods are one of the only fruits to contain all the essential amino acids along with plenty of minerals. They have been used as a food, tea ingredient, and medicine for thousands of years.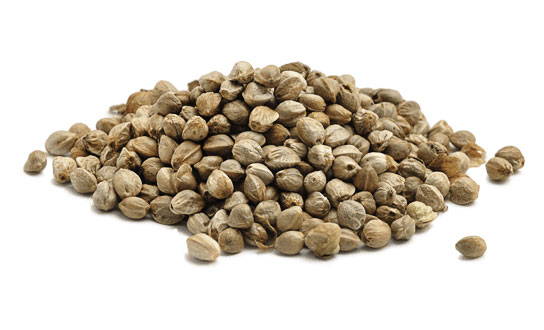 Hemp Seeds
Hemp seed is a complete protein source, supplying all the essential amino acids you need. Easily digested and assimilated, hemp seeds make for a near perfect food that's rich in fiber, chlorophyll, healthy fats, and many vitamins and minerals too.
Yellow Peas
A high fiber, low calorie, nutrient dense vegetarian superfood, peas are also a remarkable source of plant-based proteins and amino acids. Protein from peas satisfies all FAO essential amino acid requirements. The amino acids found in peas include Lysine, Arginine, Glutamine, Leucine, Isoleucine & Valine (Branched Chain Amino Acids – BCAAs).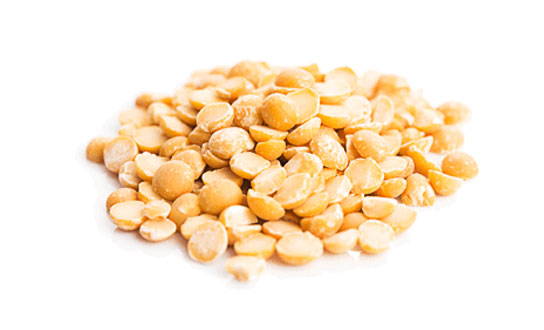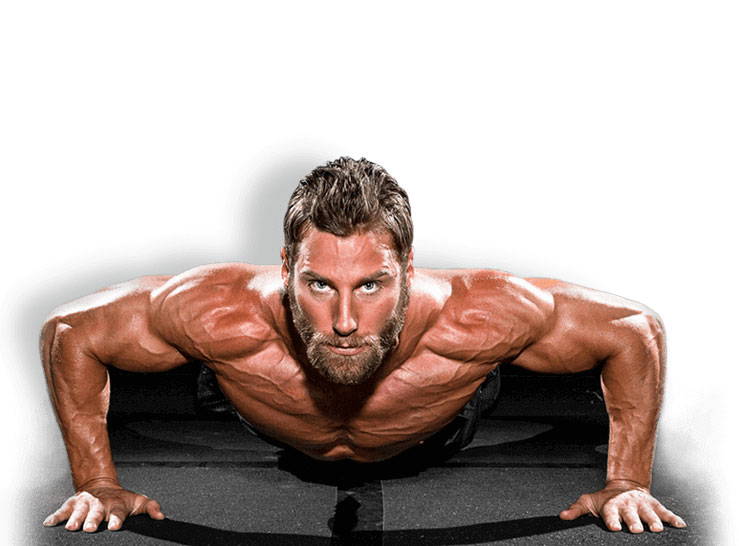 Warrior Blend is creamy, delicious, and smooth. I feel amazing after drinking it.
- TIM MCCOMSEY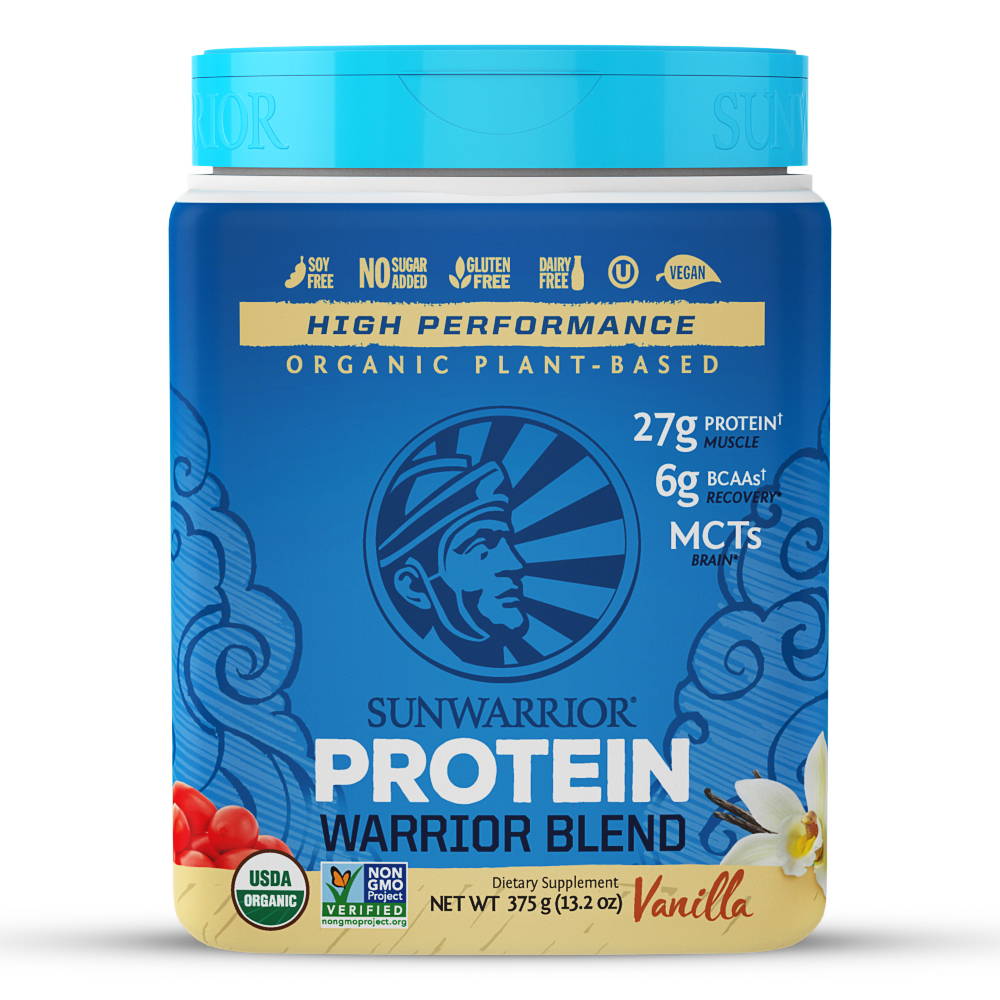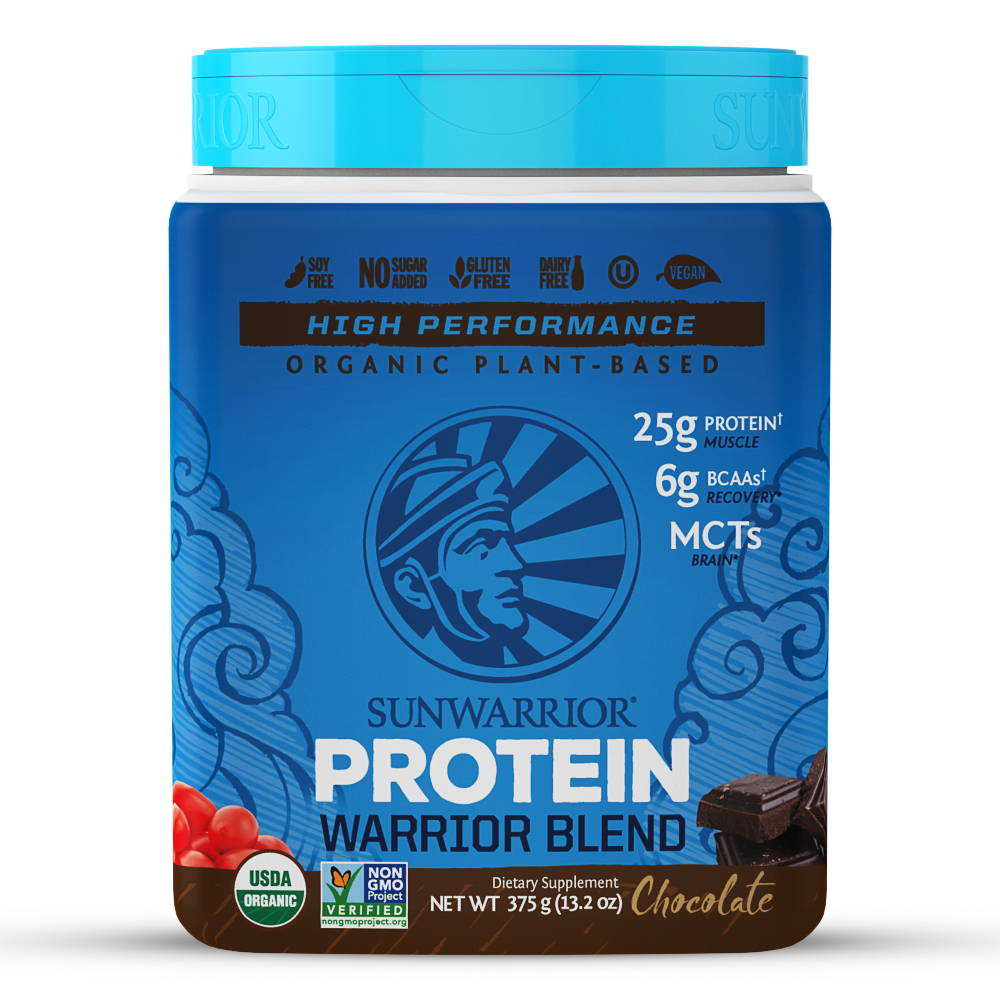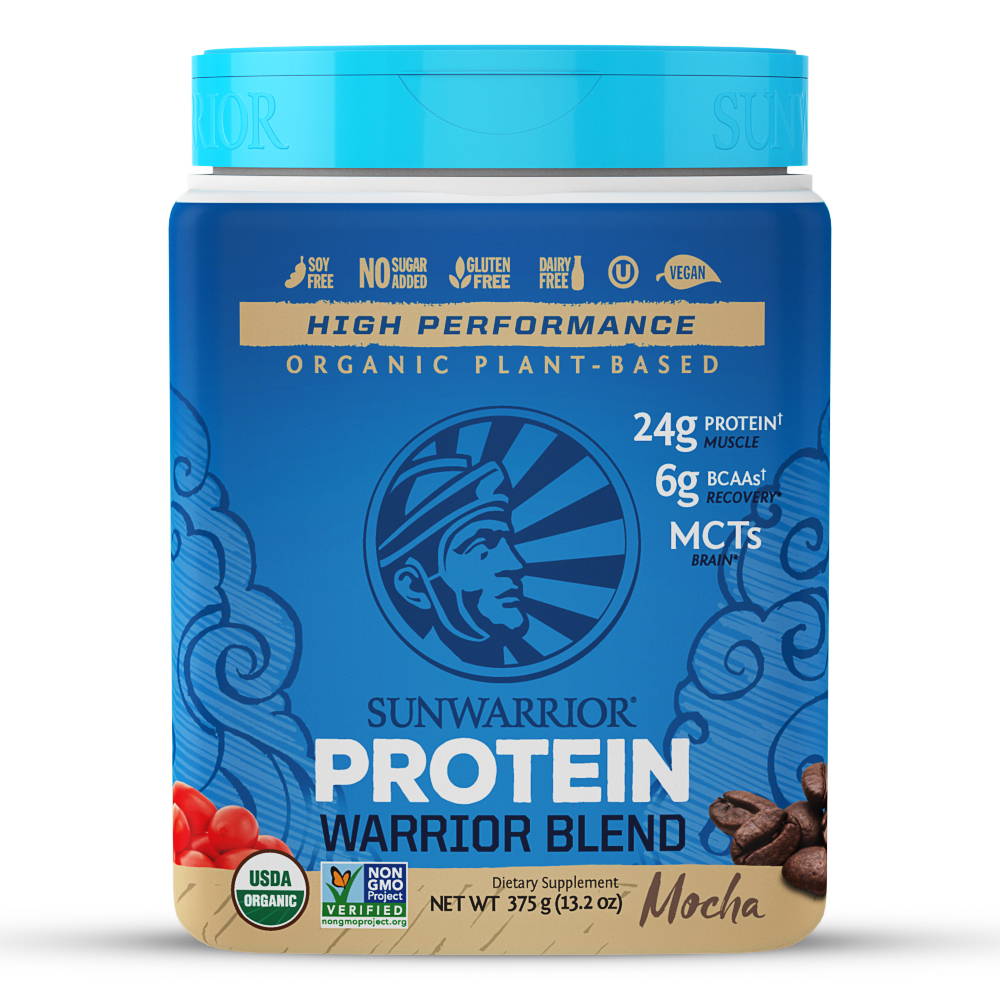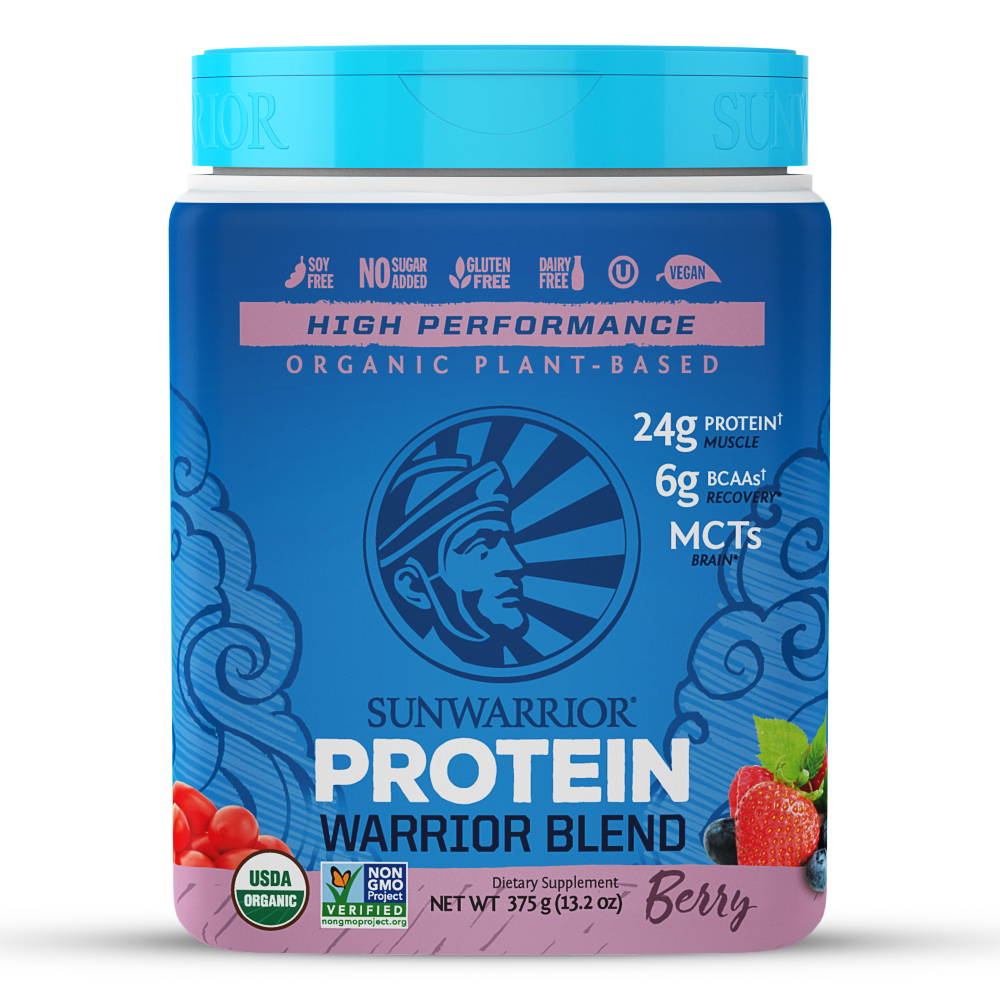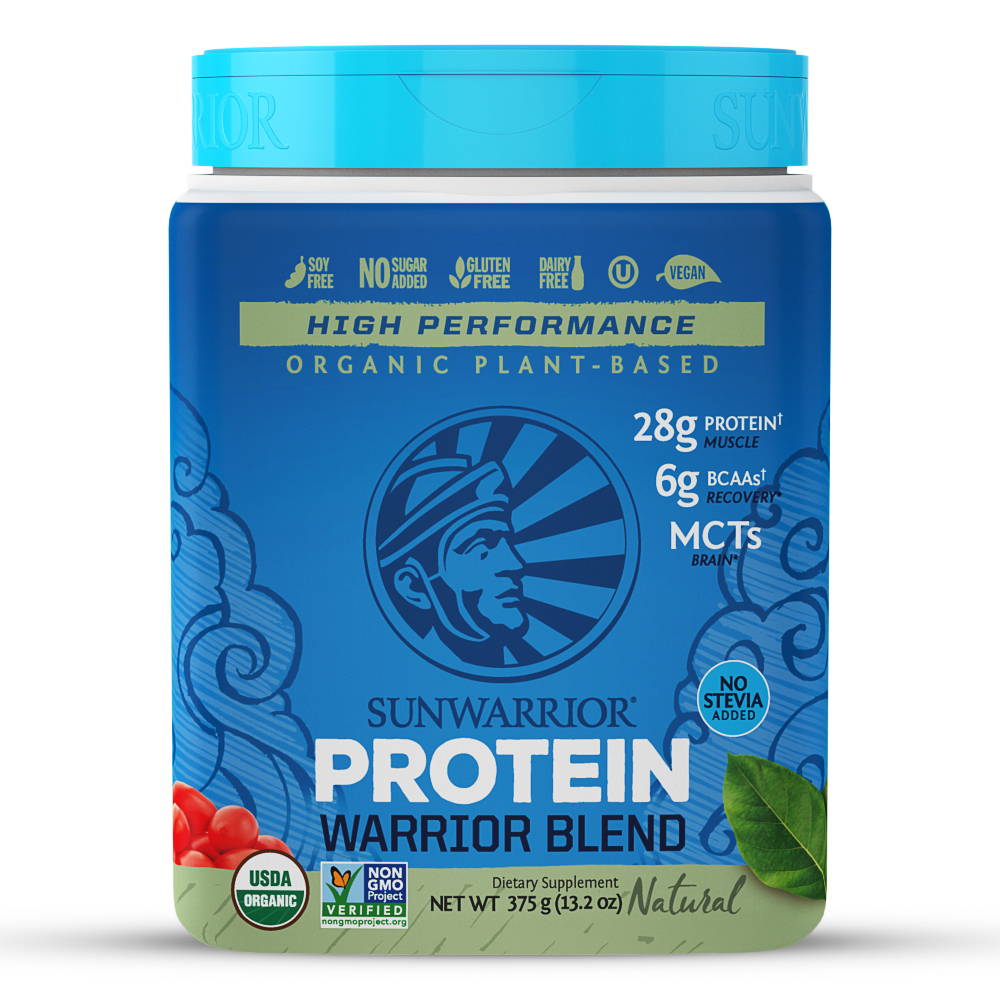 Smoothie Recipes
Enter in your information below and get our Smoothie E-Book in your inbox. Let us know which ones are your favorite.
Customer Reviews
02/15/2019
Cindy H.
United States
Great Tasting !
Love my chocolate protein powder!
02/08/2019
Roberta J.
United States
Sun Warrior Mocha Protein
I bought a Vanilla and Mocha, but have only opened the Mocha so far. I really like the protein, and found it mixes well and tastes good, too. I got it at a good rate. Hope to follow for future sales. As a senior on a fixed income, I can only get it when on sale because my budget/income doesn't work if full price. I feel it is a quality product and would be happy to purchase again when I am able to.
Hello Roberta! Thank you for trying our Warrior Blend protein and leaving your feedback. We are glad you like the Mocha flavor! Let us know how you like the Vanilla flavor as well. If you are looking to earn discounts on your future orders, we have a rewards program on our website that's free to join. Let us know if you have any questions.
02/06/2019
Kayla K.
United States
Love
I purchase this brand bc it's vanilla flavor isn't overpowering like others or have a weird tang. I love that is doesn't have whey, it blends smooth, and it's ingredient list isn't a bunch of chemically altered or gmo foods.
Hi Kayla, Thanks for leaving your feedback on our Warrior Blend Vanilla. We work hard to provide a clean, plant-based protein that tastes great and we are glad you are satisfied with the outcome.
02/06/2019
John K.
United States
Natural Flavor
I like it. Keep up the good work!
Thanks, John! We're glad you enjoy the Warrior Blend Natural.
02/05/2019
Basimah M.
United States
Wonderful product !
Does all promised and more ! I feel very energetic and my pants are falling off of me!! Satiety is A+ !!
Hello Basimah! Thank you for taking the time to leave a review on our Warrior Blend protein. We are so happy it works for you and your needs. Please let us know if there is anything we can do for you.